April 7


0030 Some biblical scholars' calculate that Jesus of Nazareth is crucified by Roman troops in Jerusalem on this day.

1348 Prague University, the first in central Europe, is founded by Charles IV, King of Bohemia.

1541 Spanish founder of the Jesuits Francis Xavier, on this his 35th birthday, set sail with three friends from Lisbon, Portugal for Goa. They will become the first Roman Catholic missionaries to travel to India.


1614 Death: El Greco, Spanish painter. See also 0030.


1652 The Dutchman Jan Van Riebeeck establishes a settlement in Cape Town, South Africa; the first European settlement in South Africa. The Portuguese had already arrived at the beginning of the 16th century, but it is Van Riebeeck who selects an area for a fort and vegetable gardens. Cape Town is today the legislative capital of the country.

1739 Death: Dick Turpin, butcher's apprentice, highwayman; hanged at York, for murdering an innkeeper.


1786 Birth: William Rufus DeVane King. William Rufus de Vane King (April 7, 1786–April 18, 1853) was a US Representative from North Carolina, a Senator from Alabama, and the thirteenth Vice President of the United States. He was the shortest-serving person to occupy that office without becoming President (John Tyler was the shortest-serving, with Andrew Johnson also serving less time than King). King was born in Sampson County, North Carolina, and graduated from the University of North Carolina in 1803. He was admitted to the bar in 1806 and began practice in Clinton, North Carolina. He was a member of the State House of Commons from 1807 to 1809, city solicitor of Wilmington, North Carolina in 1810, and elected to the Twelfth, Thirteenth, and Fourteenth Congresses, serving from March 4, 1811 until November 4 1816, when he resigned. King was secretary of the legation at Naples and later at Saint Petersburg. He returned to the United States in 1818 and located in Cahaba, Alabama, where he became a planter. King was a delegate to the convention which organized the State government. Upon the admission of Alabama as a State in 1819 he was elected as a Democratic-Republican to the United States Senate, and was reelected as a Jacksonian in 1822, 1828, 1834, and 1841, serving from December 14, 1819, until April 15, 1844, when he resigned. He served as President pro tempore of the United States Senate during the Twenty-fourth through Twenty-seventh Congresses. King was Chairman of the Committee on Public Lands and the Committee on Commerce. He was Minister to France from 1844 to 1846. He was appointed and subsequently elected as a Democrat to the Senate to fill the vacancy caused by the resignation of Arthur P. Bagby and served from July 1, 1848 until his resignation on December 20, 1852 due to poor health. He served as President pro tempore of the Senate during the Thirty-first and Thirty-second Congresses and was Chairman of the Committee on Foreign Relations and Committee on Pensions. He was elected Vice President of the United States on the Democratic ticket with Franklin Pierce in 1852 and took the oath of office March 4, 1853, in Cuba, where he had gone for his health, which was a privilege extended by special act of Congress. In honor of his inauguration, the newly formed Washington Territory named King County for him, as well as Pierce County after President Pierce, in hopes of gaining speedy admission to the Union by currying favor with the new administration (Washington did not become a state until 1889). King County still exists, but the county council in 1986 passed a resolution "setting forth the historical basis for the 'renaming' of King County in honor of Reverend Dr. Martin Luther King, Jr." King returned to his plantation, "King's Bend", Alabama, and died there. He was interred in a vault on his plantation, and was later reinterred in Live Oak Cemetery, Selma, Dallas County, Alabama. Some historians have speculated that King may have been gay, and that he had a long-term intimate relationship with James Buchanan (it is not disputed that the two lived together for a time in Washington, DC). The theory is controversial and a source of debate among Buchanan and King historians. Historian and author James W. Loewen is one of the theory's better-known proponents.

1788 The first permanent settlement is made in Ohio, at Marietta.

1798 The territory of Mississippi is organized.

1823 French forces under Louis de Bourbon invade Spain, beginning the Franco-Spanish war.

1827 Matches, the invention of Stockton chemist John Walker, go on sale for the first time.

1831 Pedro I of Brazil abdicates in favor of his son Pedro II in order to return to Portugal.

1837 Birth: John Pierpoint Morgan, US industrialist.


1860 Birth: William Kellogg, father of the corn flake, in Battle Creek, Michigan. At the age of 14, he will quit school to work for his father as a traveling salesman. When he turns 18, he will start working for his brother John. The brothers will develop a method of rolling cooked cereal into flakes and toasting the flakes yielding a tasty and nutritious breakfast food. Will calls this new breakfast food 'Kellogg's Corn Flakes'. In 1925, Will will purchase 377 acres to set up an Arabian Horse Ranch. He will stock the ranch with only the best horses, many from Lady Wentworth's historic Crabbet Stud in England. He will also acquire horses from Saudi, Egyptian and Polish stock, and gradually enlarge his ranch to 750 acres. W. K. Kellogg will die in Battle Creek on 6 October 1951 at the age of 91. Today, you can still visit his Arabian Horse Ranch on any Sunday afternoon and see his beautiful horses perform before for the public and take a walk around the grounds and see the many new colts that are born there each year. Today his 750 acre Arabian Horse Ranch is called California Polytechnic State University at Pomona. (Cal-Poly Pomona).


1862 US Civil War: Two days of heavy fighting concluded near Pittsburgh Landing in western Tennessee, the Battle of Shiloh emerges as a Union victory after the Confederate attack stalls on 6 April, and fresh Yankee troops drive the Confederates from the field on 7 April. Shiloh began when Union General Ulysses S. Grant brought his army down the Tennessee River to Pittsburgh landing in an effort to move on Corinth, Mississippi, 20 miles to the southwest. Union occupation of Corinth, a major rail center, would allow the Yankees to control nearly all of western Tennessee. At Corinth, Confederate General Albert Sidney Johnston did not wait for Grant to attack. He moved his army toward Grant, striking on the morning of 6 April. Throughout the day, the Confederates drove the Yankees back but could not break the Union lines before darkness halted the advance. Johnston was killed during the first day, so General Pierre G. T. Beauregard assumed command of the Confederate force. Now, Grant was joined by the vanguard of Buell's army. With an advantage in terms of troop numbers, Grant counterattacked on this day. The tired Confederates slowly retreat, but they inflict frightful casualties on the Yankees. By nightfall, the Union has driven the Confederates back to Shiloh Church, recapturing such grisly reminders of the previous days' battle such as the Hornets' Nest, the Peach Orchard, and Bloody Pond. The Confederates finally limp back to Corinth, thus giving a major victory to Grant. The cost of the victory is high. Grant's and Buell's forces totaled about 62,000, of which 1,754 are killed, 8,408 are wounded, and 2,885 captured or missing for a total of 13,047 casualties. Of 45,000 Confederates engaged, 1,723 are killed, 8,012 wounded, and 959 missing for a total of 10,694 casualties. The 23,741 casualties are five times the number at the First Battle of Bull Run in July 1861, and they are more than all of the war's major battles (Bull Run, Wilson's Creek, Fort Donelson, and Pea Ridge) to this date combined. It is a sobering reminder to all in the Union and the Confederacy that the war will be long and costly.

1869 Birth: David Grandison Fairchild, explorer, botanist; will introduce 200,000 plant species from around the world.


1882 Birth: Kurt von Schleicher, General, career officer. Reichswehr minister, June 1932. From December 1932 until the end of January 1933, last chancellor of the Weimar Republic. Will try to stabilize the political situation through limited military dictatorship which Hindenburg will reject. On June 30, 1934, he will be shot and killed in his Berlin apartment by an SS detail.

1891 Nebraska introduces the 8 hour work day.

1891 Birth: Ole Kirk Christiansen, the Danish toymaker who will invent Lego. Note: The Danish 'leg godt' translates as 'play well'.


1893 Birth: Allen Welsh Dulles, in Watertown, New York. "Son of a Presbyterian minister and grandson of a secretary of state, Allen Dulles was born on April 7, 1893, in Watertown, New York, and grew up in household that valued public service and where world affairs were a common topic of discussion. He graduated from Princeton, and in 1916 entered the diplomatic service. In 1926 he earned a law degree from George Washington University and took a job at the New York firm where his brother, John Foster Dulles, was a partner. During the 1930s Allen Dulles gained much experience in Germany, which made his selection in 1942 as station chief in Berne, Switzerland, for the newly formed Office of Strategic Services a logical one. Dulles supplied his government with much sensitive information about Nazi Germany. In 1945, he played a central role in negotiations leading to the unconditional capitulation of German troops in Italy. After the war in Europe, Dulles served for six months as the OSS Berlin station chief. In 1947, Congress created the Central Intelligence Agency. Dulles was closely involved with its development, and in 1951 he was named deputy director. Under President Eisenhower, Dulles became CIA director. As the nation's top spy during the height of the Cold War, Dulles gave equal emphasis to the clandestine collection of information and covert activities. The CIA was instrumental in the overthrow of the governments of Iran (1953) and Guatemala (1954). Dulles saw this kind of activity as an essential part of the struggle against communism, even if it did not always comply with the law. The president agreed. The development of the U-2 spy plane after 1955 greatly enhanced the CIA's ability to monitor Soviet activity. The reputation of the agency and its director declined, however, with the failed Bay of Pigs invasion of Cuba in April 1961. The new president, John F. Kennedy, held Dulles responsible, and accepted his resignation the following September. Dulles always believed the operation could have succeeded had the president authorized sufficient military support."


1897 Birth: Walter Winchell, in Harlem, New York City, newscaster and columnist. "The way to become famous fast," gossip monger Walter Winchell claimed, "is to throw a brick at someone who is famous." His dictum seemed to work. At his peak, he was a national institution, with a syndicated daily column and a weekly radio broadcast that reached millions. Emerging in the 1920s, Winchell spiced his column with titillating insinuations about Broadway notables. With friendships that ranged from socialites to gangsters, Winchell presided over café society from his table at the Stork Club, gathering tips for his column. Al Hirschfeld depicts (above) Winchell's nervous energy with an asymmetrical pose so strained it creates the illusion that the artist himself can barely control his stretching, recoiling line. The image also hints at the vindictive excesses in Winchell's character that would eventually undermine his reputation. Although he died forgotten, a victim of the celebrity culture he did so much to mold, his legacy remained. By breaking the journalistic taboo against personal revelations, he opened a Pandora's box that would change the nature of celebrity."

1897 Volkishness: The Wieden Singer's Club in Vienna organizes a List festival to commemorate the silver anniversary of List's literary career. List had long been a celebrity amongst the Pan-Germans of Austria. (Roots)

1906 The town of Ottaviano is destroyed by an eruption of Vesuvius.

1915 Birth: Henry Kuttner, American writer; Startling Worlds of Henry Kuttner.


1922 US Secretary of Interior Albert Fall leases the Teapot Dome naval oil reserves in Wyoming. "...Like Enron, the Teapot Dome scandal involved the influence of oil money on politics in the Republican administration of Warren G. Harding. Although the extent of the connections between the Bush administration and Enron is not completely clear, it is clear that Enron made large political donations and in turn welded a good deal of influence in Washington. The lesson of Teapot Dome is that it is sometimes difficult to maintain scandals in neat categories. So what was the Teapot Dome scandal?




The affair took its name from Teapot Dome, a rock formation in Wyoming that looked like a teapot and, more importantly, stood atop a large government naval oil reserve. The scandal was the most famous of several scandals that ruined the reputation of President Warren G. Harding, who served from March 1921 to August 1923 and is often described as the worst president our country has ever had. At its bare bones, Teapot Dome is a simple case of bribery. Secretary of the Interior Albert Fall, a former senator from New Mexico and a friend of Harding's, was convicted of taking bribes from oil executives. Oilman Harry Sinclair obtained leases to drill for oil at Teapot Dome, Wyoming, and Edward Doheny acquired leases for reserves at Elk Hills, California. Fall received in the neighborhood of $400,000 in cash and gifts from Doheny and Sinclair. Like the details of the various Enron accounting maneuvers, the details of the oil leasing were complicated. For the public it was reduced to Fall granting favors to friends who had given him a great deal of money..."



1927 The first successful long-distance demonstration of television takes place in the United States as Secretary of Commerce Herbert Hoover makes a speech in Washington DC, which is seen and heard on a television in New York. The pictures are transmitted using phone lines.

1931 Birth: Daniel Ellsberg, antiwar activist; will release the Pentagon Papers.

1933 President Franklin D. Roosevelt signs legislation ending Prohibition in the United States.

1933 Church and Reich: Monsignor Kaas once again leaves Berlin on a trip to Rome. (Lewy)

1933 Church and Reich: Franz von Papen leaves Berlin for Munich. Papen asks Fritz Menshausen to keep the purpose of his trip secret, indicating that he will tell the press he had gone to Rome for a vacation over the Easter holidays.

1933 Holocaust: The Law for the Restoration of the Professional Civil Service, a new German Civil Service law, is promulgated. Thousands of Jews are barred from German civil service and judicial positions. All those who earlier had opposed the Nazis are at risk of losing their jobs. Hundreds of Catholics and Communists had already been replaced, and many more are soon to follow. Note: Jews who were frontline veterans of World War I, those in government service since 1914 and close relatives of fallen soldiers are temporarily exempted by the new law. (Lewy)

1933 The Law concerning State Governors strips the German states of their autonomous powers. Hitler appoints Reichsstatthälter (Reich governors) in all German states, superseding the regular, elected governments. (Lewy)

1933 Holocaust: The Law Concerning Admission to the Legal Profession is published in Germany affecting Jewish judges, district attorneys and lawyers.

1933 Switzerland denies "political fugitive" status to Jews fleeing Germany. (Edelheit)

1934 In India, Mahatma Gandhi suspends his campaign of civil disobedience.

1935 Birth: Hodding Carter III, US media commentator, press secretary for President Jimmy Carter.

1936 Abyssinia again appeals to the League of Nations for aid against Italy.

1936 A Socialist vote in the Spanish parliament outs President Alcala Zamora.

1938 Codreanu is arrested in Romania and will later die in prison.

1939 WW2: Albania is invaded by Italy.

1939 WW2: The Franco government in Spain joins Germany, Italy and Japan in the Anti-Comintern Pact.

1940 WW2: German ships leave port for the invasion of Norway.

1940 WW2: The British Home Fleet leaves port for Norway.


1941 WW2: Press Reaction to Hitler's April 6 Speech: "In the early hours of Palm Sunday morning, praying God to lead the German Armies on their path, Adolf Hitler struck at two more small nations that wanted only to live their own lives in peace and freedom. The attack was begun in characteristic German fashion, with massed air assaults by Stuka bombers on a capital which had previously been declared an open city. It was followed, as all German attacks are followed, by an equally characteristic performance to which the foreign correspondents in Berlin were summoned, in order that they might hear from those in high authority how blameless is the German case, how shamefully the little German Reich had been bullied by big Yugoslovia and giant Greece, how noble the German nation felt, on this Palm Sunday morning, because its leaders had done everything to bring about a peaceful settlement."--New York Times


1943 Holocaust: The annihilation of the Warsaw ghetto begins and will continue until June 16.

1943 Holocaust: Chelmno (Kulmhof) extermination camp discontinues its activities. Attempts are made to eliminate all traces of mass murder. (Days)

1943 Resistance: In Tunisia, Count Claus von Stauffenberg's automobile drives into a minefield, seriously wounding him. Stauffenberg loses his left eye, his right hand, part of his arm, and several fingers on his left hand.


1943 WW2: April 7-11 Hitler and Mussolini meet at Salzburg and decide to continue holding on in North Africa. "...Mussolini coined the phrase "Rome-Berlin Axis" in 1936 to announce a new era in the relationship between Fascist Italy and Nazi Germany. The Rome-Berlin Axis developed from an entente into a formal alliance that lasted until 1945. Mussolini's metaphoric phrase was adopted by his contemporaries and remains in use among Twentieth- and Twenty-first Century historians. The term "Axis" is supposed to convey the image of a strong bond between Rome and Berlin, as well as qualities such as the unity, solidarity, and equality of these poles. The present research examines how Italy and Germany's territorial ambitions affected their mutual relations, and suggests that the Rome-Berlin Axis may have been a fiction..."

1943 The drug LSD is first produced at Sandoz Laboratorie in Basel, Switzerland, by Albert Hofman.


1943 WW2: British and American armies link up between Wadi Akarit and El Guettar in North Africa, forming a solid line against the German army.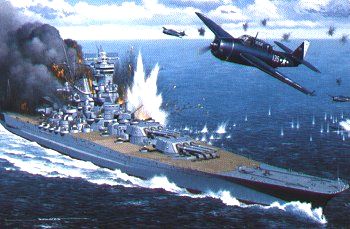 1945 WW2: The Japanese battleship Yamato, ostensibly the world's largest battleship, is sunk during the battle for Okinawa by US navy aircraft; Japan's first major counteroffensive in the struggle for Okinawa. Weighing 72,800 tons and outfitted with nine 18.1-inch guns, the battleship Yamato is Japan's only hope of destroying the Allied fleet off the coast of Okinawa. But insufficient air cover and fuel curse the endeavor as a suicide mission. Struck by 19 American aerial torpedoes, it is sunk, along with 2,498 of its crew.


1947 Death: Rudolf Hoess. Born in Baden-Baden, he served at age 15 in German army at the Turkish front during WW1. After joining Nazi party in 1922, Hoess served a prison sentence from 1923 to 1928 for a political murder. He joined the SS in 1933 and was promoted in 1942 to SS lieutenant colonel. Hoess was commandant of the concentration camp Auschwitz from 1940 to 1943, and during the summer of 1944. Sentenced to death in Poland, he was hanged at Auschwitz next to the house he'd lived in with his wife and 5 children.

1949 Death: Henry Ford, car industry pioneer, whose factories built 31 million vehicles, at 83 in Dearborn, Michigan. Ford revolutionized modern transport with his mass-produced Model T cars.

1953 Swedish statesman Dag Hammarskjld, 47, is elected Secretary General of the UN.

1956 A declaration signed by Morocco and Spain recognizes the independence of Morocco.

1959 Radar is first bounced off sun, broadcast from Stanford, California.

1961 The UN votes 83-0 to censure South Africa over its racist policies.

1963 The Socialist Federal Republic of Yugoslavia is established with Marshall Tito as its president for life.

1966 The US recovers a lost H-bomb from the Mediterranean floor.

1967 The Gray Line bus tours begin taking tourists through San Francisco's Haight-Ashbury district to look at hippies.

1970 A US court confirms that it has closed the investigation of Senator Edward Kennedy over the car crash in which Mary Jo Kopechne died at Chappaquiddick in 1969.

1971 The Nam: President Richard Nixon pledges a withdrawal of 100,000 more men from Vietnam by December.

1972 Sheikh Abeid Karume, Tanzanian vice president and ruler of Zanzibar, is assassinated.

1972 Death: 'Crazy' Joe Gallo, mobster; killed in the wee hours of his 43rd birthday party.

1976 After unprecedented riots in Peking, Deng Xiaoping is removed as a deputy prime minister and Hua Guofeng is promoted to full premier.

1978 President Jimmy Carter defers production of the neutron bomb.

1980 President Jimmy Carter breaks off diplomatic relations with Iran and orders out all Iranian embassy staff because of the detention of US embassy hostages in Tehran.

1981 Voters approve a new constitution in the Philippines, giving President Marcos sweeping powers.

1983 STS-6 specialist Story Musgrave and Don Peterson make the first Space Shuttle spacewalk, the first by the US in 9 years.

1989 A Soviet nuclear-powered submarine, carrying nuclear warheads, catches fire and sinks off Norway with the loss of more than 40 crew members.

1990 Iran-Contra: Former Reagan national security adviser John Poindexter is convicted of five counts at his Iran-Contra trial. However, a federal appeals court will later reverse the convictions.

1994 Civil war erupts in Rwanda, a day after a mysterious plane crash claimed the lives of the presidents of Rwanda and Burundi. Rwandan Prime Minister Agathe Uwilingiyimana is killed as troops, presidential guards, police and gangs of youths rampage through the capital Kigali in a chaotic orgy of bloodletting. In the months that follow, hundreds of thousands of minority Tutsi and Hutu intellectuals will be slaughtered.

1994 Israel indefinitely seals off the occupied West bank and Gaza Strip, banning Palestinians from entering Israel-proper and East Jerusalem after two Arab guerrilla attacks.

1995 In a primetime TV address, House Speaker Newt Gingrich declares that the GOP Contract with America is only a beginning.

1999 Yugoslav authorities seal off Kosovo's main border crossings, preventing ethnic Albanians from leaving as the wave of refugees approaches the half-million mark.

2001


2002


2002


2003




2003 US tanks storm through the heart of Baghdad to seize key buildings from Saddam Hussein's regime.

2004


2005


2005


2005









Visit:
Visit:

Click Here to email the History: One Day At a Time webmaster.