April 10


1583 Birth: Hugo Grotius, Dutch statesman and scholar, jurist, father of international law.

1633 Bananas are introduced in Britain.

1741 Frederick II of Prussia defeats Maria Theresa's forces at Mollwitz and conqueres Silesia.

1778 Birth: William Hazlitt, in Maidstone, Kent, England, essayist, critic.


1790 The first circumnavigation of the globe by a US vessel is completed. Captain Robert Gray had departed Boston three years earlier aboard the Columbia, and sailed to the Pacific Northwest. From there he sailed to China with a cargo of sea otter skins. He continued around Asia and Africa, and returns to Boston this day.

1790 The US Patent system is established.


1794 Birth: Commodore Matthew C. Perry, American naval officer; will open Japan to trade with the west, by negotiating the first treaty between Japan and the United States. "...son of Captain Christopher R. Perry, a distinguished officer of the Revolutionary War, and Sarah Wallace (Alexander) Perry...Appointed Midshipman in 1809, he first saw service under his brother, Oliver Hazard Perry, in the Revenge. During the War of 1812, he served in squadrons commanded by Commodores Rodgers and Decatur and was promoted to Lieutenant in 1813. He made several cruises to the coast of Africa and to the Mediterranean, and commanded the schooner Shark in the West Indies. He was promoted to master commandant in 1826 and named a captain eleven years later. From 1838 to 1840 he commanded the steam frigate Fulton in connection with experiments in steam navigation..."

1809 Austria declares war on France and her forces enter Bavaria.


1814 Battle of Toulouse: Napoleon Bonaparte's army is defeated by the British and Spanish in a defeat that will lead to his abdication and exile to Elba.

1816 The second Bank of US is chartered.

1820 The first British settlers arrive at Algoa Bay in the eastern Cape Province, South Africa.

1827 Birth: Lewis 'Lew' Wallace, Civil War general, lawyer, diplomat and author of Ben Hur.

1847 Birth: Joseph Pulitzer, in Mako, Hungary, newspaperman, publisher of the St Louis Post-Dispatch, New York World. The Pulitzer prize is named after him.

1849 Walter Hunt had invented a machine to spin flax, a fire engine gong, a forest saw, and a stove that burns hard coal. His inventions worked, but he just did not have the knack for making money from them. On this day, Walter Hunt wanted to pay a fifteen-dollar debt to a friend. So he decided to invent something new. From a piece of brass wire about eight inches long, coiled at the center and shielded at one end, he made the first safety pin. He took out a patent on his invention, sold the rights to it for four hundred dollars, paid his friend back and had three hundred eighty-five dollars to spare. Then he watched his latest brainstorm go on to become a million dollar money earner for someone else.

1854 The constitution of the Orange Free State in south Africa is proclaimed.

1862 US Civil War: Union forces begin the bombardment of Fort Pulaski in Georgia along the Tybee River.

1863 US Civil War: Rebel General, Earl Van Dorn attacks at Franklin, Tennessee.

1864 Austrian Archduke Maximilian becomes emperor of Mexico.

1865 US Civil War: At Appomattox Court, Virginia, General Robert E. Lee issues General Order #9, his last orders to the Army of Northern Virginia.

1866 The American Society for the Prevention of Cruelty to Animals (ASPCA) is formed and incorporated.

1868 The British defeat the King of Abyssinia at Magdala.

1869 As Cuban rebels continue their fighting against Spain, they call a Constituent Assembly in Guaimaro where they prepar the first Constitution of the Republic of Cuba and elect Carlos Manuel Cespedes as their first president.

1872 Arbor day is first celebrated in Nebraska; later changed to 22 April.

1877 Federal troops withdraw from Columbia, South Carolina.

1898 Spain, not wanting a conflict with the United States, orders a unilateral suspension of hostilities in Cuba and sends a message to Washington stating that Cuba will be granted autonomy, the US can indicate the terms of an armistice and the matter of the Maine will be submitted to arbitration.

1902 Boer War: The Boers in South Africa surrender to the British.

1903 Birth: Clare Boothe Luce, journalist, diplomat, reporter, US ambassador to the Vatican.

1912 The RMS Titanic, one of the largest and most luxurious ocean liners ever built, departs Southampton, England, on its maiden voyage across the Atlantic Ocean, carrying some 2,200 passengers and crew.

1917 WW1: A munitions factory explosion at Eddystone, Pennsylvania, killing 133 workers.

1917 Birth: Robert Burns Woodward, organic chemist, Nobel 1965.

1919 Death: Revolutionary leader Emiliano Zapataa, leader of peasants and indigenous people during the Mexican Revolution, is ambushed and shot to death in Morelos, Mexico by government troops.


1921 Sun Yat-sen is elected president of China.

1922 The Genoa Conference opens to discuss the reconstruction of Europe after WW1.


1932 Weimar: German president Paul von Hindenburg is reelected with 19 million votes (53 per cent) in German presidential elections, beating Adolf Hitler's 13 million votes (36 per cent).

1933 Church and Reich: Papen has a morning meeting with Pacelli. Later in the day, Papen and Goering are received by Pope Pius XI. According to Papen, the Pope tells them that he is pleased the German government now has at its head "a man uncompromisingly opposed to Communism and Russian nihilism in all its forms." They then begin laying the groundwork for the concordat. Although the purpose of their visit is still secret, the Italian press openly reports that Papen and Goering have been received with great honor. (Lewy)

1933 Holocaust: Wittmoor concentration camp opens near Hamburg.

1938 A plebiscite (referendum) is held in Austria to legalize the Anchluss. 99.75 percent of Austrians vote for a merger with Germany. Jews are excluded from voting.


1940 WW2: The Norwegian government and Royal family leave Oslo. Vidkun Quisling and his National Union Party seize power as a major naval battle takes place off Narvik.


1941 WW2: US troops occupy Greenland to 'prevent Nazi infiltration.'


1942 WW2: The day after the surrender of the main Philippine island of Luzon to the Japanese, the 75,000 Filipino and American troops captured on the Bataan Peninsula begin a forced march to a prison camp near Cabanatuan. During this infamous trek, known as the Bataan Death March, the prisoners are forced to march 85 miles in six days, with only one meal of rice during the entire journey. By the end of the march, which is punctuated with atrocities committed by the Japanese guards, hundreds of Americans and many more Filipinos die. The day after Japan bombed the US naval base at Pearl Harbor, the Japanese invasion of the Philippines began. Within a month, the Japanese had captured Manila, the capital of the Philippines, and the US and Filipino defenders of Luzon were forced to retreat to the Bataan Peninsula. For the next three months, the combined US-Filipino army, under the command of US General Jonathan Wainwright, held out impressively despite a lack of naval and air support. Finally, on 7 April, with his army crippled by starvation and disease, Wainwright began withdrawing as many troops as possible to the island fortress of Corregidor in Manila Bay. However, two days later, 75,000 Allied troops were trapped by the Japanese and forced to surrender. Of those who survived the Bataan Death March to reach the Japanese prison camp near Cabanatuan, few will live to celebrate US General Douglas MacArthur's liberation of Luzon in 1945. In the Philippines, homage is paid to the victims of the Bataan Death March every April on Bataan Day, a national holiday that sees large groups of Filipinos solemnly rewalking parts of the death route.

1942 Holocaust: 1,700 Jews from Leczyca and 1,240 from Grabow are transported for execution to Chelmno (Kulmhof). (Atlas)

1944 WW2: Russian troops recapture Odessa from the Germans.

1944 WW2: A British midget submarine secretly enters Bergen harbor in Norway and sinks the German merchant ship Barenfels.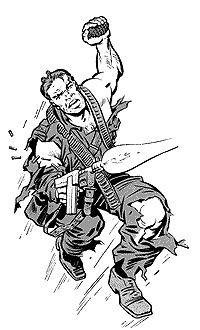 1945 Holocaust: Allied Armed Forces including the US Army 80th Division, liberate the prison camp at Buchenwald, north of Weiner, Germany. It is estimated that nearly 57,000 prisoners (mostly Jews) perished in the gas chambers of Buchenwald during its eight-year existence as a Nazi concentration camp.

1945 WW2: In their second attempt to take the Seelow Heights, near Berlin, the Red Army launch numerous attacks against the defending Germans. The Soviets gain one mile at the cost of 3,000 men killed and 368 tanks destroyed.

1945 American Jewish organizations are invited to send representatives to the opening of the San Francisco Conference.

1947 Nuremberg War Crimes Trials: Military Tribunal II-A sentences twenty convicted defendants in the Einsatzgruppen Trial. Fourteen of the defendants, members of German mobile killing units, are sentenced to death.


1948 Nuremberg War Crimes Trials: Otto Ohlendorf is sentenced to death by hanging at Nuremberg. (Secrets)

1948 The Jewish Hagana repell an Arab attack on Mishmar Haemek.

1948 General Dwight D. Eisenhower stands by an earlier newspaper report in which he declared that a professional soldier should not seek high political office. Note: Four years later, General Eisenhower will find himself President of the United States.

1958 A northern strip of Spanish Sahara is ceded to Morocco.


1963 The nuclear-powered submarine USS Thresher fails to surface in the Atlantic Ocean, 220 miles east of Boston, off Cape Cod, Massachusetts, in a disaster that claims 129 lives; the world's first nuclear submarine catastrophe. "...the Thresher proceeded to conduct sea trials about 200 miles off the coast of Cape Cod. At 9:13 a.m., the USS Skylark received a signal indicating that the submarine was experiencing "minor difficulties." Shortly afterward, the Skylark received a series of garbled, undecipherable message fragments from the Thresher. At 9:18 a.m., the Skylark's sonar picked up the sounds of the submarine breaking apart. All hands were lost--129 lives...The subsequent investigation of the disaster by the Navy identified a leak in an engine room seawater system as the most probable cause of the tragedy. Further, both the Navy's investigation and a Congressional inquiry identified several additional probable causes linked to management, communication, and the practices and procedures employed by the Navy and the shipyards. These findings suggest a number of lessons applicable to the Department of Energy. The Thresher was the first of a new class of nuclear submarine designed to dive significantly deeper than its predecessors. After nearly a year of record-breaking operations, the submarine underwent a scheduled shipyard overhaul that entailed significant alterations to its hydraulic power plant. Because of Fleet operational requirements and competition for resources with four other submarines under construction in the same shipyard, the overhaul was conducted under tight schedule constraints. The Navy's investigation concluded that while the..."

1972 The United States and the Soviet Union join some 70 nations in signing an agreement banning biological warfare.

1974 Golda Meir resigns as prime minister of Israel and is replaced by Yitzhak Rabin.

1980 Spain and Britain agree to reopen the border between Gibraltar and Spain.

1983 President Reagan's Middle East peace plan collapses when King Hussein of Jordan fails to reach agreement with the Palestine Liberation Organization on the terms of the deal.

1984 The US Senate condemns the CIA mining of Nicaraguan harbors.

1987 The state of Utah begins pumping water from the Great Salt Lake to reduce damaging record water levels.


1990 The Hubble space telescope is brought on-line. Unfortunately, it is soon discovered that corrective lenses will be necessary.

1990 A Belgian man, his French girlfriend and their daughter, who was born in captivity, are released in the Middle East. They'd been seized along with four other Belgians by the Fatah Revolutionary Council aboard a pleasure boat in the eastern Mediterranean in November 1987.

1992 A huge Irish Republican Army bomb explodes in London's financial district; three people are killed and 91 injured.

1992 Charles Keating Jr., considered a symbol of the nation's savings and loan debacle, is sentenced to 10 years in prison for securities fraud.

1992 In a formal Gulf War report, the Pentagon declares that allied bombers destroyed more Iraqi electrical generating facilities than necessary, causing undue postwar hardship on civilians.

1993 Jurors begin deliberations in the federal trial of four Los Angeles police officers charged with violating Rodney King's civil rights. Two of the officers will be convicted.

1994 NATO warplanes launch air strikes for the first time on Serb forces advancing on the Bosnian Muslim town of Gorazde, a UN-declared safe area; the first-ever NATO air attack against ground forces.

1994 Argentines approve a reform allowing President Carlos Menem to run for a second term.

1995 Senator Bob Dole, R-Kansas, launches his third bid for the White House in Topeka, Kansas.

1996 Chinese Premier Li Peng's visit to France is marred by a diplomatic wrangle with his French counterpart, Alain Juppe, over human rights.

1996 President Clinton vetos a ban on so-called "partial birth" abortions. Congress will be unable to override the veto.

1997 A federal judge in Washington, DC, rules that the Line-Item Veto Act of 1996 is unconstitutional.

1998 Britain and Ireland reach an agreement aimed at ending the long and bloody dispute over the future of Northern Ireland.

1999 The Pentagon announces that 82 US planes will join the force conducting airstrikes over Yugoslavia.

2000 The NASDAQ plunges 258 points in its second-biggest drop ever, starting the dramatic fall-off in the value of technology stocks.

2001


2002


2003




2003 Four US Marines are seriously hurt in a suicide attack in Baghdad, proving the city remains dangerous despite the ousting of Saddam Hussein.

2004


2005


2005


2005


2005









Visit:
Visit:

Click Here to email the History: One Day At a Time webmaster.