April 18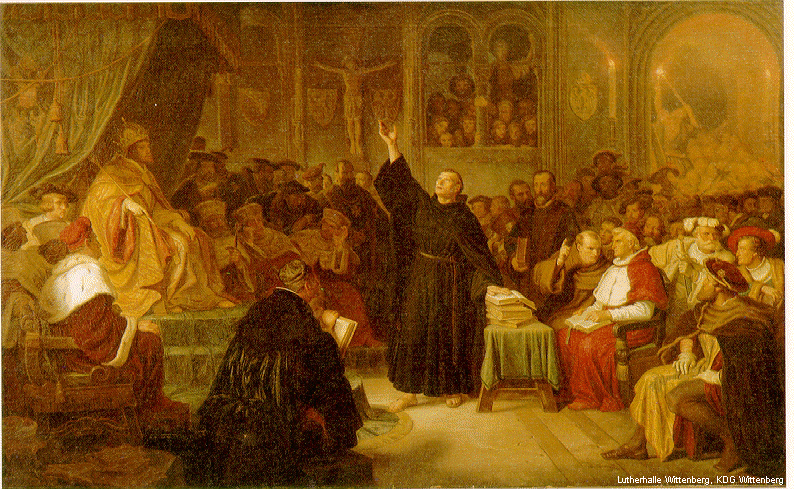 1521 Diet of Worms: Martin Luther, the chief catalyst of Protestantism, defies the Holy Roman Emperor Charles V by refusing to recant his writings. He had been called to Worms, Germany, to appear before the Diet (assembly) of the Holy Roman Empire and answer charges of heresy. Martin Luther is a professor of biblical interpretation at the University of Wittenberg in Germany. In 1517, he drew up his 95 theses condemning the Catholic Church for its corrupt practice of selling "indulgences," or forgiveness of sins. Luther followed up the revolutionary work with equally controversial and groundbreaking theological works, and his fiery words set off religious reformers across Europe. In 1521, the pope excommunicated him, and he was called to appear before the emperor at the Diet of Worms to defend his beliefs. Refusing to recant or rescind his positions, Luther is declared an outlaw and a heretic. Powerful German princes protect him, however, and by his death in 1546 his ideas will have significantly altered the course of Western thought. Luther ends his defense with the famous words: 'Here I stand! I can do nothing else! God help me! Amen.' (Bradley)


1606 In Rome, Julius II lays the foundation stone of the second building of St. Peter's Basilica. Completed 20 years later by Urban VIII, St. Peter's today is the largest church in Christendom, with an overall length of 619 feet.

1689 Death: Judge Jeffreys, who had sentenced more than 300 people to death at his 'bloody assizes', in the Tower of London.


1775 US Revolutionary War: General Thomas Gage, the British governor of Massachusetts, makes preparations for British troops to march against the Patriot arsenal at Concord and capture Patriot leaders Samuel Adams and John Hancock, known to be hiding at Lexington.


1775 US Revolutionary War: At around 10pm, three men take to their horses to ride from Boston to Concord, Massachusetts to warn the citizens of the approaching British army. The famous poem, Paul Revere's Ride, by Henry Wadsworth Longfellow, will glorify the Bostonian as the lone rider. He is, in fact, accompanied by William Dawes and Samuel Prescott. Only Prescott will make it all the way to Concord. Revere is nabbed by a British cavalry patrol near Lexington, Massachusetts (Dawes and Prescott escape). It isn't clear what happened to Dawes but Revere is released and returned to Lexington without his horse. There is lots of running and riding around this night, but suffice to say, when British forces arrive in Lexington, they will find the minutemen waiting for them. (Bradley)

1817 Birth: George Henry Lewes, English philosophical writer; Life of Goethe.

1846 The telegraph ticker is patented by R. E. House of New York City.


1847 American-Mexican War: General Winfield Scott with 8,500 men attack and defeat General Santa Anna with 12,000 men at the Battle of Cerro-Gordo.

1853 The first train in Asia begins operation, running from Bombay to Tanna, a distance of 57 miles.

1857 Birth: Clarence Darrow, attorney, famous Scopes Monkey Trial.

1861 US Civil War: Colonel Robert E. Lee turns down an offer to command the Union armies.

1864 Birth: Richard Harding Davis, US journalist, author; In The Fig.

1868 The Society for Prevention of Cruelty to Animals is formed in San Francisco .

1874 The remains of Scottish missionary David Livingstone are interred in London's Westminster Abbey. Livingston had died the previous year in Africa at the age of 60.


1877 Charles Cros writes a paper that describes the process of recording and reproducing sound. In France, Mr. Cros is still regarded as the inventor of the phonograph, while everywhere else in world Edison gets the credit.

1895 New York State passes an act that establishes free public baths, to be open 14 hours a day and provide hot and cold water.


1906 Great San Francisco Earthquake: At approximately 5.15am, a devastating earthquake, estimated at close to 8.0 on the Richter scale, rocks the city of San Francisco on the western US coast with powerful shock waves which are registered on seismographs as far away as Australia. The main quake lasts a full three minutes and is followed by a series of aftershocks. Hundreds of people are killed as numerous buildings topple over. The quake is caused by a slip of the San Andreas Fault over a segment about 275 miles long. Shock waves can be felt from southern Oregon down to Los Angeles. San Francisco's brick buildings and wooden Victorian structures are especially devastated, and the city is reduced to chaos as buildings everywhere collapse into the streets. Fires broke out as lamps and stoves are overturned, and because broken water mains prevent firefighters from stopping them, firestorms soon develop citywide. Within three hours these fires are raging out of control with firefighters unable to get access to damaged water mains. Many buildings which survived the quake succumb to the blaze which will take days to bring under control. At 7am, US Army troops from Fort Mason report to the Hall of Justice, and San Francisco Mayor E.E. Schmitz calls for the enforcement of a dusk-to-dawn curfew and authorizes soldiers to shoot-to-kill anyone found looting. Meanwhile, in the face of significant aftershocks, firefighters and US troops fight desperately to control the ongoing fire, often dynamiting whole city blocks to create firewalls. On 20 April, 20,000 refugees trapped by the massive fire will be evacuated from the foot of Van Ness Avenue onto the USS Chicago. By 23 April, most fires will be extinguished, and authorities will commence the task of rebuilding the devastated metropolis. It is estimated that some 3,000 people died as a result of the Great San Francisco Earthquake and the devastating fires it inflicted upon the city. Almost 30,000 buildings are destroyed, including most of the city's homes and nearly all the central business district causing estimated damage of up to $200 million. Approximately 250,000 people are made homeless, two-thirds of San Francisco's population. (Bradley)


1910 Walter R. Brookins makes the first airplane flight at night, over Montgomery, Alabama.

1916 WW1: General Yudenich captures Trebizond (Trabzon), facilitating Russian logistical support

1921 Edward R. Stettinius Sr. writes a letter to Lucy Lee Brownlee and discloses to her that his son, Edward R. Stettinius Jr., "was elected recently a member of one of the select secret societies..." Note: This secret society is very likely connected with Yale's Skull and Bones.

1923 Poland annexes Central Lithuania.

1925 The World Fair opens in Chicago.

1933 Church and Reich: Pacelli and Pope Pius XI have a lengthy conversation about the concordat with Nazi Germany. In the evening, Papen leaves for Berlin.

1934 J.F. Cantrell opens the Washateria, in Fort Worth, Texas; the first Laundromat.

1939 In Berlin, Hitler warns Grigore Gafencu, Romania's new Foreign Minister that "Romania will be abandoned by the covetousness of its neighbors" and again offers military aid and support against Soviet aggression.


1940 Birth: Joseph L. Goldstein, in Sumter, South Carolina, physician; Nobel-1985 for his research on cholesterol metabolism that will lead to cholesterol-lowering drugs.


1941 WW2: Remnants of Yugoslav armies capitulate. Germans pursue offensive in Greece against Anglo-Greek armies. In Libya, German motorized divisions reach Egyptian border.

1941


1942 Holocaust: 909 Jews are deported from Ceske Budejovice in Bohemia to Izbica and Belzec. (Atlas)


1942 WW2: US Col. James H. Doolittle leads a B-25 strike on Tokyo. "Immediately following the Japanese attack on Pearl Harbor, President Roosevelt issued an order to his Chiefs of Staff - take the war to Tokyo at the earliest possible moment. Successful completion of this directive would boost the morale of the American people and strengthen the will of the Allied powers around the world. Four months later, using 16 specially modified North American B-25B Mitchell bombers, Lt. Col. James H. "Jimmy" Doolittle, along with 79 other brave young U.S. Army Air Force (USAAF) fliers, carried out a plan to bomb Japan. This plan was conceived by a US Navy submariner working on the staff of Admiral Ernest J. King, Chief of Naval Operations. The daring daylight raid on important military targets in Japan would begin with the launch of sixteen USAAF light bombers from the 500-foot-long deck of the USS Hornet (CV-8). The pilots were to land in China after completing their mission. Bower, pilot of crew Nº 5 and Jones, pilot of crew Nº 12, both volunteered for a mission they knew little about until they were underway aboard the Hornet for Japan. They completed their missions, bailed out over China, escaped enemy capture with the help of the Chinese people, and returned to the United States to become the first American heros of World War II. This raid proved the great resolve of the Allied powers and showed for the first time the cooperative effort of two US armed services - the Navy and the Army Air Force."

1943 WW2: The Soviets make an announcement on the murders in the Katyn Forest, claiming that the Germans have concocted the entire story.


1943 WW2: Admiral Yamamato is killed when his airplane is intercepted and shot down by American P-38 fighters over Bougainville. "...To boost morale following Guadalcanal, Yamamoto decided to make an inspection tour throughout the South Pacific. In April 1943, U.S. intelligence intercepted and decrypted reports of the tour. Sixteen American P-38 aircraft of the 339th Fighter Squadron, US Army Major John W. Mitchell commanding, flew from Henderson Field, Guadalcanal to ambush Yamamoto in the air. In the early morning of April 18, his G4M "Betty" transport aircraft was shot down near Kahili in Bougainville; Yamamoto was apparently killed in the air by a machine-gun bullet which struck his head, although there is still some controversy over whether he was..."

1945 WW2: German forces in the Ruhr pocket surrender.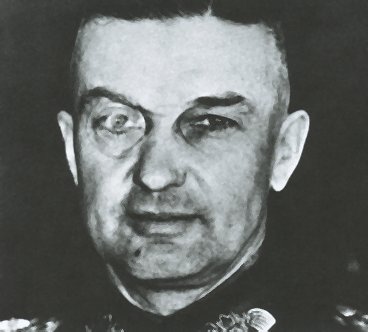 1945 WW2: Field Marshal Walther Model commits suicide. "Walther Model (pronounced "modal") was a German general, and later a Field Marshal, during WW2. He was noted for his defensive skills, and was nicknamed "Hitler's fireman". Model served as an infantry officer in WW1. During the Polish and French campaigns in 1939 and 1940 he served as a corps and army chief of staff. In the Russian campaign from 1941 until 1944 he served in succession as a division, corps, and army commander. Model in January 1944 was assigned as commander in chief of Army Group North on the Eastern Front. In mid-August 1944 he was transferred to the west as Commander in Chief West and concurrently as commander in chief of Army Group B. Upon Rundstedt's return as Commander in Chief West in early September 1944, Model retained command of Army Group B, a post he kept until the final dissolution of Army Group B in April 1945. Model committed suicide rather than be captured by the Allies. He is buried in the German military cemetery "Der Soldatenfriedhof Vossenack", located near the town of Vossenack, Germany."


1945 WW2: Pulitzer Prize-winning journalist Ernie Pyle, America's most popular war correspondent, is killed by Japanese machine-gun fire on the island of Ie Shima in the Pacific. Pyle, born in Dana, Indiana, first began writing a column for the Scripps-Howard newspaper chain in 1935. Eventually syndicated to some 200 US newspapers, Pyle's column, which related the lives and hopes of typical citizens, captured America's affection. In 1942, after the United States entered WW2, Pyle went overseas as a war correspondent. He covered the North Africa campaign, the invasions of Sicily and Italy, and on 7 June 1944, went ashore at Normandy the day after Allied forces landed. Pyle, who always wrote about the experiences of enlisted men rather than the battles they participated in, described the D-Day scene: "It was a lovely day for strolling along the seashore. Men were sleeping on the sand, some of them sleeping forever. Men were floating in the water, but they didn't know they were in the water, for they were dead." The same year, he was awarded the Pulitzer Prize for distinguished correspondence and in 1945 traveled to the Pacific to cover the war against Japan. On this day, Ernie Pyle is killed by enemy fire on the island of Ie Shima. Worrying more about his Army buddies than himself, he doesn't take cover but turns to ask if they are OK while under Japanese sniper fire. He takes a bullet in the left temple. A memorial on the site where Ernest T. Pyle was killed reads, "At this spot the 77th Infantry Division lost a buddy. Ernie Pyle 18 April 1945". Once buried on the island, his remains now lie at the National Memorial Cemetery of the Pacific in Punchbowl Crater on Oahu, Hawaii. Pyle will be awarded the Purple Heart posthumously. After his death, President Harry S. Truman will speak of how Pyle "told the story of the American fighting man as the American fighting men wanted it told". (Bradley)


1946 Nuremberg War Crimes Trials: Hans Frank testifies. "...I learned that the Dachau concentration camp was being established in connection with a report which came to me from the Senior Public Prosecutor's Office in Munich on the occasion of the killing of the Munich attorney, Dr. Strauss. This Public Prosecutor's Office complained to me, after I had given them orders to investigate the killing, that the SS had refused them admission to the Dachau concentration camp. Thereupon I had Reich Governor, General Von Epp, call a meeting where I produced the files regarding this killing and pointed out the illegality of such an action on the part of the SS and stated that so far representatives from the German Public Prosecutor's Office had always been able to investigate any death which evoked a suspicion that a crime had been committed and that I had not become aware so far of any departure from this principle in the Reich. After that I continued protesting against this method to Dr. Gártner, the Reich Minister of Justice and at the same time Attorney General. I pointed out that this meant the beginning of a development which threatened the legal system in an alarming manner. At Heinrich Himmler's request Adolf Hitler intervened personally in this matter, and he used his power to quash any legal proceedings. The proceedings were ordered to be quashed. I handed in my resignation as Minister of Justice, but it was not accepted..."

1949 The Republic of Ireland Act goes into force as Eire becomes a republic and withdraws from the British Commonwealth.

1951 France, West Germany, Italy and the three Benelux countries sign a treaty in Paris setting up the European Coal and Steel Community.

1954 Colonel Gamal Abdel Nasser becomes Prime Minister and military governor of Egypt after seizing power while President Neguib is away from the capital.


1955 Death: Albert Einstein, the German-born American theoretical physicist who won a Nobel Prize in 1921 for his explanation of the photoelectric effect, at the age of 76. His specific and general theories of relativity revolutionized modern thought on the nature of space and time and formed a theoretical base for the exploitation of atomic energy.

1961 Russian spy George Blake is charged under the Official Secrets Act.

1966 Masters and Johnson's Human Sexual Response is published.

1968 London Bridge is sold for one million pounds to oil tycoon Robert McCullough, who will have it rebuilt at Lake Havasu, Arizona.

1968 Army officers in western Africa's Sierra Leone take over the government, dissolve the Legislature, and suspend the constitution.

1974 Watergate: The Washington District Court conducting the Watergate proceedings issues a subpoena on President Richard Nixon to produce tape recordings and other material demanded by the special prosecutor.

1978 The US Senate ratifies the second Panama Canal Treaty and votes 68-32 to turn the Panama Canal over to Panamanian control on 31 December 1999.

1980 Zimbabwe Rhodesia gains legal independence as Zimbabwe under President Canaan Banana.

1982 The name of the capital of Zimbabwe is changed from Salisbury to Harare.

1983 The US embassy in Beirut, Lebanon, is almost completely destroyed by a car-bomb explosion that kills 63 people, including the suicide bomber and 17 Americans. The terrorist attack is carried out in protest of the US military presence in Lebanon. In 1975, a bloody civil war erupted in Lebanon, with Palestinian and leftist Muslim guerrillas battling militias of the Christian Phalange Party, the Maronite Christian community, and other groups. During the next few years, Syrian, Israeli, and UN interventions failed to resolve the factional fighting, and on 20 August 1982, a multinational force featuring US Marines landed in Beirut to oversee the Palestinian withdrawal from Lebanon. The Marines left Lebanese territory on 10 September but returned on 29 September, following the massacre of Palestinian refugees by a Christian militia. The next day, the first US Marine to die during the mission was killed while defusing a bomb, and on this day, the US embassy in Beirut is bombed. (Bradley)

1988 An Israeli court convicts John Demjanjuk of Nazi war crimes, saying he was the gas chamber operator Ivan The Terrible at the Treblinka death camp in WW2.

1989 Mainland China's Affairs Council under the Executive Yuan decides to permit Taiwan citizens to gather news and make films in mainland China.

1990 The US Supreme Court rules that states may make it a crime to possess or look at child pornography.

1993 In Pakistan, the government of Prime Minister Nawaz Sharif is dismissed by President Ishaq Khan.

1994 Former President Nixon suffers a serious stroke at his home in Park Ridge, New Jersey. (See April 22)

1996 More than 100 Lebanese refugees are killed when Israeli artillery shells rip into a crowded UN peacekeepers base where they are sheltering.

1996 Britain withdraws an expulsion order on Saudi dissident Mohammed al-Masari, whose presence had threatened lucrative arms deals with Riyadh, and declares he can stay in the country for four more years.

1998 Official talks between South and North Korea end with the two sides failing to resolve a dispute over aid to the starving North and the reunion of separated families.

2001


2002


2002 Royal Marines and US forces find abandoned cave networks and ammunition in the mountains of Afghanistan.

2003


2004


2005


2005


2005


2005


2005









Visit:
Visit:

Click Here to email the History: One Day At a Time webmaster.