February 5


45BC Death: Cato, Roman patriot and philosopher, by suicide.

1428 King Alfonso V orders all Sicily's Jews to attend conversion sermons.


1578 Death: Giovanni B. Moroni, Italian portrait painter.


1591 Death: Gerard de Jode, Flemish publisher.

1631 British clergyman Roger Williams arrives in Salem, Massachusetts, seeking religious freedom. He will eventually found the colony of Rhode Island.

1644 Connecticut passes the first US livestock branding law.

1679 The Treaty of Nijmegen is signed by Holy Roman Emperor Leopold I and King Louis XIV of France.

1685 Death: Charles II, king of England (1660-85).


1723 Birth: John Witherspoon, clergyman, American patriot; will sign the Declaration of Independence. "...born in the parish of Yester, a few miles from Edinburgh...lineally descended from John Knox, the Scottish reformer, of whom Mary, queen of Scots, said, "she was more afraid of his prayers, than of an army of ten thousand men." The father of Mr. Witherspoon was the minister of the parish of Yester. He was a man, eminent for his piety and literature, and for a habit of great accuracy in his writings and discourses. The example of the father contributed, in no small degree, to form in his son that love of taste and simplicity, for which he was deservedly distinguished. He was sent, at an early age, to the public school at Haddington, where be soon acquired a high reputation for the native soundness of his judgment, his close application to study, and the quick and clear conceptions of his mind. Many, who at that time were the companions of his literary toils, afterwards filled some of the highest stations in the literary and political world. At the age of fourteen, be was removed to the university of Edinburgh. Here he was distinguished, as he had been at the school of Haddington, for his great diligence and rapid literary attainments. In the theological hall, particularly, he exhibited an uncommon taste in sacred criticism, and an unusual precision of thought..."

1736 Methodists John and Charles Wesley arrive in Savannah, Georgia.


1744 Birth: John Jeffries, colonial physician, meteorologist. "...He was graduated at Harvard in 1763, and studied medicine in London and Aberdeen, receiving his medical degree at the latter place in 1769. He then returned to Boston, continued to practise with success, and was from 1771 till 1774 surgeon of a British ship of the line at that port. At the evacuation of Boston by the British, he accompanied the troops to Halifax, where he was made by Lord Howe surgeon-general of the forces in Nova Scotia. In March, 1779, he went to England and was made surgeon-major to the forces in America..."

1770 Birth: Alexandre Brongniart, in Paris, mineralogist, geologist.

1777 US Revolutionary War: Georgia becomes the first US state to abolish both entail and primogeniture.


1778 US Revolutionary War: Articles of Confederation are ratified by the first state, South Carolina.

1782 Spain captures the island of Minorca from the British.

1783 US Revolutionary War: Sweden recognizes US independence.

1788 Birth: Sir Robert Peel, at Chamber Hall near Bury in Lancashire, England. British Prime Minister: 10 December 1834 to 8 April 1835 and 30 August 1841 to 29 June 1846. Will form the Metropolitan Police and introduce the income tax.

1811 After George III is declared insane, the Prince of Wales becomes Prince Regent of England, later to be George IV.

1817 The first US gas company is incorporated, in Baltimore, providing coal gas for street lights.

1818 Charles XIV is proclaimed king of Sweden after the death of Charles III.

1824 Charles Dickens begins his first job, labeling bottles.


1840 Birth: John Boyd Dunlop, in Scotland, inventor of the pneumatic tire.

1840 Birth: Hiram Stevens Maxim, inventor; automatic single-barrel rifle.

1846 The Oregon Spectator, based in Oregon City, Oregon, becomes the first newspaper published on the Pacific coast.

1861 Samuel Goodale, of Cincinnati, Ohio, patents the moving picture peep show machine.

1861 US Civil War: Except for Mr. Bouligny, the Louisiana delegation withdraws from Congress.

1864 US Civil War: Federals occupy Jackson, Mississippi.


1865 US Civil War: The Battle of Hatcher's Run takes place, in Virginia at Armstrong's Mill, and Dabney's Mill. 1

1878 Birth: Andre-Gustave Citroen, in France, auto maker.

1881 Death: Thomas Carlyle, historian, essayist, in London at 85.


1888 Death: Anton Mauve, painter, cousin of Vincent van Gogh, at 49.

1893 Birth: Roman Ingarden, Polish philosopher; Studia philosophica.

1897 When French aesthete Marcel Proust's first book is slated by critic Jean Lorrain, Proust challenges him to a duel. They fire pistols from 120 paces on this day, but both miss.


1900 Birth: Adlai E. Stevenson. "...governor of Illinois (1949-1953), Democratic candidate for President in 1952 and 1956, and United States Ambassador to the United Nations (1961-1965), was born in Los Angeles, California on February 5, 1900, the son of Lewis G. Stevenson and Helen Davis Stevenson. He grew up in Bloomington, Illinois, where his ancestors had been influential in local and national politics since the nineteenth century. Jesse Fell, his maternal great-grandfather, a prominent Republican and an early Lincoln supporter, founded The Daily Pantograph, a Bloomington newspaper. His paternal grandfather, Adlai E. Stevenson, served as Grover Cleveland's Vice President during his second term, was nominated for the office with William Jennings Bryan in 1900, and ran unsuccessfully for Illinois governor in 1908. Stevenson attended preparatory school at Choate and went on to Princeton University, where he served as managing editor of The Daily Princetonian and was a member of the Quadrangle Club. He graduated in 1922 and matriculated at Harvard University Law School....In 1928, he married Ellen Borden, a wealthy Chicago socialite. They had three sons: Adlai E. Stevenson, III (1930-); Borden Stevenson (1932-); and John Fell Stevenson (1936-). The couple divorced in 1949. In the early 1930s, Stevenson began his involvement in government service. In July 1933, he became special attorney and assistant to Jerome Frank, general counsel of the Agricultural Adjustment Administration (AAA) in Washington, D. C. In 1934, after the repeal of Prohibition, Stevenson joined the staff of the Federal Alcohol Control Administration (FACA) as chief attorney. A subsidiary of the AAA, FACA regulated the activities of the alcohol industry. He returned to Chicago and the practice of law in 1935. During this time, Stevenson also became involved in civic activities, particularly as chairman of the Chicago branch of the Committee to Defend America by Aiding the Allies (known often as the White Committee, in honor of its founder, William Allen White). The Stevensons purchased a seventy-acre tract of land on the Des Plaines River near Libertyville, Illinois where they built a house. Although he spent comparatively little time at Libertyville, Stevenson considered the farm home. In 1940 Colonel Frank Knox, newly appointed by President Franklin D. Roosevelt as Secretary of the Navy, offered Stevenson a position as his special assistant. In this capacity..."

1900 Boer War: British troops under General Buller occupy Vaal Krantz.

1914 Hitler is rejected by the Austrian army as unfit for duty.

1914 Birth: Alan Hodgkin, British physicist.

1915 Birth: Robert Hofstadter, US atomic physicist.

1917 The US Congress overrides Woodrow Wilson's veto, curtailing Asian immigration.

1917 After seven years of revolution and civil upheaval, Mexican President Venustiano Carranza proclaims the modern Mexican constitution, which promises the restoration of lands to native peoples, the separation of church and state, and dramatic economic and educational reforms. Carranza will be deposed and killed in 1920, and lasting stability will elude Mexico until after WW2.

1918 WW1: Stephen W. Thompson becomes the first US pilot to down an enemy airplane.

1923 Weimar: A general mine strike against wage cuts occurs in the Saar.


1929 Jimmy Hatlo's They'll Do It Every Time cartoon debuts in San Francisco.

1936 Intense cold turns Niagra Falls to solid ice.

1939 Volkishness: Karl Wolff, Chief Adjutant of Himmler's person staff, informs Weisthor's SS staff by letter that Weisthor (Wiligut) has retired on his own application for reasons of age and poor health and that his SS office will be dissolved. (Berlin Document Center; Roots)


1939 Volkishness: Otto Rahn unexpectedly resigns from the SS. (See February 5 and March 13) (Rahn file, Berlin Document Center; Roots)

1940 WW2: The British and French Supreme War Council decides to intervene in Norway and to send help to Finland. The pretext of helping Finland is primarily intended to prevent Swedish iron ore from reaching Germany.

1943 Resistance: Amsterdam opposition group CS-6 shoots down nazi Lieutenant-General, NSB-'minister' Seyffardt.


1943 Resistance: Clandestine Radio Atlantiksender, Germany, makes its first transmission.

1945 WW2: US troops under General Douglas MacArthur enter Manila, Philippines.

1947 Bolewet Beirut becomes president of Poland.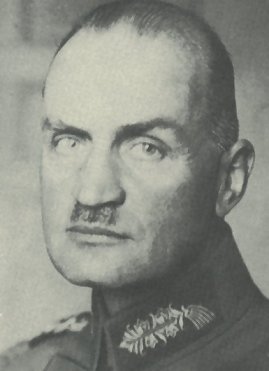 1948 Death: Johannes Blaskowitz, Wehrmacht General who planned the Polish campaign, led the Eighth Army in Poland, and subsequently became the CIC of the Army Of Occupation. A professional soldier of the old school, his ascendancy in the Third Reich was rapid. In 1935 he was promoted to Lieutenant-General and assumed command of Defense District Three, Stettin. In 1938 he was the field commander of Army Group Three in Dresden, which he led into Austria and Bohemia, and then the Sudetenland in 1939. After surviving a severe flank attack at Pozen, which only the assistance of Reichenau's Tenth Army was able to stem, he received the surrender of Warsaw on September 27, and was made military governor of Poland on October 22. It was at this time that Blaskowitz received his first lesson in Nazi criminality. He wrote two blistering memos to his immediate superior, Field Marshal von Brauchitsch, concerning the activities of the Einsatzkommandos and detailing such crimes as beatings, rapes, looting, and of course, murder. An enraged Hitler, complaining of Blaskowitz's 'childish attitude,' relieved him of his commands, but continued to make use of his superior military talents throughout the war. Surrendering to the British while engaged in the Netherlands, he committed suicide in Nuremberg prison shortly before his trial as a minor war criminal. Though it has never been proven, his fellow prisoners forever remained convinced that he was actually murdered by an SS death squad.


1952 The first Don't Walk sign is installed in New York City. The city erects the signs in response to the growing awareness of pedestrian fatalities in the increasingly crowded Manhattan streets. In 1998, in hopes of minimizing gridlock, New York City will begin strictly enforcing its J-walking laws during rush hour. Pedestrians are subject to a fifty dollar fine if they walk, or run, when faced with a Don't Walk sign.

1958 Gamel Abdel Nasser is nominated as the first president of United Arab Republic.

1962 French President de Gaulle calls for Algeria's independence.

1962 The Sun, Moon, Mercury, Venus, Mars, Jupiter and Saturn align within 16 degrees.


1963 Maarten Schmidt discovers enormous red shifts in quasars.

1969 The US population reaches 200 million.

1971 A British soldier is shot dead during riots in Belfast, the first to be killed in action since troops went to Northern Ireland in 1969.

1972 US airlines begin mandatory inspection of passengers and baggage.

1973 The Nam: A funeral is held for LC William Nolde, the last US soldier killed in combat in the Vietnam War.

1974 The maximum speed on the Autobahn is reduced to 100 kph.


1974 US Mariner 10 returns the first close-up photos of Venus' cloud structure.

1975 The United States cut off military aid to Turkey as a result of delays in a peace settlement of the Cyprus dispute.

1981 President Reagan, in a nationwide address, declares that the United States is in 'the worst economic mess since the Great Depression' and calls for sweeping spending and tax cuts.


1983 Holocaust: Klaus Barbie, wanted Nazi war criminal, is imprisoned in Lyons, France, following extradition from Bolivia.

1986 World oil prices plunge toward $15 per barrel from $30 three months earlier after OPEC fails to curb production. Prices will drop to $9 by the summer of 1986.

1988 Two federal grand juries in Florida announce indictments of Panama military strongman General Manuel Antonio Noriega and 16 associates on drug smuggling and money laundering charges.

1989 Radio Moscow announces the last Soviet soldier has left Kabul, Afghanistan.

1990 Soviet leader Mikhail Gorbachev proposes that the Communist Party give up its monopoly on power in the Soviet Union. Two days later, the party's Central Committee agrees.

1991 Desert Shield: President Bush sends his top military advisers to Saudi Arabia to decide whether a ground assault is needed to liberate Iraqi-occupied Kuwait.

1992 Euthanasia advocate Jack Kevorkian is freed on bond following his arrest in the assisted suicides of two women.

1993 Federal Judge Kimba Wood withdraws her name from consideration as President Clinton's attorney general after revelations that she'd employed, although paid the taxes for, an illegal alien.

1994 30 years after the crime, white supremacist Byron De La Beckwith is convicted of the 1963 murder of civil rights leader Medgar Evers.

1996 A judge orders President Clinton to testify in the Whitewater trial. He later does so via videotape.

1996 The Bosnian government tells NATO it has arrested a Serb general, a colonel and six other men for investigations into suspected war crimes.

1997 Switzerland's three biggest banks, galvanized by international pressure, declare that they have created a 100 million Swiss franc Holocaust memorial fund as a gesture of good will toward their critics.

1997 Thousands of Albanians, many of whom had lost their life savings, protest to demand the US government reimburse them following the collapse of a pyramid fund.

2001


2001


2002


2002


2003


2003




2003 British Prime Minister Tony Blair tells MPs that links between Iraq and al-Qaeda 'unquestionably' exist.

2004


2004


2005


2005


2005


2005


2005


2005









Visit:
Visit:

Click Here to email the History: One Day At a Time webmaster.