February 23





0303 Emperor Diocletian orders the general persecution of Christians in Rome.

1516 In Spain, the Hapsburg Charles I succeeds Ferdinand.


1540 Spanish explorer Francisco Vasquez de Coronado begins his unsuccessful search for the fabled Seven Cities of Gold in the American Southwest.

1615 The Estates-General in Paris is dissolved, having been in session since October 1614.

1633 Birth: Samuel Pepys, English diarist.

1743 Birth: Meyer Amschel Rothschild, banker and founder of the Rothschild dynasty in Europe.


1778 US Revolutionary War: Baron von Steuben joins the Continental Army at Valley Forge. "...In 1777, Von Steuben went to Paris to meet America's foreign commissioners, Benjamin Franklin and Silas Deane, and offer them his military services. The Continental Congress, much impressed by Von Steuben's title and his refusal to accept any salary while in service, immediately sent him to George Washington at Valley Forge. Although he spoke no English, Von Steuben systematically trained the amateur American troops in military discipline and battle-readiness. This rigorous training saved the troops from complete defeat during the Battle of Monmouth. In 1779, Von Steuben prepared his Regulations for the Order and Discipline of the Troops of the United States, which remained America's official military manual for over three decades..."


1787 Birth: Emma Willard, educator, writer.


1820 The Cato Street Conspiracy, an attempt to assassinate British Cabinet ministers, is foiled with only hours to spare. The plotters will be executed.

1821 The first pharmacy college, the Philadelphia College of Apothecaries, is established in Philadelphia, Pennsylvania.


1836 The Alamo: The Mexican army, led by General Antonio Lopez de Santa Anna, lays siege to the Alamo in San Antonio, Texas. Leading several thousand Mexican troops, they begin besieging the Alamo mission settlement held by a force of 145 Texans led by Colonel Travis, Jim Bowie and Davy Crockett. See: March 6. (Bradley)

1846 The Liberty Bell tolls for the last time, during a George Washington's birthday celebration.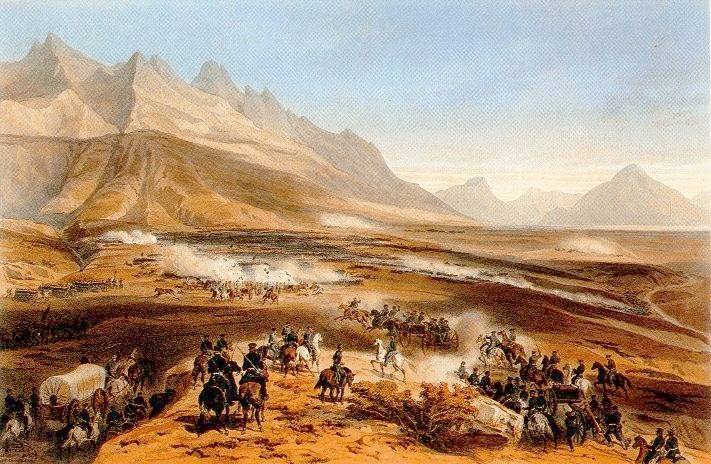 1847 Mexican War: Forces led by Zachary Taylor defeat the Mexicans at the Battle of Buena Vista. There, for the entire day, his army of 4,700 men successfully withstands the attack of 20,000 Mexicans under Santa Anna.


1848 Death: John Quincy Adams, former sixth US President. While his presidency was of only one term and with few actual accomplishments, his career after the White House was a model of conscientious and enlightened public service. "...in 1830, the Plymouth district elected him to the House of Representatives, and there for the remainder of his life he served as a powerful leader. Above all, he fought against circumscription of civil liberties. In 1836 southern Congressmen passed a "gag rule" providing that the House automatically table petitions against slavery. Adams tirelessly fought the rule for eight years until finally he obtained its repeal. In 1848, he collapsed on the floor of the House from a stroke and was carried to the Speaker's Room, where two days later he died. He was buried--as were his father, mother, and wife--at First Parish Church in Quincy. To the end, "Old Man Eloquent" had fought for what he considered right..."

1854 Great Britain officially recognizes the independence of the Orange Free State.

1861 US Civil War: Texas becomes the seventh state to secede from the Union.


1863 British explorers John Speke and J. A. Grant announce the discovery of the source of the Nile.

1868 Birth: W. E. B. (William Edward Burghardt) Du Bois, US historian and civil rights leader; will found the precursor of the NAACP.

1885 John Lee survive three attempts to hang him in Exeter Prison, after the trap fails to open.

1886 Charles M. Hall invents aluminum.

1898 Writer Emile Zola is imprisoned in France for his letter J'accuse in which he accused the French government of anti-Semitism and the wrongful imprisonment of army captain Alfred Dreyfus.

1899 Birth: Erich Kastner, German poet, novelist and children's author; Emil and the Detectives.


1899 Adolf Hitler's father buys a house near the old Catholic cemetery in Leonding, a suburb of Linz, Austria. "...The family moved in shortly before Adolf turned ten. It was an attractive house situated in tranquil surroundings with a half-acre yard in the rear. Alois, not a man to sit idly by, spent his time working a small garden and a few fruit trees. He also continued to tend bees and wrote articles on bee-keeping. "In my youth I had every opportunity to study bees," Adolf Hitler would recall years later, "for my old father was a keen apiarist. Unfortunately I was frequently so badly stung that I all but died! To be stung by a bee in our family was an ordinary, ever day occurrence. My mother often pulled out as many as forty-five or fifty stings from the old gentleman when he returned from cleaning the hives. He never protected himself in any way; all he did was to smoke all the time--in other words, a good excuse for another cigar." Adolf was enrolled in the local grade school which was only a couple hundred yards north of the Hitler home. As usual, he excelled in his school work. Like all small boys of the time, he was often dressed in "leather shorts, embroidered suspenders (and) a small green hat with a feather in its band."




Nearly directly opposite the Hitler home, on the other side of the road, was the local Catholic cemetery and church of St. Michael. The Hitler family attended the church every Sunday and Adolf joined other local boys in singing in the choir. From his upstairs bedroom window, Adolf could see over the high stone wall surrounding the cemetery..." Note: Hitler's parents will eventually be buried there, and the site will become a Nazi shrine.



1901 Britain and Germany agree on a boundary between German East Africa and Nyasaland.


1904 Birth: William Shirer, CBS broadcaster and author; The Rise and Fall of the Third Reich. "One of the most recognized U.S. Americans to visit Nazi Germany, William Shirer perhaps shed more light on the events that led to Hitler's ascendancy and German involvement in World War II than anyone else from the United States. Although closely watched in Germany, Shirer managed to convey much in his reporting by using subtle phrasing, suggestive tones of voice or U.S. slang unfamiliar to German censors trained only in formal British English. Having lived in Paris and familiar with Central Europe from his days with the Chicago Tribune, Shirer became one of the most respected U.S. journalists in wartime Europe.




Selected as one of twelve foreign correspondents to accompany the German army in its 1940 western offensive, for example, he had a scoop on the French-German armistice in Compiegne by hearing over a German sound truck that France would surrender—three hours before even Berlin knew of the French defeat. While as an adult he became intimately involved with the drama unfolding in Germany, Shirer came from a world quite removed from Europe. William Lawrence Shirer was born in Chicago in September 1904. His father Seward practiced law in the Windy City and later served as Assistant United States District Attorney. His mother, Bessie Tanner Shirer, took her son and his younger brother with her to Cedar Rapids, Iowa to live with her parents when their father died of peritonitis in 1913. There, Shirer later enrolled at Coe College, where he worked on the school newspaper staff and wrote for the sports page of the Cedar Rapids Republican. Briefly enlisting as a teenager in the army and landing summer jobs with the traveling Chautauqua, Shirer left the Iowa prairies upon earning a Bachelor of Arts degree in 1925. He visited Chicago and New York City, then went to Montreal to work his way to Europe pitching hay on a cattle boat. Touring England, Belgium and France, he eventually found a job in the Paris office of the Chicago Tribune just before spending the last of the two-hundred dollars he had borrowed and having to return to the States. Life in postwar Paris excited the curious young reporter..."



1905 The Rotary Club is founded by Attorney Paul Harris and 3 others in Chicago, Illinois. A national association of the very popular civic club will be formed in 1910 and, in 1922 the for men only organization will adopt the name Rotary International. It continues with millions of members throughout the world - both men and women. (Bradley)


1916 The day after George Washington's birthday, US Secretary of State Lansing (above) hints that the US may have to abandon the policy of avoiding 'entangling foreign alliances.' Note: The Republic had not been the same since.


1917 WW1: Anticipating a major Allied offensive, the Germans begin withdrawing to a well fortified defensive zone known as the Hindenburg line, or Siegfried zone, about 20 miles behind the winding and overextended line from Arras to Soissons (to April 5).


1918 In memory of the Red Army's first battles, this day is hereafter celebrated as Soviet Armed Forces Day.


1919 Benito Mussolini breaks with the Socialist party and founds his own Fasci del Comattimento (Fascist) party in Italy.

1924 Birth: Allan MacLeod Cormack, physicist; will develop the CAT scan.

1926 President Calvin Coolidge comes out in opposition to a large air force, believing it would be a menace to world peace.

1927 The Federal Radio Commission begins its work of assigning frequencies, hours of operation and power allocations for radio broadcasters across the US. The name will be changed to the Federal Communications Commission (FCC) on 1 July 1934. (Bradley)


1930 Weimar: Horst Wessel, Professor Horbiger's right-hand man, is killed by Communists and is soon transformed into yet another Nazi martyr. Nazi opponents claim he was nothing more than a "pimp" and a scoundrel, though subsequent scholarship will somewhat modify this over-harsh assessment. (Pauwels)

1933 "Red Sailor," the official Communist organ, calls for violence. "Workers, to the barricades! Forward to victory! Fresh bullets in your guns! Draw the pins of the hand-grenades." (Toland)

1933 Japanese forces occupy China north of the Great Wall.

1938 Holocaust: Volksruf, a violently anti-Semitic newspaper, begins publication in Austria.

1938 Twelve Chinese fighter planes drop bombs on Japan.

1940 Walt Disney's animated feature Pinocchio, based on the story by Collodi (real name: Carlo Lorenzini), is released to the general public. Using a new multiplane camera, this innovative film is able to capture never-before-seen dimension in an animated movie.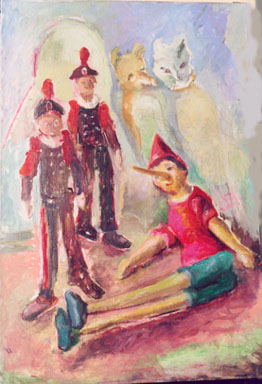 Critics are enchanted with Disney's treatment of the story, although the nephew of the fable's author asks the Italian Ministry of Popular Culture to sue Disney for libel in portraying Pinocchio "so he easily could be mistaken for an American," when the puppet is Italian. Nothing will come of Paolo Lorensini's objections. (Bradle

y)


1942 WW2: In the first raid against the continental United States in WW2, the Japanese submarine I-17, commanded by Captain Kozo Nishino, fires approximately thirteen shells against the Barnsdall Oil Refinery in Ellwood, California, about twelve miles west of Santa Barbara. The submarine is about half a mile off shore. During the attack, which lasts about twenty minutes, one shell makes a direct hit on the rigging and pumping equipment of an oil well, causing about five hundred dollars in damage. No one is injured in the attack, which is the first of only a handful of Japanese raids against the continental United States. See: June 21, Sep 9.

1942 WW2: Master Mutual Aid Agreement is signed between the United States, Britain, Australia and New Zealand.


1944 WW2: American bombers bomb the Marianas Islands bases, only 1,300 miles from Tokyo.

1944 WW2: Stalin forces 1 million Chechens into exile and dissolves the republic, accusing them of collaboration with Nazi Germany.

1944 Diary of Leon Gladun: We visited Taranto. A fairly big city of some 200,000 people. Not much to buy in the stores. Much poverty caused by the war--there's no clothing so many people walk around on wooden soles. Plenty of wine everywhere. The attitude of the people to us is still ambivalent because of German propaganda--at first it was harsh but it's slowly changing for the better. I attended a show put on by an Italian troupe with Aniela and Halina.


1945 WW2: Eisenhower opens a large offensive in the Rhineland.

1945 Death: Alexei Tolstoy, regarded as one of the greatest contemporary Russian novelists, at 62 in Moscow.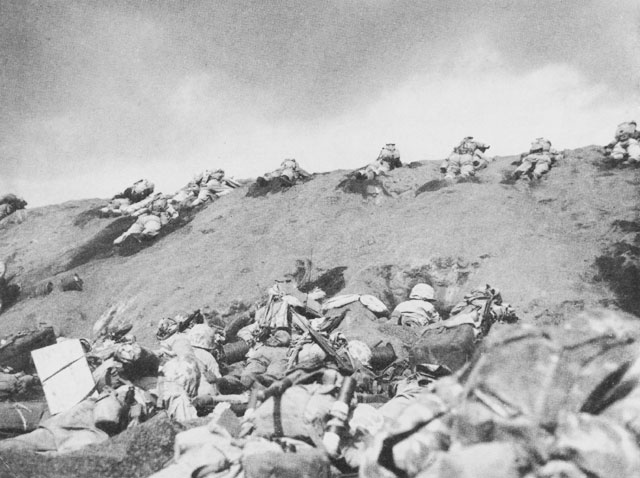 1945 WW2: US Marines plant an American flag on top of Mount Suribachi on Iwo Jima, but it will take another three weeks of fighting to secure the island.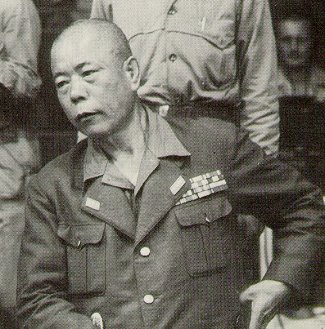 1946 Japanese General Tomoyuki Yamashita is hanged in Manila, the Philippines, for war crimes.

1947 Several hundred Nazi organizers are arrested in Frankfurt by US and British forces.

1953 An amnesty for WW2 deserters brings in nearly 3000 applications.

1955 Eight nations meet in Bangkok for the first SEATO council.

1955 Attempting to win a vote of confidence for his chosen course in Algeria, French Prime Minister Pierre Mendes is defeated in the National Assembly. France's new premier is Edgar Faure.


1955 The West German Army drops the use of the goose-step.

1960 Whites join Negro students in a sit-in at a Winston-Salem, North Carolina Woolworth store.

1964 The US and Britain recognize the new Zanzibar government.


1965 Death: Stan Laurel, the thin, wistful half of the Laurel and Hardy comedy duo, in poverty at 74. Born in Lancashire, he had sailed to America where Charlie Chaplin got him into films. He was cast in a two-reeler with Hardy, the rest is comedy history. (Bradley)

1966 In Syria, the military seized power in a coup and Dr. Nureddin el-Atassi is named head of state.

1967 The Nam: American troops begin the largest offensive of the Vietnam war, near the Cambodian border.

1970 The odd little state of Guyana becomes a republic.

1972 Black activist Angela Davis is released from jail where she had been held for kidnapping, conspiracy and murder. She will go on to run for VP on the Communist Party of America ticket.

1974 The Symbionese Liberation Army demands $4 million more for the release of Patty Hearst. Hearst had been kidnapped on 4 February and her father, publisher Randolph Hearst, had already coughed up $2 million hoping for her freedom. Hearst declares that he will consider this request, too. (Bradley)

1981 Lieutenant Colonel Antonio Tejero and a group of civil guards invade the Spanish parliament, firing shots in a failed coup attempt.

1985 Singer/songwriter Stevie Wonder is arrested during an antiapartheid demonstration outside the South African Embassy in Washington. (Bradley)

1991 Desert Storm: French forces unofficially open the Persian Gulf ground war by crossing the Saudi-Iraqi border.

1991 Desert Storm: The US insists that Iraq publicly announce it is leaving Kuwait by 12pm EST.

1991 Thailand's armed forces seize power in a bloodless coup and arrest Prime Minister Chatichai Choonhaven.

1994 Bosnia's government and separatist Bosnian Croat forces agree to a comprehensive cease-fire under UN auspices.

1994 The Russian parliament votes to pardon participants in an armed rebellion against President Boris Yeltsin in October 1993 and a Soviet coup attempt in 1991.

1996 Kamel Hassan and his brother Saddam Kamel, both married to Iraqi President Saddam Hussein's daughters, are murdered by relatives in a gun-battle only days after returning from Jordan.

1997 Ali Abu Kamal opens fire in the Empire State Building and kills 1 person.

1997 Scientists in Scotland announce they have succeeded in cloning an adult mammal, producing a lamb named Dolly.

2001 British Prime Minister Tony Blair brands Saddam Hussein a 'serial sinner' whose threat to the world has to be stopped.

2001


2002


2003


2004


2005


2005


2005


2005


2005


2005


2005









Visit:
Visit:

Click Here to email the History: One Day At a Time webmaster.