February 28





0870 The Fourth Constantinople Council closes, under Pope Adrian II in the West and Emperor Basil I in the East. The council condemns iconoclasm; the last ecumenical council held in the Eastern Mediterranean area. (Bradley)


1066 Edward the Confessor's great church, Westminster Abbey, opens its doors for worship for the first time.

1533 Birth: In 1533 Michel de Montaigne, France, essayist, philosopher.


1552 Birth: Jobst Burgi, born Justus Byrgius, Swiss-German mathematician, clockmaker.

1573 Birth: Elias Hill, German architect, city builder; Augsburg.

1610 Thomas West, Baron de La Mar, is appointed governor of Virginia.

1667 The English colony of Suriname falls into Dutch hands.

1683 Birth: Rene-Antoine de Reaumur, in France, biologist, engineer.

1704 Indians attack Deerfield, Massachusetts, killing 40, and kidnapping 100.

1708 11 die during a slave revolt, in Newton, Long Island, New York.

1742 Death: Willem J. Once-Gravesande, physicist, at 53.

1749 The first edition of Henry Fielding's novel Tom Jones is published.

1759 Pope Clement XIII grants permission for the Bible to be translated into the languages of the Roman Catholic states. (Bradley)


1771 Birth: French Jozef Kinsoen, Flemish portrait painter.

1778 US Revolutionary War: The Rhode Island General Assembly authorizes the enlistment of slaves.


1781 Death: Richard Stockton, US attorney; signed the Declaration of Independence. "...born in Princeton of a Quaker family that was among the community's earliest settlers...Stockton took an increasingly active part in the political life of the Province of New Jersey. In 1768 he was made a member of its council and in 1774 a judge of its supreme court. Elected a delegate to the Continental Congress on June 22, 1776, he took his seat in Philadelphia in time to hear the closing debate on the Declaration of Independence and to sign it along with Witherspoon and Rush. Two months later, in a vote by the state legislature, he was narrowly defeated for the governorship of New Jersey by William Livingston, and was then chosen first chief justice of the state, but declined this office, preferring to continue in the Continental Congress. The following November, when British troops were rapidly approaching Princeton, Stockton took his family to the home of a friend in Monmouth County for safekeeping. While there, he was betrayed to the British by Loyalists and was dragged in bitterly cold weather to Perth Amboy. He was later taken to New York and put in the notorious Provost Jail, where he suffered brutal treatment until January 3, 1777, when a formal remonstrance from Congress led to his release. Upon Stockton's return to Princeton, it became known (according to a letter from President Witherspoon to his son, David) that during his imprisonment the British had persuaded him to sign General Howe's Declaration, which required an oath of allegiance to the King -- an act Stockton revoked later that year by signing oaths of adjuration and allegiance prescribed by the New Jersey legislature. His health shattered, his estate pillaged, his fortune depleted, he continued to live in Princeton, an invalid, until his death from cancer on February 28, 1781, in his fifty-first year..."

1784 Death: Phillis Wheatly.

1784 English churchman John Wesley, at 80, formally charters the movement within Anglicanism which afterward will come to be known as Wesleyan Methodism. (Bradley)

1786 Birth: D. Francois J. Arago, French astronomer, physicist, politician.


1794 The US Senate voids Pennsylvania's election of Abraham Gallatin. "Albert Gallatin was one of the most important and influential men of the early American Republic....His greatest service to the State, fore-telling his service to the nation, was in the field of financial legislation. Hating, from his boyhood, all forms of debt, he devoted much time to figuring out ways in which to reduce the public debt. As part of his fiscal policy he was also instrumental in obtaining a charter for the Bank of Pennsylvania. In 1793, when a new United States Senator was to be chosen, Gallatin, although a Democratic-Republican, was elected, 55-34 by the Federalist-dominated state legislature to represent the Commonwealth in the Third Congress. The Federalists in Congress, however, were not as well disposed to Gallatin as were their brethren in Pennsylvania, and for political reasons they denied him his seat in the Senate by vote of 14-12. They claimed that he had not been an American citizen for the nine years prescribed by the Constitution. After this defeat Gallatin sold his western lands to Robert Morris for 4,000 pounds, Pennsylvania money, payable (but not paid) in three yearly installments, and he and his second wife, Hannah Nicholson of New York, whom he had married November 1, 1794, returned home to Friendship Hill. During the time that he was absent from his home much had happened. The federal government's decision to collect the taxes on whiskey under Alexander Hamilton's excise bill of 1791 had provoked a wave of discontent that spread among the farmers in the western part of the State. David Bradford, whose Washington, Pennsylvania, house is now owned by the Commonwealth, stirred the disgruntled farmers to action. They held angry meetings, raised a militia, terrorized Pittsburgh, and forced revenue officers to flee for their lives. With superb courage Gallatin moved into this superheated atmosphere. He had his doubts about the constitutionality of the whiskey levy, but his chief objection to it was..."


1820 Birth: John Tenniel, in England, cartoonist, illustrator; Alice in Wonderland.


1827 The first commercial railroad in the US, the Baltimore & Ohio (B&O), is chartered.

1833 Birth: Alfred von Schlieffen, Count, Prussian general, field marshal.

1844 Death: The USS Princeton explodes. "The first Princeton was a screw sloop commissioned in 1843, the first screw-driven vessel in the Navy. One of this ship's very heavy shell guns exploded on February 28, 1844 on the Potomac River, with many federal dignitaries aboard. The United States Secretary of State Abel P. Upshur and the United States Secretary of the Navy Thomas W. Gilmer were among those killed."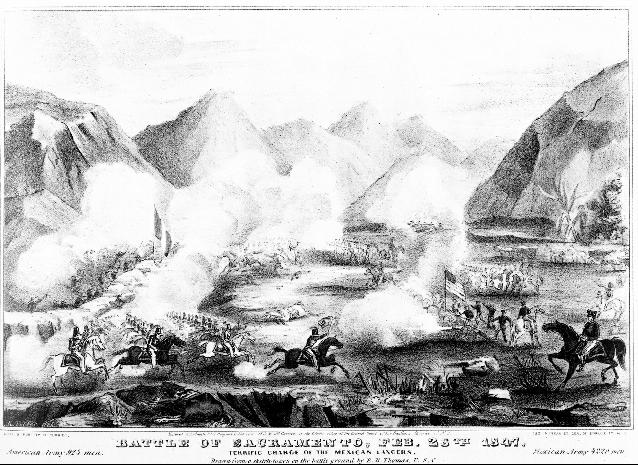 1847 Mexican War: The US defeats Mexico in the Battle of Sacramento. "Traveling along the El Paso Road north of Chihuahua, the American force discovered that Mexicans under Brig. Gen. José A. Heredia had erected strong fortifications on a plateau in front of the Sacramento River crossing. On the morning of February 28, 1847, Col. Alexander Doniphan formed wagons into four columns with the remainder of his Missouri Volunteers in between, except for 200 cavalry. Before reaching the Mexican fortifications, the columns made a sharp right turn off the road and crossed a deep, dry creek bed. They reached the high ground of the plateau on the Mexican left as Mexican Brig. Gen. Pedro Garcia Condé's Mexican lancers maneuvered to oppose them. After Condé fell back to his fortified positions, Doniphan's Missouri cavalry rushed the Mexican guns directly in front of them, seen at the left. Even after the American cavalry took the fort, the Mexican battery across the river continued to bombard the Americans until Capt. Richard B. Weightman took his guns across the river and more cavalry flanked that position. The Mexicans then abandoned the field and Doniphan's men occupied Chihuahua. In the legend of this print (above), it states that it is drawn from a sketch taken on the battleground by E. B. Thomas, US Volunteers."

1849 The first boat load of gold rush prospectors arrives in San Francisco from the east coast.

1854 The American Republican Party forms at Ripon, Wisconsin.

1859 The Arkansas legislature requires free blacks to choose exile or slavery.

1861 The Territory of Colorado is created.


1863 US Civil War: The Confederate raider CSS Nashville is sunk near Fort McAllister, Georgia.

1871 The Second Enforcement Act gives federal control of congressional elections.


1878 US congress authorizes a large-size silver certificate.

1883 The first vaudeville theater opens, in Boston, Massachusetts.


1887 Birth: William Zorach, in Lithuania, US sculptor.

1893 Edward Acheson of Pennsylvania, patents an abrasive he names 'carborundum.'

1896 Birth: Philip Showalter Hench, in Pittsburgh, Pennsylvania, physician; cortisone-Nobel.

1900 Boer War: General Buller relieves Ladysmith, in Natal, besieged by Boer forces for 118 days.

1901 Boer War: Lord Kitchener and General Louis Botha meet at Middelburg to discuss peace.

1901 Birth: Linus Pauling, chemist, peace worker; Nobel 1954, 1962.


1907 Birth: Milton Caniff, in Hillsboro, Ohio, pioneering cartoonist; Terry & Pirates, Steve Canyon.

1908 An assassination attempt on Shah Mohammed Ali in Teheran fails.

1912 The world's first ever parachute jump from an airplane is made over Missouri, by Albert Berry.


1914 Construction begins on the Tower of Jewels for the San Francisco Exposition.

1915 Birth: Peter Medawar, in England, zoologist, immunologist; Nobel 1953.

1916 Death: Henry James, US-British novelist; The Wings of a Dove.

1917 AP reports that Mexico and Japan will ally with Germany if the US enters WW1.

1917 Birth: John B. Connally, Governor of Texas, Senator, republican, democrat, will take a bullet during President John F. Kennedy's assassination.

1919 Volkishness: Eberhard von Brockhusen writes another letter to General Heimerdinger of the Germanenorden, again asking to be relieved of his office as Grand Master of the loyalist branch. (Roots)

1922 Egypt regains independence from Britain, but British troops remain.

1924 The US begins an intervention in Honduras.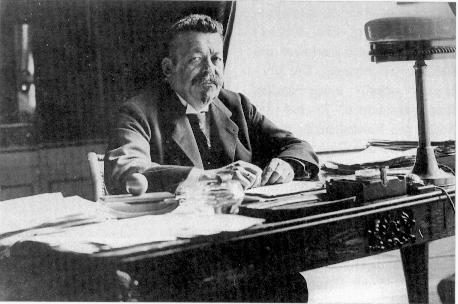 1925 Death: Friedrich Ebert, social-democrat president Germany. "...Ebert's reputation meant that he was asked by Max von Baden to take control of the coalition government in November 1918 and immediately showed his hand when he allied himself to the military and to the Freikorps in an effort to overturn the Spartacist movement in the so-called German Revolution. Ebert became associated with the brutality used by both, though especially by the Freikorps, in crushing both the Spartacists and an attempt to impose a Soviet in Bavaria. Such was the fear of communism and what had occurred in Russia, that most Germans were content to turn a blind eye to what was done in the name of the government. These events also showed that Ebert was willing to use a strong hand against anybody who threatened the stability of Germany. The loss of face Ebert experienced by having to leave the capital Berlin and move to the safer city of Weimar during the 'revolution', may explain why he treated those who fought against his government with such harshness. In January 1919, elections were held in Germany. The coalition which Ebert lead got 85% support. On February 11th, 1919, Ebert was elected president of the Weimar Republic - a position he held until his death in 1925. In this time he had to contend with the shame many Germans felt at losing the war, the humiliation of the Treaty of Versailles, the economic plight Germany was in, the invasion of the Ruhr and the devastating impact of hyperinflation. From 1920 on (the year of Weimar's first parliament), Ebert lost support amongst the people. This was directly related to the Versailles Treaty which many Germans believed was simply a non-military way of destroying Germany. Few understood that the government had little other choice but to sign Versailles. Ebert died at the relatively young age of 54. Many believe that the judgment of a German court - which ruled that Ebert had committed high treason during the war - contributed to his premature death..."


1926 Birth: Svetlana Alliluyeva, born Svetlana Josifovna Stalina, writer; My Life; youngest child and only daughter of former Russian leader Joseph Stalin, will cause an international furor by defecting to the United States in 1967. Will become a naturalized citizen of the United States, and will wed William Wesley Peters, a noted architect, in 1970. She has ever since used the name Lana Peters. The couple had a daughter, Olga, but the marriage dissolved soon afterward. In 1982, will move with her daughter to Cambridge, Britain, and in 1984 will return to the Soviet Union, where they will be granted citizenship, and settle in Tbilisi. In 1986 she will return to the US, and later move back to Britain in the 1990s, where she now lives in a retirement home. (Bradley)

1926 Weimar: Hitler speaks at the National-Club 1919 in Hamburg. (Maser)


1929 Birth: Frank O. Gehry, architect.

1930 Birth: Leon Cooper, US physicist; Nobel 1972.

1931 Sir Oswald Mosely forms The New Party, the British Facist Party.


1932 The last Ford Model A is produced, ending an era for the Ford Motor Company. The successor to the Model T, the Model A was an attempt to escape the image of bare bones transportation that had driven both the Model T's success and its ultimate failure in the market. The vastly improved Model A boasted elegant Lincoln-like styling, a peppy 40 horsepower four-cylinder engine, and, of course, a self-starting mechanism. The Model A was as affordable as its predecessor, however, and with a base price at $460, five million Model A's would roll onto American highways between 1927 and 1932. (Bradley)


1933 Hindenburg signs the "Decree for the Protection of the People and the State," which has been quickly drafted by Hitler and his aides. "...the Nazis convinced President von Hindenburg to sign the so-called 'Reichstag Fire Decree' - 'Decree by the Reich President for the Defence of People and State' on 28 February 1933. In reality, this decree gave the Reich Chancellor (Hitler) almost unrestricted powers to imprison any political opponent. Hitler used these powers to have communists arrested and thus forced out of the elections. The Reichstag Fire Decree was originally planned to be in effect for only a brief period of time. In reality, however, it was kept in effect throughout World War II. It was used, among other things, as the legitimisation for Gestapo's arrests and the confining of people to concentration camps, thus circumventing the regular judicial system..."

1933 The SA and SS quickly begin rounding up German Communists.


1934 Hitler invites invites General Werner von Blomberg, Minister of Defense, and SA leader Ernst Roehm (above) to meet with him at the War Ministry, where he persuades them to sign an agreement specifying the responsibilities of the Reichswehr and the SA. The Reichswehr is given the right to bear arms and handle all military operations and the SA is placed in charge of some aspects of training. The SS soon accuses Roehm of calling Hitler a traitor and vowing to overthrow him. (Secrets)

1934 The Wehrmacht issues orders applying racial criteria to German military service.

1935 The Swiss Supreme Court prohibits formation of uniformed, Nazi-like stormtroopers.

1936 London police are ordered to arrest all anti-Semitic agitators.

1938 The American Legion begins a nationwide campaign against the pro-Nazi German-American Bund.

1940 The US population is put at 131,669,275, with 12,865,518 blacks making up 9.8% of the population.

1940 WW2: British and Italian planes are involved in a dogfight above Albania.


1940 Death: Johan C. Braakensiek, political cartoonist.




1941 Senator Burton Wheeler in a speech in the Senate declares that Jews are attempting to involve America in the war against Germany.




1942 Holocaust: More than 13,000 Jews have now been deported to Chelmno and gassed since December 8, 1941. Adolf Eichmann himself witnesses, and will one day give testimony to, the process. (Atlas)

1942 WW2: The Japanese land in Java, the last Allied bastion in Dutch East Indies.

1942 A race riot occurs in Sojourner Truth Homes, in Detroit, Michigan.

1951 A US Senate committee reports the existence of at least two major US crime syndicates.

1955 In a lightning raid believed to be a reprisal for last month's hanging by Egypt of two alleged Jewish spies, Israeli forces claim to have killed 36 soldiers and six civilians in the Egyptian-held Gaza strip territory.

1959 Launch of Discoverer 1 (WTR) - first polar orbit.


1964 Death: Dirk H.W. Filarski, painter.

1965 Death: Adolf Scharf, president of Austria 1957-65, at 74.

1969 Robert Kennedy's assassin Sirhan Sirhan is refused a request to be executed.

1974 The US and Egypt reestablish diplomatic relations after 7 years.


1978 Death: Eric Frank Russell, sci-fi author; Hugo Award, Deep Space.

1986 Death: Swedish Prime Minister Olave Palme is shot dead by an unknown assassin in Stockholm, as he walks home from the cinema.

1991 Desert Shield: US and allied forces grant Iraq a cease fire.

1993 Four FBI agents and two cult members die when the FBI storms the Branch Davidian cult headquarters in Waco, Texas.

1994 Death: Pu Jie, the last Chinese emperor, Pu Yi, at 87.

2001 A 6.8 earthquake hits Seattle; the largest to hit the region in 50 years. Fortunately there is only one death which is related to a heart attack and many of the injuries reported are minor.

2001


2001


2002


2002


2003


2003


2004


2005


2005


2005


2005


2005


2005


2005


2005









Visit:
Visit:

Click Here to email the History: One Day At a Time webmaster.