January 17


0395 Theodosius I (the Great), Spanish emperor of Rome, dies at 49. This becomes the last day the (Christian) Roman Empire is controlled by a single leader. In his wisdom, Theodosius had divided the empire into western and eastern portions.

1536 Henry VIII falls from his horse while jousting and is unconscious for several hours. Note: Experts believe this may have triggered his mental instability. (Bradley)

1562 The edict of Saint Germain takes effect by which the Huguenots are recognized in France. On the same day, the Duke of Guise and the Cardinal of Lorraine form a union to block the edict. (Bradley)

1601 The Treaty of Lyons is signed between France, Spain and Savoy under which Henry IV gains Bresse, Bugey, Gex and Valromey.




1706 Birth: Benjamin Franklin, statesman, diplomat, scientist, inventor and US Founding Father.

1773 Captain Cook's ship Resolution becomes the first to cross the Antarctic circle.

1781 US Revolutionary War: At Cowpens, South Carolina, Brigadier General Daniel Morgan's troops from Georgia, North Carolina, and South Carolina, along with Virginia militiamen, annihilate the infamous Banastre Tarleton's Legion.

1806 James Madison Randolph, grandson of President Thomas Jefferson, becomes the first child born in the White House.

1820 Birth: Anne Bronte, English poet and novelist whose works include The Tennant of Wildfell Hall.

1827 The Duke of Wellington is appointed Commander-in-Chief of the British Army.

1852 Britain recognizes the independence of Transvaal in the Sand River Convention.

1860 Birth: Anton Pavlovitch Chekhov, short story writer, playwright. Russian dramatist and writer. He will begin to write short stories and comic sketches as a medical student. His plays will concentrate on the creation of atmosphere and delineation of internal development, rather than external action. His first play Ivanov (1887) will be a failure, as will The Seagull (1896) until revived by Stanislavsky in 1898 at the Moscow Arts Theatre, for which Chekov will go on to write his major plays Uncle Vanya (1899), The Three Sisters (1901) and The Cherry Orchard (1904). Born in Taganrog, he will qualify as a doctor in 1884, but devote himself to writing short stories rather than medical practice. A collection Particoloured Stories (1886) will consolidate his reputation, and give him leisure to develop his styles: My Life (1895), The Lady with the Dog (1898) and In The Ravine (1900). (Bradley)




1862 Death: John Tyler, 10th president of the United States, in Richmond, Virginia. "...John Tyler signaled the last gasp of the Old Virginia aristocracy in the White House. Born a few years after the American Revolution in 1790 to an old family from Virginia's ruling class, Tyler graduated from the College of William and Mary at the age of seventeen, studied law, and went to work for a prestigious law firm in Richmond. At twenty-one, Tyler had used his father's contacts to gain a seat in the Virginia House of Delegates where he began immediately fighting the Bank of the United States, which he opposed as a broadening of nationalist power. After serving an uneventful stint in the military during the War of 1812, Tyler won election to the House of Representatives and quickly became a Washington insider, seen frequently at Dolly Madison's posh parties. As a southern planter, Tyler bitterly opposed a strong standing army, tariffs, and extending the vote to men without property, resenting this challenge to traditional traditional southern power..."

1863 Birth: David Lloyd George, World War I British Prime Minister.




1893 Death: Rutherford Hayes, the 19th US president. "Beneficiary of the most fiercely disputed election in American history, Rutherford B. Hayes brought to the Executive Mansion dignity, honesty, and moderate reform. To the delight of the Woman's Christian Temperance Union, Lucy Webb Hayes carried out her husband's orders to banish wines and liquors from the White House. Born in Ohio in 1822, Hayes was educated at Kenyon College and Harvard Law School. After five years of law practice in Lower Sandusky, he moved to Cincinnati, where he flourished as a young Whig lawyer. He fought in the Civil War, was wounded in action, and rose to the rank of brevet major general. While he was still in the Army, Cincinnati Republicans ran him for the House of Representatives. He accepted the nomination, but would not campaign, explaining, "an officer fit for duty who at this crisis would abandon his post to electioneer... ought to be scalped." Elected by a heavy majority, Hayes entered Congress in December 1865, troubled by the "Rebel influences ... ruling the White House." Between 1867 and 1876 he served three terms as Governor of Ohio. Safe liberalism, party loyalty, and a good war record made Hayes an acceptable Republican candidate in 1876. He opposed Governor Samuel J. Tilden of New York. Although a galaxy of famous Republican speakers, and even Mark Twain, stumped for Hayes, he expected the Democrats to win. When the first returns seemed to confirm this, Hayes went to bed, believing he had lost. But in New York, Republican National Chairman Zachariah Chandler, aware of a loophole, wired leaders to stand firm: "Hayes has 185 votes and is elected." The popular vote apparently was 4,300,000 for Tilden to 4,036,000 for Hayes. Hayes's election depended upon contested electoral votes in Louisiana, South Carolina, and Florida..."

1899 Birth: Al Capone, US mobster known as "Scarface Al" who ran most of Chicago and the surrounding area.

1904 The first issue of the DAP (German Workers Party) newspaper appears in Austria. (Unknown Nazis)




1910 Death: Thomas Crapper; the inventor and developer of the flush toilet.

1917 The US buys the Virgin Islands from Denmark for $25M.

1919 Classical pianist Ignacy Jan Paderewski becomes prime minister of Poland.

1929 King Inayatullah of Afghanistan is forced to abdicate after a coup; he had ruled for only three days.




1929 Popeye makes his first appearance in the innovative comic strip Thimble Theater.

1935 The League of Nations formally awards the Saar region to Germany.




1937 Germany prohibits foreign warships from free passage through the Kiel Canal.

1939 WW2: Denmark, Latvia and Estonia sign a nonaggression pact with Germany. Norway, Sweden and Finland insist on strict neutrality.

1939 Holocaust: Slovakian premier, Father Tiso, declares his foremost task is to solve the "Jewish question."

1939 Holocaust: The eighth ordinance of the Reich Citizenship Act is passed, barring Jewish dentists, veterinarians and chemists from practicing their professions. Jewish dentists may only treat Jewish patients.

1940 WW2: The river Thames freezes over for the first time since 1880 as bitterly cold weather engulfs Europe.


1942 WW2: Field Marshal von Reichenau dies of a stroke while returning to Germany from the Eastern Front.




1942 WW2: Winston Churchill is nearly shot down by the enemy and then his own airforce. Returning from the US, his flying boat veers off course and comes far to close to German antiaircraft guns in France. After this error is noticed and corrected, his aircraft then appears to British radar operators to be an enemy bomber. Six RAF fighters are scrambled but they failed to find him.




1943 Stalingrad: Rokossovsky wants a pause of 2-3 days in the attacks, so that he can regroup. The attacks continue, however. By this stage conditions within the pocket are becoming increasingly grave. Food is desperately short. This and the extreme cold inflict the defenders with ever greater lethargy. It is now hardly possible to evacuate the wounded, and many of them die. Nonetheless there are still enough officers and men who are determined to fight on. (Messenger)

1944 WW2: First attack toward Cassino, Italy.


1944 WW2: A Heinkel 177 sights convoy OS65/KMS39 (escort group B3 - Commander Evans in the frigate Towy). Of the U-boats directed to the scene only U-641 gets near on the 19th of January and is sunk by the corvette Violet.




1945 Holocaust: A Jewish uprising breaks out at Chelmno (Kulmhof) in Poland. The last 47 Jewish slave laborers, knowing they are about to be shot by the SS, take refuge in a building as Soviet troops draw nearer. The SS sets fire to the building and machine-guns those who attempt to escape the flames. Only one prisoner survives.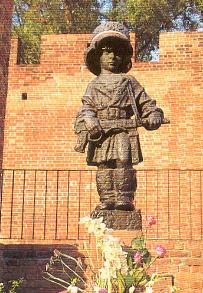 1945 WW2: The Red Army liberates Warsaw, whose prewar population of 1,300,000 has been reduced to almost nothing, and 90% of the city destroyed. At Mlawa, 320 Poles, mostly partisans, are shot by Germans in one of many last-minute executions around Warsaw.

1945 Holocaust: The SS records a total of more than 30,000 slave laborers still in the Auschwitz region.

1945 Holocaust: Swedish diplomat Raoul Wallenberg, credited with saving tens of thousands of Jews from the Nazis, is arrested by secret police in Hungary.

1946 The UN Security Council meets for the first time at Westminster Central Hall in London, England, adopting its rules of procedure.


One of the first 1949 Beetles shipped to the US
1949 The first Volkswagen Beetle arrives in the US.

1949 The trial on subversion charges of the top leaders of the US Communist Party begins in New York.

1955 The first nuclear-powered submarine, the Nautilus, commissioned by the United States Navy in 1954, gets underway on her maiden voyage.




1961 In his Farewell Address to the Nation, President Eisenhower warns against the rise of "the military-industrial complex." Note: Should be required reading for all cabinet nominees.

1966 The midair crash, over Palomares Spain, of a B-52 bomber and a KC-135 refueling plane kills eight crew members and dislodges a hydrogen bomb, which falls to an unknown location. The bomb is located 4 months later, intact.

1977 Gary Gilmore, convicted for the murder of self-service gas station attendant, Max Jensen, and Ben Bushnell, aged 25, the manager of the City Center Motel in Provo, is shot to death by a firing squad in Utah, becoming the first person to be executed in the United States since the death penalty was reinstated in 1976. In 1972, the US Supreme Court ruled that, in violation of the eighth Amendment to the Constitution, the death penalty qualified as 'cruel and unusual punishment,' primarily because states used capital punishment in 'arbitrary and capricious ways', especially in regard to race. However, in 1976, with 66 percent of Americans supporting the death penalty, the court ended the constitutional ban on capital punishment, provided that states create specific guidelines for imposing death sentences. Gilmore, a career criminal, defiantly faces the firing squad, Gilmore's last words to his executioners are "Let's do it..." (Bradley)

1983 Nigeria expels an estimated two million illegal immigrants from Ghana; Ghana reopens its border to nationals at the end of January.



birdfeeder
1991 Desert Storm: Desert Shield becomes Operation Desert Storm as the First Gulf War begins. Gulf War Patriot missiles intercept Iraqi Scuds. This marks the first time in history that a ballistic missile is actually shot down by another missile.

1994 An earthquake measuring 6.6 on the Richter scale strikes Los Angeles, killing 61 people and causing extensive damage.

1994 Russian President Boris Yeltsin accepts the resignation of Economics Minister Yegor Gaidar.

1995 More than 6,000 people are killed after a strong earthquake rips through central Japan. Measuring 7.2 on the Richter scale, the earthquake, centers on the port of Kobe; the biggest quake to hit Japan in half a century.




1997 Death: Clyde Tombaugh, the man who discovered Pluto in 1930.

2002 In Britain, two men appear in a Leicester court charged with being members of the al-Qaeda terror network blamed for the 11 September attacks.

2002


2002


2003


2004


2005


2005


2005


2005


2005


2005









Visit:
Visit:

Click Here to email the History: One Day At a Time webmaster.