January 19


0570 Birth: The prophet Mohammed. "...Orphanhood is extreme of helplessness and his life upon this earth began with it; Kingship is the height of the material power and it ended with it. From an orphan boy to a persecuted refugee and then to an overlord, spiritual as well as temporal, of a whole nation and Arbiter of its destinies, with all its trials and temptations, with all its vicissitudes and changes, its lights and shades, its up and downs, its terror and splendor, he has stood the fire of the world and came out unscathed to serve as a model in every face of life. His achievements are not limited to one aspect of life, but cover the whole field of human conditions. If for instance, greatness consist in the purification of a nation, steeped in barbarism and immersed in absolute moral darkness, that dynamic personality who has transformed, refined and uplifted an entire nation, sunk low as the Arabs were, and made them the torch-bearer of civilization and learning, has every claim to greatness. If greatness lies in unifying the discordant elements of society by ties of brotherhood and charity, the prophet of the desert has got every title to this distinction. If greatness consists in reforming those warped in degrading and blind superstition and pernicious practices of every kind, the prophet of Islam has wiped out superstitions and irrational fear from the hearts of millions. If it lies in displaying high morals, Mohammad has been admitted by friend and foe as Al Amin, or the faithful. If a conqueror is a great man, here is a person who rose from helpless orphan and an humble creature to be the ruler of Arabia, the equal to Chosroes and Caesars, one who founded great empire that has survived all these 14 centuries.."

1419 Hundred Years War: The French city of Rouen surrenders to England's Henry V thus completing his conquest of Normandy.

1493 Treaty of Barcelona: France cedes Roussillon and Cerdagne to Spain.


1736 Birth: James Watt, English inventor, condensing steam engine; the watt, a unit of power, will be named after him.


1783 William Pitt becomes the youngest Prime Minister of England at age 24.

1793 French Revolution: King Louis XVI is tried by the French Convention, found guilty of treason and sentenced to the guillotine.




1807 Birth: Robert E. (Edward) Lee, American soldier, born in Westmoreland County, Virginia, one of the greatest of the Confederate generals in the American Civil War (1861-65). The fifth in descent from Richard Lee of Shropshire, who emigrated to Virginia in the reign of Charles I, received large grants of land between Potomac and Rappahannock rivers, and built the original Stratford House. In a later house, erected by his grandson, Thomas Lee, were born the distinguished brothers, Richard Henry Lee (1732-1794), mover of the resolution in favor of independence and a signer of the Declaration; Francis Lightfoot Lee (1734-1797), a signer of the Declaration; and William Lee (1737-95) and Arthur Lee (1740-92), diplomats. Robert E was the son of General Henry Lee. He will surrender to the North's General Ulysses S. Grant on 9 April 1865 at Appomattox Courthouse, Virginia.

1809 Birth: Edgar Allan Poe, American poet and story writer, in Boston, Massachusetts.

1813 Birth: Sir Henry Bessemer, English inventor and engineer, in Charlton, Hertfordshire, UK.

1825 Ezra Daggett and Thomas Kensett of New York City patent a canning process to preserve salmon, oysters and lobsters.

1830 Johanna Huettler, Adolf Hitler's maternal grandmother, is brought into the world by Eva Maria, the wife of farmer Johann Nepomuk Huettler.

1899 Britain and Egypt establish joint control over Sudan.


1914 (Munich) Having been arrested the day before, the Consulate is impressed enough with Hitler's explanation to advise the Austrians to grant him an extension. The Austrian authorities, possibly slighted over the free-lance artist's statement of "Stateless" on his German registration card, want Hitler to be taken to the border and handed over to them: "Is to report on 20 January." The Consulate however, refuses to repatriate Hitler and personally acts on his behalf. Since his lung affliction years before, and years of living in a men's hostel with a none to sumptuous diet, Hitler's appearance is pitiful. He is lean and frail and uses this, as well as his undeveloped but instinctively astute power of persuasion, to generate sympathy, claiming to be suffering from "bronchial catarrh." Consequently the Consulate advises Hitler to send a letter to Linz and the Consul also sends an accompanying letter which states that Hitler "was suffering from a condition which renders him unfit for military service and at the same time removes all motive for evading it ... As Hitler seems very deserving of considerate treatment, we shall provisionally refrain from handing him over as requested...." Hitler's own rambling letter covers almost everything about his hard times in Vienna during the period in question. He notes that he is not one to break the law despite his great need at the time amidst often very "questionable surroundings." He adds: "I have always preserved my good name, am untainted before the law and clean before my own conscience except for that one omission over the military report, which at the time was not known to me." Note: The tone of the letter, as well as the support of the Consulate, impresses the Austrian officials and Hitler is not punished for dodging the service. He takes the necessary medical exam, which he easily fails, and the matter is dropped altogether. Later, his political enemies will attempt to put the 'draft-doger' label on Hitler, though the attempt will ultimately fail due to his documented courage as a common soldier in WW1.


1915 World famous labor leader Joe Hill is arrested in Salt Lake City. He is convicted on trumped up murder charges, and is executed 21 months later despite worldwide protests and two halfhearted attempts to intervene by President Woodrow Wilson. In a letter to Bill Haywood shortly before his death he penned the famous words, "Don't mourn - organize!"


1915 WW1: The first air raid ever on Britain occurs when two German Zeppelins drop bombs on Great Yarmouth and King's Lynn, on the eastern coast of England. Two Britons are killed and three injured.

Note: The Zeppelin, a motor driven airship, was developed by German inventor Ferdinand Graf von Zeppelin in 1900. An airship is the most sublime of flying machines. Many of the ones built in the first half of the last century were huge and majestic, and the hangers they were kept in contained more usable square footage than any structure ever built by man.




Some hangers were so big that clouds formed at their tops and it would rain indoors! We have nothing to compare with the Zeppelin today, as our 'blimps' are merely weak approximations.



1915 George Claude of Paris, France, patents the neon tube advertising sign.

1929 Weimar: A US committee headed by Owen D. Young is appointed to review the war reparations problem.


1933 Weimar: Ribbentrop meets with Papen and suggests that a meeting be arranged between Oskar Hindenburg, the Reich Presidents son, and Hitler. (See January 22)

1934 Kemma concentration camp is closed.

1937 Howard Hughes sets a transcontinental air record, flying from Los Angeles to New York City in 7 hours, 28 minutes and 25 seconds.

1938 American and European Jewish organizations submit a protest petition to the League of Nations regarding the treatment of Jews in Romania.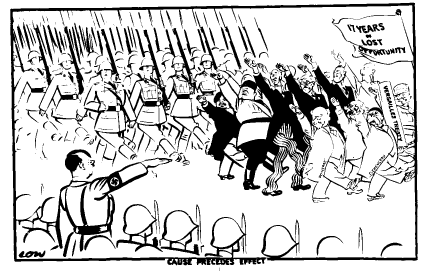 1939 WW2: Hjalmar Schacht has his last meeting with George Rublee in Berlin.


1940 'You Natzy Spy', staring The Three Stooges', premieres. This marks the first time Adolf Hitler is parodied by Hollywood, with Moe Howard (Moses Horwitz), a man of Jewish decent, playing Hitler. Synopsis: In this satire of the Nazis the Three Stooges are paperhangers in the country of Moronica. When evil cabinet ministers overthrow the king, they decide to make Moe the new ruler as he'll be stupid enough to follow their orders. Moe becomes Dictator, Curly is a Field Marshall and Larry becomes Minister of propaganda. After successfully preventing a female spy from committing mayhem, the boys are run out of office by a mob and eaten by lions.





1941 WW2: The British invade Eritrea in East Africa.


1942 WW2: Field Marshal von Bock is appointed to replace von Reichenau.


1942 WW2: Submarine U-66 torpedoes and sinks Canadian passenger freighter Lady Hawkins off Cape Hatteras, North Carolina, USA. Of 212 passengers and 109 crew, 71 survive.

1943 WW2: Mihai Antonrscu, Romanian Foreign Minister, asks Mussolini to take the lead of a Latin League and to start negotiations with the Allies.


1944 WW2: In a short air raid on Berlin, the British air force drops some 2,300 tons of bombs.

1944 WW2: The federal government relinquishes control of the nation's railroads following settlement of a wage dispute.


Konev
1945 WW2: Marshal Ivan Konev takes both Tarnow and Krakow. To the south, Zhukov's troops takes Lodz, and the Fourth Ukraine Front takes Nowy Sacz. Wloclawek on the Vistula also falls to the Soviets.

1949 The salary of the President of the United States is increased from $75,000 to $100,000 with an additional $50,000 expense allowance added for each year in office.

1955 President Eisenhower allows a filmed news conference to be used on television, as well as movie newsreels, for the first time. The 33-minute conference is cut to 28-1/2 minutes to fit TV formats.

1960 Frank Sinatra escorts Jacqueline Kennedy to the inauguration gala to celebrate the official start of John F. Kennedy's presidency.

1966 Robert Montgomery, actor-producer and White House advisor on Presidential telecasts, testifies to the FCC that the reports of quiz-show fixing and payola were widespread within the broadcasting industry long before the charges were made public.

1966 Indira Ghandi becomes India's Prime Minister, following in the footsteps of her father Jawaharlal Nehru. She is elected in succession to Lal Shastri who had died on 11 January. Shastri had succeeded Gandhi's father, Jawaharlal Nehru.

1975 Twenty people are injured at France's Paris-Orly Airport in a battle which erupts after Arab gunmen attempt a grenade attack on an El Al jumbo jet and then seize three hostages.


1977 Tokyo Rose: Iva Toguri D'Aquino, an American citizen of Japanese descent who made Japanese propaganda broadcasts to US troops during World War II, is pardoned from her treason charge by US President Gerald R. Ford on his last day in office. In reality, there never was an actual 'Tokyo Rose'; it was merely a nickname invented by listening GI's. Note: She was only the seventh American ever convicted of treason, and was last known to be living in Chicago and running her families import business.


Barbie
1983 Holocaust: Klaus Barbie, the Nazi Gestapo chief of Lyons, France, during the German occupation, is arrested in Bolivia on charges of crimes committed against humanity four decades earlier.

1987 The Archbishop of Canterbury's special envoy to Lebanon, Terry Waite, is kidnapped in Beirut. He will not be released until November 1991.

1993 Fleetwood Mac reunites for Bill Clinton's presidential inauguration.


1995 In Chechnya, Russian forces hoist the national tricolor over Grozny's battered presidential palace after seizing the building from Chechen irregulars.

1996 Four-day hijack of the Black Sea ferry Avrasya by pro-Chechen gunmen ends near Istanbul without a shot being fired with the surrender of the attackers who had threatened to blow up themselves and their 200 hostages.

2001


2001


2002


2002


2003


2003


2004


2004


2005


2005


2005


2005


2005


2005


2005









Visit:
Visit:

Click Here to email the History: One Day At a Time webmaster.