January 29


1635 The Academie Francaise, which will become one of the most famous literary societies in Europe, is founded.

1730 Death: Peter II, tsar of Russia (1727-30), of smallpox on the day set for his wedding.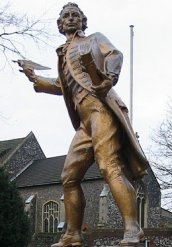 1737 Birth: Thomas Paine, English-born American revolutionary, philosopher and writer.

1802 John Beckley becomes the first Librarian of the US Congress, at a salary of $2 a day.


1819 Sir Stamford Raffles first lands on Singapore and concludes a preliminary agreement to set up a trading post.


1843 Birth: William McKinley, 25th US President (1897-1901), in Niles, Ohio. "...He was the 7th child born to William and Nancy Alison McKinley (of Irish and Scotch descent). His father leased an iron foundry in Niles. William attended a one-room schoolhouse that stood on the site of this memorial. The family moved to Poland, Ohio when he was nine years old so that the children could attend a private school there called the Poland Academy. In school William enjoyed reading, debating, and public speaking. In fact, he was the president of the school's first debate club.

When he was 16 he attended Allegheny College in Meadville, Pennsylvania, for a short time before illness forced him to return home. When he regained his health he did not return to Meadville because of the family's changed financial situation. Instead, he worked for awhile as a postal clerk. When the Civil War broke out on April 12, 1861 he was teaching at Kerr School near Poland, Ohio. He and a cousin, Will Osbourne (who later became mayor of Youngstown) enlisted as privates in the 23rd regiment, Ohio Volunteer Infantry, which was under the command of Rutherford B. Hayes, the future U.S. president. His first battle was at Carnifax Ferry, W. Virginia. He was later promoted to commissary sergeant and at the Battle of Antietam (September 17, 1862), while his regiment was under intense enemy fire, and against the advice of his superiors, he took food to the troops. Because of this act of bravery, he was promoted to the rank of second lieutenant. By the time the war was over he had attained the rank of brevet major. William returned to Poland, Ohio where he studied law with Judge Charles Glidden. In 1866 he entered law school in Albany, New York, but he did not graduate. In 1867 he was admitted to the bar in Warren, Ohio. He moved to Canton, Ohio where two of his sisters were schoolteachers and he got a job working for Judge George Belden. Belden was so over-burdened with cases that he offered one to McKinley. McKinley won the case and so impressed the judge that he was paid $25.00 for the case and was given a job. Later, McKinley opened his own law office and became active in the politics of the Republican Party. He was elected Prosecuting Attorney of Stark County in 1869. While doing business at a local bank..."


1845 The Raven, by Edgar Allan Poe, is published for the first time in the "New York Evening Mirror."


1856 Queen Victoria institutes Britain's highest military decoration, the Victoria Cross.

1860 Birth: Anton Chekhov, short story writer; The Party, The Darling; playwright: The Cherry Orchard, The Three Sisters, Uncle Vanya (1900).


1861 Kansas, the Sunflower State, enters the United States of America this day. The capital of the 34th state is Topeka. It's easy to figure out why Kansas is the Sunflower State; it's a toss-up as to whether Kansas has more of those huge yellow blossoms that are also the state flower, or amber waves of wheat. The state's other nickname is, however, slightly more obscure. Kansas, the Jayhawk State, is named so because before and during the War Between the States, guerillas in the antislavery camp, known as jayhawkers, were extremely active in the Kansas territory. The pro and antislavery groups fought such vicious battles that the state was referred to as 'Bleeding Kansas'. Through peace and battles, the western meadowlark, the state bird, continues to sing its song ... or maybe it sings the state song: "Home on the Range". The roaming buffalo is the state animal, and the state tree is the cottonwood. Kansas, derived from the Sioux Indian word meaning 'people of the southwind,' uses the Latin phrase 'Ad astra per aspera' or 'To the stars through difficulties' as its motto. (Bradley)

1874 Birth: John Davison Rockefeller Jr., industrialist, founder of Standard Oil Co., Rockefeller Foundation.


1880 Birth: W.C. Fields, born William Claude Dukenfield, innovative juggler, will invent the cigar box juggle; vaudeville entertainer; humorist author; W.C. Fields For President (recommended read), screenplay writer and filmmaker; Pool Sharks, My Little Chickadee, The Bank Dick, Never Give a Sucker An Even Break, You Can't Cheat An Honest Man, Poppy, David Copperfield. A few quotes: "Doctors say don't worry about your heart; it will last as long as you live." "It was a woman who drove me to drink, and I never even thanked her." "I never drink water -- fish f#(k in it."


1886 Karl Benz patents the first practical car with a gasoline powered internal combustion engine. It has three rubber wheels and travels at 9.3mph.

1891 Hawaii proclaims as its queen Liliuokalani, renowned for her song Aloha Oe.

1896 US physician Emile Grubbe becomes the first to use radiation treatment for breast cancer on his patient, Rose Lee of Chicago.

1916 WW1: The first bombings of Paris by German Zeppelins took place.


1916 WW1: A new, and still secret, battlefield weapons system is tested by the British military for the first time at Hatfield, Hertfordshire: The Tank.

1920 Volkishness: Philipp Stauff continues operation of the List Society at its new headquarters in Berlin. From his home at Moltkestrasse 46a in Berlin-Lichterfelde, Stauff publishes new editions of Guido von List's Ario-Germanic researches until 1922. (Roots)

1924 R. Taylor of Cleveland, Ohio patents the ice cream cone rolling machine.

1932 Japanese forces continue their attack on Shanghai

1934 The SA issues a warning card on Baron Rudolf von Sebottendorff. (Berlin Document Center; Roots)

1934 The Pro-Communist New Masses (January 29 and February 5, 1934) publishes an article entitled "Wall Street's Fascist Conspiracy" by John L. Spivak. This article claims that the Warburg family is involved in a fascist conspiracy with the J.P. Morgan international banking interests, has opposed the anti-Nazi boycott and controls the American Jewish Committee, while at the same time their Kuhn Loeb and Co. in New York is underwriting Nazi shipping and industrialization. No mention is made of the Warburg family's close connection with Averell Harriman, already a permanent hero of the Soviet Union.

1935 January-February During the 17th Party Congress, disaffection with Stalin is demonstrated when former Leningrad party leader Sergei Kirov (assassinated December 1, 1934) receives an ovation equal to Stalin's. Nevertheless, Stalin crushes the peasant resistance and collectivization proves a success in terms of facilitating rapid industrial growth.

1936 Church and Reich: The German government begins a series of trials of members of the religious orders accused of violating the foreign currency laws. Press coverage is hostile to the accused in almost all cases. (Lewy)

1936 Church and Reich: An article in the Catholic Klerusblatt justifies the Nuremberg Laws as indispensable safeguards for the qualitative makeup of the German people.

1936 The funeral of King George V takes place.


1939 Birth: Germaine Greer, feminist, author; Daddy We Hardly Knew You, The Change.

1940 The W. Atlee Burpee Seed Company displays the first tetraploid flowers at the New York City Flower Show; a marigold treated with colchicine to produce a flower 1-1/2 times its original size.

1940 Church and Reich: Ambassador Bergen reports to Berlin that the Papal Secretary of State has ordered the immediate cessation of all broadcasts about atrocities in Poland.

1941 Death: Franz Guertner, Bavarian Minister of Justice from 1922 to 1932. After the Munich putsch, Guertner actively advocated a pro-Nazi atmosphere during Hitler's trial in People's Court (1924) and was largely responsible for Hitler receiving such a lenient sentence. It was also Guertner who arranged for Hitler's early release from prison and later persuaded the Bavarian government to lift the ban on the NSDAP, allowing Hitler to once again speak in public. Guertner served as Reich Minister of Justice from 1932 until his death this day.

1942 The Protocol of Rio de Janeiro is enacted, ending the war between Peru and Ecuador.


1943 Stalingrad: (Night of 29/30) Milch succeeds in flying-in 124 aircraft to drop supplies into the pocket. This constitutes the highest number of sorties flown for some time, but is too late to affect the inevitable course of events (Messenger)

1944 Church and Reich: Cardinal Bertram writes to the Government that he has received reports that the ordinances enacted for the Jews are now to be applied to the Mischlinge (half-Jews and quarter-Jews). These Christians, he writes, have already been declared unworthy of military service, could not attend institutions of higher learning, etc. Now one hears that they are to be conscripted into special formations for labor service. "All these measures," he continues, aim clearly at segregation which in the end threatens extermination." The Mishlinge were German and Christians, he says, and always rejected by the Jews. "The German Catholics indeed numerous Christians in Germany," Bertram warns, "would be deeply hurt if these fellow Christians now would have to meet a fate similar to that of the Jews." (Bundesarchiv, Koblenz; Lewy)

1944 WW2: Lithuanian/Jewish partisans murder 300 villagers, mostly women and children, in Koniuchy, for resisting their raids.


1945 WW2: Bischofsburg falls to the Soviets.

1949 The USS Newport News is commissioned as the first air-conditioned warship.

1962 Nuclear test ban talks break down after three years of discussion when Britain and America walk out of the talks with the Soviet Union in Geneva.

1963 Negotiations on Britain's entry into the European Economic Community collapse.

1987 The famous smile of Mona Lisa, according to Physicians Weekly, is caused by a '...facial paralysis resulting from a swollen nerve behind the ear.'

1991 Nelson Mandela, now president of South Africa, and Chief Mangosuthu Buthelezi hold the first talks for almost 30 years between predominantly Zulu Inkatha and the ethnically mixed African National Congress.

1995 On the anniversary of the 1942 treaty between them, tensions between Ecuador and Peru flare again when Ecuador declares that it has downed a helicopter on the disputed border.

2001


2001


2002


2002


2003


2003


2004


2004


2005


2005


2005


2005


2005


2005


2005









Visit:
Visit:

Click Here to email the History: One Day At a Time webmaster.