January 30





1349 Gunther of Schwarzburg is chosen as the German anti-king.

1349 The Jews of Freilsburg, Germany are massacred.


1584 Death: Pieter Jansz Pourbus, Flemish painter.


1606 Sir Everard Digby, Thomas Winter, John Grant and Thomas Bates, conspirators in the Gunpowder Plot to blow up Britain's Houses of Parliament, are all executed.

1647 The Scots agree to sell King Charles I to the English Parliament for £400.

1648 Peace of Munster: Treaties are signed ending the Eighty Years War (Tachtigjarige War) between Spain and the United Provinces of the Netherlands.


1649 Death: Charles I, convicted of treason, is beheaded on a scaffold erected outside the Banqueting Hall in Whitehall. The Puritan "Rump Government" then declares England a Commonwealth (or republic) without a king or a house of lords.

1667 Russia and Poland sign the Treaty of Andrussovo.


1687 Birth: Johann Balthasar Neumann, German architect.


1708 Birth: Georg D. Ehret, German-English illustrator.





1774 Captain Cook reaches 71 degrees 10 minutes South, 1820km from the South Pole; a record southerly position at the time.

1775 Birth: Walter Savage Landor, English critic, writer; Imaginary Conversation.


1781 The Articles of Confederation are ratified by the 13th state, Maryland.

1790 The first purpose-built lifeboat, The Original, is launched on the River Tyne in England, by Mr. Greathead, the inventor.

1797 The US Congress refuses to accept the first petitions from American blacks.


1798 The first brawl in the US House of Representatives is witnessed by legislators as Congressmen Matthew Lyon of Vermont and Roger Griswold of Connecticut duke it out on the House floor. The fisticuffs occur after Lyon had spat in Griswold's face.


1800 The US population is recorded at 5,308,483; with a Black population of 1,002,037 (18.9%).

1804 Mungo Park leaves England seeking the source of Niger River.

1806 Prussia takes possession of Hanover.


1814 Birth: Jean-Baptist Capronnier, French-Belgian glass painter.

1815 The burned Library of Congress is reestablished with Jefferson's 6500 volumes.


1816 Death: Reinier Vinkeles, art collector, engraver, cartoonist, at 74.

1820 Edward Bransfield aboard HMS Williams discovers Antarctica.


1830 Birth: James G. Blaine. "James G. Blaine was a contemporary of Thomas B. Reed, another Republican from Maine that dominated national politics after the Civil War. Blaine was a Pennsylvanian who married into a Maine family. He began his career as a journalist, but soon turned to politics, serving as Speaker for the Maine House of Representatives before moving on to represent Maine in Washington. There, he quickly rose to Speaker of the House, U.S. Senator, and finally Secretary of State under President Benjamin Harrison. As Secretary of State, Blaine helped bring American investments into developing Latin American countries and worked to settle international economic and political disputes. Blaine came close to winning the 1884 presidential election, his second attempt to gain that office. Though he was very popular in the Republican Party, Blaine was haunted by scandal, which hurt his political career. Despite scandal, Blaine was well loved, and earned the nickname of "a plumed knight" who fought bravely for the Republican cause. Blaine was sickly for much of his life, and finally died in 1893 at the age of sixty-three. Years later, his daughter donated his home to the state. The Blaine House, in Augusta, remains the official residence of the Governor of Maine today."

1838 Death: Osceola, chief of Seminole indians, in jail.

1841 Birth: Alfred Townsend George, Civil War journalist.

1844 Birth: Moritz F. Freiherr von Bissing, German general, governor-general of Belgium, 1914-17.

1846 Birth: Francis H. Bradley, British philosopher of neo-idealism.

1853 Emperor Napoleon III weds Eugenie Maria de Montijo y de Guzman.

1854 The first election in the Washington Territory is held, with 1,682 votes cast.

1862 US Civil War: The US Navy's first ironclad warship, Monitor, is launched.

1865 Birth: Samuel Pl'h Naber, Dutch rear-admiral, spy, librarian.


1882 Birth: Franklin Delano Roosevelt, in Hyde Park, Dutchess County, New York, 32nd US President, 1933-1945, only President elected 4 times, only President to serve more than two terms. "...the son of James Roosevelt and Sara Delano Roosevelt. His parents and private tutors provided him with almost all his formative education. He attended Groton (1896-1900), a prestigious preparatory school in Massachusetts, and received a BA degree in history from Harvard in only three years (1900-03). Roosevelt next studied law at New York's Columbia University. When he passed the bar examination in 1907, he left school without taking a degree. For the next three years he practiced law with a prominent New York City law firm. He entered politics in 1910 and was elected to the New York State Senate as a Democrat from his traditionally Republican home district. In the meantime, in 1905, he had married a distant cousin, Anna Eleanor Roosevelt, who was the niece of President Theodore Roosevelt. The couple had six children, five of whom survived infancy: Anna (1906), James (1907), Elliott (1910), Franklin, Jr. (1914) and John (1916).




Roosevelt was reelected to the State Senate in 1912, and supported Woodrow Wilson's candidacy at the Democratic National Convention. As a reward for his support, Wilson appointed him Assistant Secretary of the Navy in 1913, a position he held until 1920. He was an energetic and efficient administrator, specializing in the business side of naval administration. This experience prepared him for his future role as Commander-in-Chief during World War II. Roosevelt's popularity and success in naval affairs resulted in his being nominated for vice-president by the Democratic Party in 1920 on a ticket headed by James M. Cox of Ohio. However, popular sentiment against Wilson's plan for US participation in the League of Nations propelled Republican Warren Harding into the presidency, and Roosevelt returned to private life. While vacationing at Campobello Island, New Brunswick in the summer of 1921, Roosevelt contracted poliomyelitis (infantile paralysis). Despite courageous efforts to overcome his crippling illness, he never regained the use of his legs. In time, he established a foundation at Warm Springs, Georgia to help other polio victims, and inspired, as well as directed, the March of Dimes program that eventually funded an effective vaccine. With the encouragement and help of his wife, Eleanor, and political confidant, Louis Howe, Roosevelt resumed his political career..."



1888 Death: Asa Gray, US botanist, author; Flora of North America.

1889 Crown Prince Franz Karl Josef Rudolf, heir to the vast Austro-Hungarian empire, and his mistress, Marie Vetsera, commit suicide at the imperial hunting lodge of Mayerling, Austria.

1892 Captain Lugard occupies the hideout of Uganda's king Mwanga.


1894 Birth: Marcel Canneel, Flemish painter.

1894 The pneumatic hammer is patented by Charles King of Detroit.

1894 The US flag is fired on in Rio; prompt satisfaction is exacted by Admiral Benham.

1899 Birth: Max Theiler, English-US microbiologist; Nobel 1951.

1902 Britain and Japan sign a treaty providing for the independence of China and Korea.

1909 Birth: Saul David Alinsky, in Chicago, Illinois, radical writer; John L. Lewis.

1911 The first airplane rescue at sea is made by the destroyer Terry, when downed pilot, James McCurdy, is forced to land in the ocean about 10 miles from Havana, Cuba.


1912 Birth: Barbara Tuchman, US historian, prolific author; Pulitizer for Guns of August.

1913 The British House of Lords rejects the Irish Home Rule Bill.

1915 WW1: A German submarine attacks Le Havre.


1915 WW1: Colonel Edward M. House, Wilson's good friend and advisor, sails to Europe on the Lusitania to try to mediate a peace settlement. Both sides still feel they can get what they want and are unwilling to settle the conflict so quickly. (Schlesinger I)


1920 Birth: Patrick Heron, abstract painter.


1927 Weimar: The NSDAP gains two out of fifty-six seats in the Thuringian Landtag. (Maser)

1928 Death: Douglas Haig, British field marshall; Sudan and Boer war, WW1.

1928 The first radio telephone connection is made between the Netherlands and the US.

1931 Birth: Shirley Hazzard, Australian author; Transit of Venus.

1933 Zionism: Juedische Jugendhilfe (Jewish Youth Help), the agency overseeing Youth Aliya (immigration to Palestine), is founded.


1933 Hindenburg bows to the practically inevitable and asks Hitler to become Chancellor in a Nazi-Conservative coalition Government. Answering Hindenburg's call, Adolf Hitler becomes Chancellor of the Reich with Von Papen as Vice-Chancellor. Only three of the eleven posts in the cabinet are held by National Socialists.


1933 Brownshirts (SA) and Communists violently clash in the streets throughout Germany. The SA celebrates Hitler's accession to power with a torchlight parade through Berlin.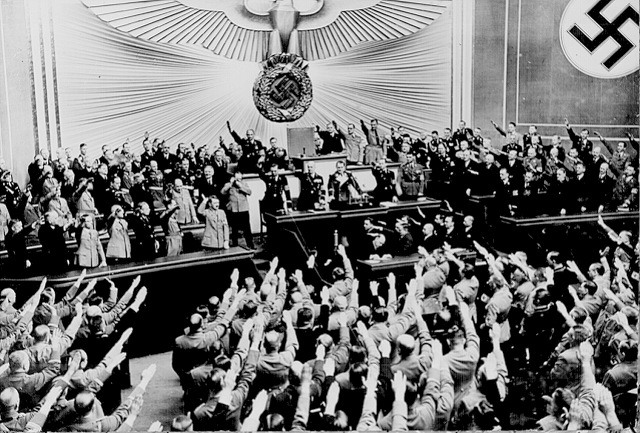 1934 Hitler makes a speech to the Reichstag on the first anniversary of his ascension to power. "Some of our opponents feel obliged to detract from the glory of our achievements by pointing out that after all the entire People have helped to achieve these goals. They are absolutely right! And we are full of pride that we have really succeeded in rallying the entire nation to help in its renewal. For this is the only way that we were able to solve the problems which defeated many earlier governments, because without this confidence they were bound to fail..."

1934 A Nazi reorganization strips German states of their sovereignty.

1935 Ezra Pound first meets Mussolini, and reads from a draft of the Cantos.

1935 The SS-Hauptamt (Main Office) is established.

1937 Zionism: The Peel Commission returns to Britain.

1937 Hitler makes a speech to the Reichstag on the fourth anniversary of his ascension to power. "Within a few weeks the social prejudices of a thousand years were swept away. So great was the Revolution that its spiritual foundations have not been understood even today by a superficial world. They speak of democracies and dictatorships, and have not realized that in this country a Revolution has taken place that can be described as democratic in the highest sense of the word. Does a more glorious socialism or a truer democracy exist than that which enables any German boy to find his way to the head of the nation? The purpose of the Revolution was not to deprive a privileged class of its rights, but to raise a class without rights to equality..."

1937 The second of Joseph Stalin's purge trials takes place; Pyatakov and 16 others are sentenced to death. Altogether, 13 leading Communists are sentenced to death for participating in a plot, allegedly led by Leon Trotsky, to overthrow the Soviet regime and assassinate its leaders.

1939 Hitler, in an address to the Reichstag, gives public notice of his intentions, "If international Jewry should succeed in Europe or elsewhere, in precipitating nations into a world war, the result will not be the Bolshevization of Europe and a victory for Judaism, but the extermination of the Jewish race." Hitler also comments on the lack of offers from the 'so-called democratic states' to accept Jewish refugees..."

1939 Church and Reich: Archbishop Groeber in a pastoral letter concedes that Jesus Christ could not be made into an "Aryan," but the son of God had been fundamentally different from the Jews of his time -- so much so that they had hated him and demanded his crucifixion, and "their murderous hatred has continued in later centuries." (Lewy)


1941 WW2: Hitler, in a speech at the Berlin Sportpalast: "I do not want to miss pointing out what I pointed out on 3rd of September [1940] in the German Reichstag, that if Jewry were to plunge the world into war, the role of Jewry would be finished in Europe. They may laugh about it today, as they laughed before about my prophecies..."

1941 Birth: Richard B. 'Dick' Cheney, White House Chief of Staff under Ford, Representative-R-Wyoming, George HW Bush's secretary of defense 1989-93, US Vice President under George W Bush.


1941 WW2: Australian troops conquer Derna, Libya.

1942 WW2: Japanese troops land on Ambon.

1942 WW2: Hitler, at the Berlin Sports Palace, reaffirms his prewar prophecy concerning the Jews; once again telling an audience that "the result of this war will be the complete annihilation of the Jews." An excerpt: "We Germans cannot possibly imagine that if a country near us suddenly decides on a certain form of government, we must declare war on this country just because that particular form of government doesn't suit us. We can't understand this at all, and naturally the others can't understand it either. They did not enter the war for this reason. They did not enter and are not at war because they were irritated by the form of the state. They are capable of embracing the vilest type of government when necessary and of fraternizing with it. No, no, it is not a question of a form of a government, but other reasons which brought them previously into a war against the German state..."


1943 WW2: The first daylight bombing on Berlin by a group British Mosquito bombers is timed to disrupt the celebration of Hitler's tenth anniversary in power.


1943 Stalingrad: Special radio broadcast by Goering on the anniversary of Hitler's accession to power: 'A thousand years hence Germans will speak of this battle with reverence and awe.' Paulus signals Hitler: 'The swastika flag is still flying above Stalingrad. May our battle be an example to the present and coming generations, that they must never capitulate even in a hopeless situation, for them Germany will emerge victorious.' (Messenger)


1943 WW2: Hitler promotes General Paulus to Field Marshal. His reasoning: No German Field Marshal had ever surrendered to the enemy. A number of other officers in the pocket are also promoted.

1943 Stalingrad: The Russians locate Paulus' Headquarters in southern Stalingrad and begin to surround it.

1943 WW2: Admiral Karl Doenitz is appointed commander-in-chief of the German Navy in place of Admiral Erich Raeder.

1943 WW2: The USS Chicago sinks in the Pacific Ocean.

1944 WW2: The US invades Majuro, Marshall Islands.

1945 Death: Gottlieb J. Haberlandt, Hungarian-German botanist, at 90.

1945 WW2: The German troopship Wilhelm Gustloff is torpedoed off Danzig by a Soviet submarine, between 4,800-7,700 are killed.

1945 WW2: On the twelfth anniversary of Hitler's rule, he gives his last annual message by radio. "Twelve years ago, when, as the leader of the strongest party, I was entrusted by the deceased Reich President, Field Marshal Paul von Hindenburg, with the office of Chancellor, Germany found herself faced with the same situation internally as the one that today faces it externally..."


1946 The Franklin D. Roosevelt dime is first issued.

1947 Death: Frederick F. Blackman, English botanist, at 80.

1947 Death: Franz Ritter von Epp, in American internment. Bavarian Colonel in World War I. After the war, Epp organized the counter-revolutionary Free Corps and "liberated" Munich from the "Reds." Joined Nazi party in 1928. Reich governor of Bavaria in 1933. Promoted to the rank of general in 1935. Was among Hitler's critics inside the party. Shortly before the end of the war, attempted an uprising against the NSDAP in Bavaria.

1948 Death: Orville Wright, US aviation pioneer, at 76.

1948 Death: Mahatma Gandhi, Indian spiritual and political leader, leader of the Indian nationalist movement against British rule and India's great pacifist leader, assassinated by a Hindu extremist in New Delhi.

1950 President Harry S. Truman orders the development of the H-bomb.

1951 Belgium refuses to allow communists to make speeches on radio.


1951 Death: Ferdinand Porsche, German car inventor; Volkswagen.

1953 Death: Louis H.N. Bosch van Rosenthal, Dutch resistance fighter, at 68.

1955 Birth: Judith Tarr, US science-fiction author; Isle of Glass, Ars Magica.

1956 Civil Rights Leader Martin Luther King Jr's home is bombed.

1956 Death: Gerrit Mannoury, mathematician, philosopher, at 88.

1957 The US Congress accepts the 'Eisenhower-doctrine.'

1958 Death: Earnest H. Heinkel, German airplane builder.

1958 The first two-way moving sidewalk is put in service at Love Field in Dallas, Texas, with a length of 1,435 feet.


1960 The CIA authorizes Lockheed to produce a new U-2 aircraft, Oxcart.

1961 President John F. Kennedy asks for an 'Alliance for Progress and Peace Corp.'

1962 The UN General Assembly censures Portugal over Angola.

1964 The Nam: A US sanctioned coup d'etat takes place in South Vietnam, led by General Nguyen Khanh, displacing General Duong Van Minh.

1964 Ranger 6 is launched. After a perfect flight to the Moon, its cameras fail to function.

1965 The state funeral of Sir Winston Churchill is held in London.

1967 Pope Paul VI meets Soviet President Podgorny, the first Soviet head of state to visit the Vatican.

1968 The Nam: Viet Cong guerrillas and North Vietnamese soldiers launch the Tet (New Year) offensive, targeting more than 100 towns and cities in South Vietnam; in Saigon they invade the grounds of the US embassy.


1968 Death: Tsugouharu T. Foujita, Japanese-French painter, at 81.

1969 Death: Allan W. Dulles, US politician, director of CIA 1953-61, at 75.

1972 Pakistan withdraws from the Commonwealth due to the imminent recognition of Bangladesh by Britain, Australia and New Zealand.

1972 In Londonderry, Northern Ireland, 13 civilians are shot dead by British troops during riots following an illegal march. The event will become known as 'Bloody Sunday.'

1973 Watergate: G. Gordon Liddy and James McCord are convicted of burglary, wiretapping and attempted bugging of the Democratic headquarters at the Watergate building in Washington.

1976 William E. Colby ends his term as 10th Director of CIA, George HW Bush becomes the new director until 1977.

1979 In a referendum, white Rhodesians vote by a majority of 85 percent in favor of a new constitution aimed at black majority rule.


1982 Death: Felix L.V.L.J. Labisse, French painter.

1989 Five Pharoah sculptures from 1470 BC are found at the Temple of Luxor.

1989 Lebanon's warring Shi'ite groups, the Syrian-backed Amal militia and the pro-Iranian Hizbollah sign a peace accord, ending a year-long feud.

1992 Argentina opens the files on scores of Nazis who had fled to South America after WW2, a move Jewish leaders declare will help the hunt for war criminals.

1994 The United States grants Sinn Fein President Gerry Adams a visa to attend a New York conference on Northern Ireland.

1996 Hasan Muratovic is formally appointed prime minister of Bosnia Herzegovina's central government.

2001


2001


2002


2002


2003


2003


2004


2004


2005


2005


2005


2005


2005


2005


2005









Visit:
Visit:

Click Here to email the History: One Day At a Time webmaster.