June 1


1495 The first written record of Scotch Whiskey appears in the Exchequer Rolls of Scotland; Friar John Cor is the distiller.

1638 The first recorded earthquake in US history occurs in Plymouth Plantation, Massachusetts.


1792 Kentucky becomes the 15th state of the union.

1794 A French fleet protecting a wheat convoy under Admiral Villaret de Joyeuse is intercepted and defeated by the British under Lord Howe in the second battle of Ushant.


1796 Tennessee becomes the 16th state to be admitted to the union.

1796 Birth: Sadi Nicolas Léonard Carnot, physicist.


1801 Birth: Brigham Young, Mormon church leader, in Whitingham, Vermont. "...the second prophet(sic) and president of The Church of Jesus Christ of Latter-day Saints (LDS Church; see also Mormonism). After church founder Joseph Smith, Jr., Young is perhaps the most important person in LDS history. Young had a variety of monikers, among the most popular of which is "The American Moses," (sometimes "The Modern Moses" or "The Mormon Moses" like the biblical figure, he led his followers in an often arduous "exodus" through a desert, to what they saw as a "promised land". He was also dubbed "The Lion of the Lord" for his bold personality. Young was born to a farming family in Vermont and worked as a traveling carpenter and blacksmith, among other trades. Young first married in 1824. Though he had converted to the Methodist faith in 1823, Young was drawn to Mormonism after reading the Book of Mormon shortly after its publication in 1830. He officially joined the new church in 1832 and traveled to Canada as a missionary. After his first wife died in 1833, Young joined many Mormons in establishing a community in Kirtland, Ohio. Young was strongly committed to his new faith..."

1831 The magnetic North Pole is located by Sir James Clark Ross on his Arctic exploration with Admiral Perry.

1845 A homing pigeon completes a 11,000 km trip, from Namibia to London, in 55 days.


1868 Death: James Buchanan, the 15th president of the United States, near Lancaster, Pennsylvania. "Buchanan's presidency was mired in controversy. Upholding the southern view that a territorial legislature could not prohibit slavery, he secretly influenced the Supreme Court's controversial Dred Scott decision by privately pressing a northern justice to vote with the southern majority against the legality of the Missouri Compromise; the onslaught of a depression in the fall of 1857 and his opposition to northern-sponsored economic legislation further undermined his administration; his expansionist foreign policy recklessly exacerbated sectional tensions; and he presided over the most corrupt administration in the nation's history before the Civil War. But his worst blunder was endorsing Kansas's admission as a slave state under the Lecompton constitution in violation of his earlier pledge for a fair vote. Buchanan's course disrupted the Democratic party, badly weakened it in the free states, and greatly strengthened the sectional Republican party. Aided by Buchanan's actions, the Republican party easily triumphed in 1860. In the ensuing secession crisis, Buchanan desperately sought to avoid precipitating a war. The resignation of a majority of the cabinet and their replacement by staunch Unionists strengthened Buchanan's resolve, and he steadfastly refused to recognize the legality of secession or to surrender remaining federal property in the South. Eventually the administration worked out informal agreements to preserve the status quo at Forts Sumter and Pickens, and with a sigh of relief, he turned the problem over to his successor. He took no active part in politics during the war and died in 1868. The last of a series of presidents who dealt ineptly with rising sectional tensions, Buchanan had neither the vision nor the talent to defuse the crisis. Although he was devoted to the Union, his one-sided pro-Southern policies were disastrous for the Democratic party and the nation. Few presidents have entered office with more experience in public life, and few have so decisively failed."

1869 Inventor Thomas A. Edison of Boston, Massachusetts, receives a patent for his electric voting machine.

1880 The first public telephone in the United States, installed by the Connecticut Telephone Co. in their office at Yale Bank Building in New Havenbox, goes into service.

1885 Father Berenger Sauniere arrives in the tiny French village of Rennes-le-Chateau on the ancient pilgrimage route from Europe to Santiago de Compostela, Spain.

1908 John Krohn goes for a walk with his wheelbarrow, around the perimeter of the US. He will complete his epic constitutional, even though never walking on Sunday, in 357 days, walking 9,024 miles, going through 11 pair of shoes, 112 pair of socks, and five wheelbarrow wheels. (Bradley)

1916 WW1: Turkish commander Halil Pasha repulses a Russian attack at Khanikin in Mesopotamia.

1929 Birth: James Billington, Librarian of Congress.

1933 A Chinese-Japanese armistice is signed.

1936 Chancellor Schuschnigg meets with Mussolini, who persuades him to agree to a German-Austrian pact.


1936 Birth: Gerald Scarfe, cartoonist, painter and designer who will work as a cartoonist for several newspapers, as a designer for opera and animated movies. Gerald's most famous animation work will be for Pink Floyd's 'The Wall', and his style will animate Disney's 'Hercules.'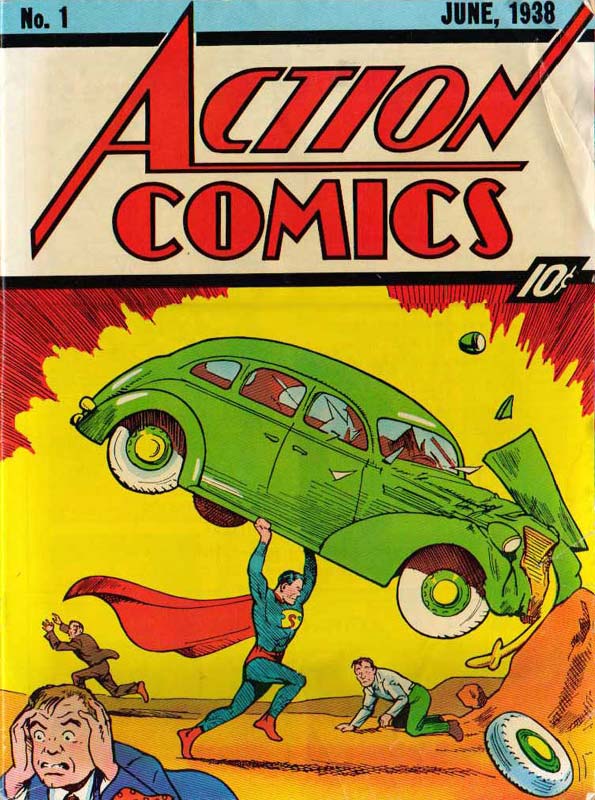 1938 The Golden Age of Comics begins as Action Comics #1, featuring the worlds first super-hero, Superman, is officially released. Note: Superman is the creation of two Cleveland, Ohio teenagers of Jewish decent, Jerome Siegel and Joseph Shuster.

1938 Holocaust: German political prisoners and all German Jews with previous criminal records are sent to Buchenwald. They are soon followed by 2,200 Austrian Jews.

1939 Holocaust: General Oswald Pohl is named chief administrator of the SS.

1939 Holocaust: Italian Jews are ordered to assume "Jewish" surnames. Collaboration between Jewish and non-Jewish professionals is prohibited. (Edelheit)

1939 Holocaust: The SS-Gericht, the SS Legal Head Office, is established on Himmler's orders.


1941 WW2: British forces are finally withdrawn from Crete with heavy losses. Almost 3,000 Australians are also lost in the evacuation. Hitler now has a strategic Mediterranean base for the dispatch of reinforcements and supplies to his desert troops in North Africa, which are poised for an assault against Egypt and the Suez Canal.

1941 WW2: British forces enter Baghdad returning the regent, six year-old King Faisal, to power.

1942 Holocaust: Within days of the attack on Heydrich, more than 13,000 people are arrested, 232 are executed for expressing their approval, and 462 more are executed for possessing weapons or disobeying the police. (Apparatus)

1943 Holocaust: The cases against four men in SS 2nd Lieutenant Max Täubner's workshop platoon who were party to his unauthorized execution of Jews in Russia are dismissed on the grounds that they were following the orders of and under the responsibility of Täubner and "therefore their own culpability might be described as slight." (Days)

1943 WW2: A civilian flight from Lisbon to London is shot down by the Luftwaffe, killing all 16 aboard, including actor Leslie Howard.

1944 The government of Mexico decides to abolish the siesta.


1946 Death: Ion Antonescu, Romanian general and statesman dictator of the pro-German government, executed. "...After being arrested, Antonescu was turned over to the Soviets. In May 1946 he was put on trial by the Communist government in Bucharest, for having supported the German invasion of the USSR. He was sentenced to death, and executed on June 1, 1946. The official report stated "Ion Antonescu asked to be executed by the army, not by prison guards, but he was refused, to which he replied: Scumbags, scumbags! Then the command for the execution was given. The weapons were loaded and when they were fired the Marshal saluted by raising his hat with the right hand, after which they all fell down. The Marshal immediately rose up, leaning on his elbow and said: You didn't shoot me gentlemen, fire!, after which the chief guard went with his pistol to Antonescu and shot him in the head. The doctor consulted them and came to the conclusion that the Marshal and Vasiliu were still alive. The chief guard fired another shot in the chest of Antonescu and then of Vasiliu and the doctor examined them and said they still weren't dead. The chief guard went again to Vasiliu, but his pistol jammed when he tried to fire it. He took a rifle from one of the guards and fired one shot in Vasiliu's head, but then it also jammed. He changed it with another one and fired another 3 shots in different parts of Vasiliu's body and then went to the Marshal and fired 3 shots in his chest. The doctor examined them and said that Antonescu was dead, but Vasiliu was still alive. Again the guard fired a shot in Vasiliu's head. The result: Vasiliu's brains were coming out of his head, but he was still moving and saying something we couldn't understand. The guard went again to to him and fired two shots in the head and after this the doctor said that Vasiliu too was dead. Antonescu's role in the Holocaust is a very controversial subject. It has been held that Antonescu did not agree with Hitler's racist doctrines about the "master race" and that his anti-Semitism was largely fueled by economical nationalism. However, it is arguable, from his speeches and documents, that he strongly held an anti-Semitism that had not just economical, but metaphysical and thus ultimately racist grounds. Antonescu believed, just like Hitler, that the world was engaged in a dualistic struggle between the forces of Darkness (the Jews/Bolsheviks) and those of Light (the Christians, Aryans), and that it was up to the forces of Light to destroy the enemy..."

1949 Microfilm copies of 'Newsweek' magazine are offered to subscribers for the first time, for $15 a year.

1958 War hero General Charles De Gaulle becomes prime minister of France at the head of an emergency government during a crisis over the future of French North African colonies.

1958 The clean air act goes into force in Britain.

1959 The constitution of Tunisia is promulgated; now a National Day.


1960 Death: Paula Hitler, Adolf Hitler's only surviving full-sibling. Since neither Adolf nor Paula had children, there are no known living descendants of Alois and Klara Hitler. "The younger sister of Adolf Hitler and the last child of Alois Hitler and his third wife, Klara Pölzl. Paula was born in Hartfeld, Austria, and was the only full sibling of Adolf Hitler to survive infancy. After their mother died, Hitler turned over his share of their orphans' pension to her. She lost contact with Adolf for many years during the First World War and its aftermath. She later said that when they met again in the 1920s, she was surprised and didn't even recognize him, but then was delighted when he took her shopping. From 1929 onwards she saw him once a year, typically at large Nazi functions and events. In 1936 he asked her to change her name to Paula Wolff (Hitler's childhood nickname, which he had also used incognito during the 1920s). Hitler provided her with steady financial support from the early 1930s until his death in 1945. Paula worked as a secretary in a military hospital until the end of the Second World War, was arrested by US Intelligence officers in May 1945, and debriefed beginning later that year. Hitler said she couldn't bring herself to believe her brother had been responsible for the Holocaust but agents ignored this as a sisterly expression of loyalty. Paula was released from US custody and returned to Vienna where she worked in an arts and crafts shop. In 1952 she moved to Berchtesgaden, Germany, reportedly living in seclusion in a two-room flat until her death on 1 June 1960. Paula never married nor had children. There is some evidence she shared her brother's strong German nationalist beliefs, but she was not politically active. She is buried in the Bergfriedhof in Berchtesgaden under the name Paula Hitler."

1963 King Victor Emmanual III of Italy, becomes Emperor of Ethiopia.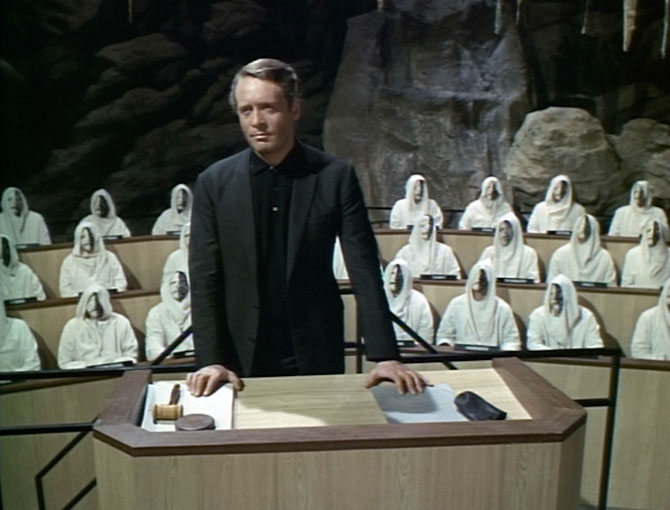 1968 The popular and enigmatic British mini-series, The Prisoner, is shown for the first time on US television. Starring Patrick McGoohan as a secret agent held against his will in a remote and tightly controlled environment known as the Village, The Prisoner is TV's all-time most imaginative series; perhaps the only TV show worthy of mention in this forum.

1972 Iraq nationalizes some oilfields belonging to the western-owned Iraq Petroleum Company.

1973 British Honduras changes its name to Belize.

1973 The military government in Greece announces the abolition of the monarchy and proclaims a republic.


1977 The Soviet Union formally charges Jewish human rights activist Anatoly Shcharansky with treason. Shcharansky will be imprisoned until 1986.

1979 The former Rhodesia becomes Zimbabwe, ending 89 years of white rule.

1987 Rashid Karami, Lebanon's veteran Sunni Muslim prime minister, is killed when a bomb explodes aboard a helicopter taking him to Beirut from Tripoli.

1990 US President George Bush and Soviet President Mikhail Gorbachev signs more than a dozen bilateral accords to stop producing chemical arms and to begin destroying stocks by the end of 1992, in the second day of their Washington summit.

1994 South Africa rejoins the Commonwealth after an absence of 33 years.

1995 President Bill Clinton visits Billings, Montana, where he meets with farmers and presides over a televised town hall meeting.

1996 In what is regarded as a setback for the Middle East peace process, Israeli Prime Minister Shimon Peres is narrowly defeated in national elections by Likud Party leader Benjamin Netanyahu. Peres, leader of the Labor Party, became prime minister in 1995 after Yitzhak Rabin was assassinated by a right-wing Jewish extremist. Netanyahu, who promises to be tough on terrorism and Palestinian leader Yasser Arafat, is at 47 the youngest prime minister elected in the country's history. Born in Tel Aviv in 1949, he served in the Israel Defense Forces and during the 1980s was Israel's ambassador to the United Nations. In 1988, he was elected to the Israeli parliament and served as deputy minister of foreign affairs from 1988 to 1991. In 1993, he became the Likud leader and three years later Israeli prime minister. After three years as prime minister, a stalled peace process, and epidemic political infighting within his cabinet, he will be defeated by Labor challenger Ehud Barak on 18 May 1999. (Bradley)

1996 Ukraine becomes a nuclear weapons-free nation with the transfer of the last of its warheads to Russia.

1997 Betty Shabazz, the widow of Malcolm X, is fatally burned in a fire set by her 12-year-old grandson in her apartment in Yonkers, New York.

1998 Thousands of refugees from Serbia's Kosovo province stream into neighboring Albania to escape deadly fighting.

2001


2002


2002 Hundreds of Britons leave India over fears of war with its nuclear neighbor Pakistan.

2003


2004


2005


2005


2005


2005


2005


2005









Visit:
Visit:

Click Here to email the History: One Day At a Time webmaster.