June 2





1491 Birth: Henry VIII, King of England 1509 - 1547.

1537 Pope Paul III prohibits the enslavement of Indians in the New World.


1732 Birth: Martha Dandridge. "...served as the first First Lady of the United States when her husband, George Washington, served as the first President, from 1789 to 1797. Born near Williamsburg, Virginia, she first married Daniel Parke Custis when she was just 18. She had four children by Custis, two of whom survived to adulthood, John Parke Custis (1754-1781) and Martha "Patsy" Custis. She also collected locks of hair from famous people instead of a portrait. She married George Washington on January 6, 1759, two years after the death of her first husband. Content to live a private life on Washington's Mount Vernon estate, she nevertheless followed him to the battlefield. She opposed his election as president and refused to attend his inauguration, but fulfilled her duties as the official state hostess graciously.Martha and George Washington had no children together, but they raised Martha's two children. They also raised her grandson, George Washington Parke Custis (April 30, 1781 - October 10, 1857) after his father, John Parke Custis, was killed (while serving as an aide to Washington) during the siege of Yorktown in 1781.Historian Henry Wiencek Farrar, in his 2003 book "An Imperfect God," revealed that Martha Washington owned her own mulatto half-sister, a slave named Ann Dandridge, who had a bastard child by her nephew, Martha's son, John Parke Custis. This incident was among several that were instrumental in Washington's late-in-life decision to change his will and free all his slaves upon his death, according to Farrar's research.




Martha Washington died at Mount Vernon, Virginia, and was buried on May 22, 1802 at Mount Vernon. Her remains were moved in 1831 from their original burial site a few hundred feet to a brick tomb that overlooks the Potomac River.The Custis estate was eventually confiscated from George Washington Parke Custis's son-in-law, Robert E. Lee, during the Civil War, and became Arlington National Cemetery. In 1882, after many years in the lower courts, the matter of the ownership of Arlington National Cemetery was brought before the Supreme Court of United States. The Court affirmed a Circuit Court decision that the property in question rightfully belonged to the Lee Family. The United States Congress then appropriated the sum of $150,000 for the purchase of the property from the Lee Family."

1734 War of the Polish Succession: Russia and Austria finally take Danzig after a siege which had begun the previous October.


1740 Birth: Donatien Alphonse Francois, AKA Marquis de Sade, French military governor-general, author; Justine. Note: French aristocrat the Marquis de Sade's lifestyle will give rise to the word sadism. "...The Marquis de Sade, observes historian Erik von Kuhneldt-Leddihn, has been hailed as the "grandfather of modern democracy." His influence is primarily attested by the word that bears his name — "sadism," the practice of extracting personal gratification from the suffering of others. Although it is quite remarkable that an 18th century degenerate who spent most of his adult life in prison would be immortalized in our language, this doesn't begin to account for Sade's impact. As historian Geoffrey Ashe observes in his book The Hell-Fire Clubs: A History of Anti-Morality, Sade was "the first clear prefigurer of the world we now live in." His works of fiction — particularly his detestable magnum opus, Juliette — express in remarkable detail the outlook, tactics, and objectives of the revolutionary Left. Those who read that book, or as much of it as they can absorb without retching, cannot help but be astonished by the way in which Sade, as if through diabolical revelation, anticipated the modern world...

1773 Birth: John Randolph. "American legislator, known as John Randolph of Roanoke, b. Prince George co., Va. He briefly studied law under his cousin Edmund Randolph. He served in the U.S. House of Representatives (1799–1813, 1815–17, 1819–25, 1827–29), where he became a prominent and feared figure, and in the U.S. Senate (1825–27). After breaking (1805) with President Jefferson on the acquisition of Florida, which he opposed, Randolph lost his leadership in the House. He strongly opposed James Madison and the War of 1812, the second Bank of the United States, the Missouri Compromise, and the tariff measures. From 1820 he was a violent sectionalist. His impassioned denunciations of Henry Clay and John Quincy Adams led (1826) to a duel with Clay. Appointed (1830) by President Jackson minister to Russia, he resigned shortly after his arrival there because of ill health. Following his return he denounced Jackson's proclamation against nullification. An outspoken champion of individual liberty, he staunchly defended the Constitution and states' rights, and his views were influential in the South long after his death. A bizarre figure, Randolph numbered Pocahontas among his forebears. He became more eccentric in his later years and at times suffered from dementia. Chiefly remembered for his epigrammatic wit and caustic tongue, he also possessed a brilliant and scholarly mind and was celebrated as an orator."


1774 The Quartering Act is revived in Britain, forcing colonists in America to provide housing for British troops. "In the decade before the American Revolution, a series of Quartering Acts were passed by Parliament to provide for the housing and provisioning of British troops in the American colonies. The first act, which took effect in March 1765, required the colonies to provide barracks for the troops and to keep them supplied with free bedding, firewood, cooking utensils, and certain staple provisions, as well as a daily allowance of cider. A second act in 1766 required billeting the troops in inns, alehouses, and unoccupied dwellings. In January 1766, the members of the New York Assembly argued that because the British commander had his headquarters in New York, they carried a disproportionate burden under the Quartering Act; they therefore agreed to provide some but not all the supplies specified in the bill. Their defiance mounted until in December 1766 they refused to make any provisions at all for the troops. As punishment, the Board of Trade in October 1767 declared all acts of the New York Assembly to be null and void until the colony complied with the Quartering Act. In the meantime, the assemblymen had given in (June 1767) and voted a grant of three thousand pounds. The matter was thus resolved, but ill-feeling remained on both sides. In 1774, Parliament passed a group of laws entitled the Coercive Acts (the colonists called them the Intolerable Acts) designed to restore imperial control over the American colonies. All the Coercive Acts dealt specifically with Massachusetts, except one, a new Quartering Act, which applied to all thirteen colonies. This Quartering Act extended the provisions of the earlier legislation; it required that troops be housed not only in commercial and empty buildings but in occupied dwellings as well. The law was bitterly protested, symbolizing as it did to the colonists the potential dangers and abuses of standing armies. The quartering of troops in America was specifically cited as a grievance in both the Resolves of the First Continental Congress (October 1774) and the Declaration of Independence (July 1776)."

1780 Gordon Riots: June 2-8 London is at the mercy of a mob and destruction is widespread as the Gordon Riots begin. Led by Lord George Gordon, the protest is against Parliament's plans to extend the Catholic Relief Act of 1778 canceling restrictions on Roman Catholics.

1793 Reign of Terror: After three days of revolt in France, Maximillian Robespierre, a member of France's Committee on Public Safety, has 31 Girondists arrested and ousted from the Convention.

1818 The British army defeats the Maratha alliance in Bombay, India.

1835 P.T. Barnum and his circus begin their first tour of the United States.

1840 Birth: Thomas Hardy, in Higher Bockhampton, Dorset, English novelist; Far From the Madding Crowd, Tess of D'Ubervilles, The Mayor of Casterbridge.

1851 Maine becomes the first state to enact a law prohibiting alcohol.


1861 Birth: Helen Herron Taft, wife of 27th US President William Howard Taft. "Fourth child of Harriet Collins and John W. Herron, she had grown up in Cincinnati, Ohio, attending a private school in the city. She met Will Taft at a sledding party at age 18. They found intellectual interests in common; friendship matured into love; Helen Herron and William Howard Taft were married in 1886. Mrs. Taft welcomed each step in her husband's political career: state judge, Solicitor General of the United States, federal circuit judge. In 1900 he agreed to take charge of American civil government in the Philippines. By now the children numbered three: Robert, Helen, and Charles. Further travel with her husband, who became Secretary of War in 1904, brought a widened interest in world politics and a cosmopolitan circle of friends.As First Lady, she still took an interest in politics but concentrated on giving the administration a particular social brilliance. Only two months after the inauguration she suffered a severe stroke. Her daughter Helen left college for a year to take part in social life at the White House. During four years famous for social events, the most famous was an evening garden party for several thousand guests on the Tafts' silver wedding anniversary, June 19, 1911. Mrs. Taft remembered this as "the greatest event" in her White House experience. Her own book, Recollections of Full Years, gives her account of a varied life. And the capital's famous Japanese cherry trees was planted around the Tidal Basin at her request.Her public role in Washington, DC did not end when she left the White House. In 1921 her husband was appointed Chief Justice of the United States and she continued to live in the capital after his death in 1930. She died at her home on May 22, 1943."

1862 US Civil War: General Robert E. Lee takes command of the Confederate armies of eastern Virginia and North Carolina.

1865 US Civil War: At Galveston, Texas, the war comes to an end when Confederate General, Edmund Kirby Smith, commander of Confederate forces west of the Mississippi, signs the surrender terms offered by Union negotiators.

1886 49-year-old Grover Cleveland becomes the first US President to get married in the White House, as he exchanges vows with his bride, Florence Folsom, the 21-year-old daughter of his former law partner. The bride becomes the youngest first lady in US history.

1896 Guglielmo Marconi is granted a patent for his electromagnetic wave communication system, later to be called radio.

1897 After reading his obituary while in London, author Mark Twain cables a New York newspaper, 'The reports of my death are greatly exaggerated.'

1899 Spain cedes the Carolinas, Pelews, Marianne and Ladrones to Germany.

1903 Birth: Robert Morris Page, physicist, inventor of pulse radar.


1910 Charles Stewart Rolls, one of the founders of Rolls-Royce, becomes the first man to fly an airplane nonstop across the English Channel both ways. Tragically, he will become Britain's first aircraft fatality the following month when his biplane breaks up in midair.

1924 The US Congress confers US citizenship upon all American Indians.

1928 Nationalist Chiang Kai-shek captures Peking, China, in a bloodless takeover.

1930 Birth: Charles Conrad, NASA astronaut, Apollo XII.

1930 Mrs. M. Niezes of Panama gives birth to the first baby to be born on a ship while passing through the Panama Canal.

1932 Major Frank Holmes, a New Zealand engineer, strikes oil for the first time in Bahrain.

1933 President Franklin D. Roosevelt accepts the first swimming pool to be built inside the White House. Roosevelt will get plenty of use out of the pool, considering that he is the only President to be elected four times; over Herbert Hoover, Alf Landon, Wendell Wilkie and Thomas E. Dewey.

1933 Chaim Arlosoroff and Selig Brodestsky meet with British colonial minister Philip Cunliffe-Lister regarding aid to German Jews.

1936 One hundred nineteen Nazis are indicted in Warsaw for conspiring to overthrow the Polish government.


1938 Italian Fascist leader Roberto Farinacci, a vocal anti-Semite, is appointed minister of State.

1939 The Cuban government forces the SS St. Louis, loaded with Jewish refugees from Nazi Germany, to leave Havana harbor. (See May 27)

1939 Resistance: Dietrich Bonhoeffer leaves Germany for New York City.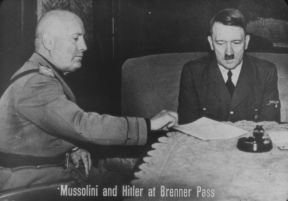 1941 WW2: Hitler and Mussolini again meet at the Brenner Pass.

1941 Edward R. Stettinius Jr. becomes director of priorities of the Office of Production Management. Nine months later Stettinius will be named administrator of the gigantic Lend-Lease Program.

1941 Those Vichy French: Petain's Vichy government introduces a series of "Jewish statutes." Leon Berard, Vichy ambassador at the Holy See, reports to Petain that the Vatican does not consider such laws in conflict with Catholic teaching, and merely counsels that no provisions on marriage be added to the statutes. (Poliakov)


1941 Holocaust: A law is passed authorizing the "administrative internment" of all Jews in France, whether French-born or foreign-born.

1941 WW2: Early in June, Goering sends word to Britain that Hitler plans to invade Russia within weeks. (Duffy)


1942 WW2: The American aircraft carriers Enterprise, Hornet (above), and Yorktown move into their battle positions for the Battle of Midway.

1943 Church and Reich: Pope Pius XII tells the Sacred College of Cardinals that he has given special attention to the plight of those who are still being harassed because of their nationality and descent, and who, without personal guilt, are subjected to measures that spell destruction. Much has been done for the unfortunates, the Pope declares, that cannot yet be described. Every public statement has had to be carefully weighed "in the interest of those suffering so that their situation would not inadvertently be made still more difficult and unbearable." Unfortunately, he adds, the Church's pleas for compassion and the observance of the elementary norms of humanity have encountered doors "which no key was able to open." (AB Munich; Lewy)


1944 Diary of Leon Gladun: "We leave for a rest at the town of Colle Sannita. As everywhere we made a good impression on the local population by drinking their wine. I visit Naples and Pompeii."

1944 WW2: Allied 'shuttle bombing' of Germany begins, with bombers departing from Italy and landing in the Soviet Union.

1946 In a national referendum, voters in Italy vote to become a republic rather than return to a monarchy. Consequently the Italian monarchy of King Victor Emmanuel and his son, King Humbert, is abolished in favor of a republic; now a national day.

1948 Doctor's Trial: The seven doctors sentenced to death at the "Doctor's Trial" (Karl Brandt, Karl Gebhart, Rudolf Brandt, Joachim Mrugowsky, Wolfram Sievers, Viktor Brack, and Waldemar Hoven) are all hanged at Landsberg prison in Bavaria. The sentences of the remaining defendants are reduced during the appeal process. Note: After Sievers conviction, Friederick Hielscher receives permission to accompany Sievers to the gallows as his spiritual advisor, and it is with him that the condemned man says prayers to a mysterious cult, which is never mentioned throughout his trial. Afterwards, Hielscher returns to obscurity. (Pauwels)

1954 Senator Joseph McCarthy charges that there are communists working in the CIA and atomic weapons plants.

1957 Soviet Premier Nikita Khrushchev is interviewed by CBS-TV. News correspondent Daniel Schorr becomes the first to interview the Soviet leader.

1964 The Palestine Liberation Organization (PLO) is created in Jerusalem.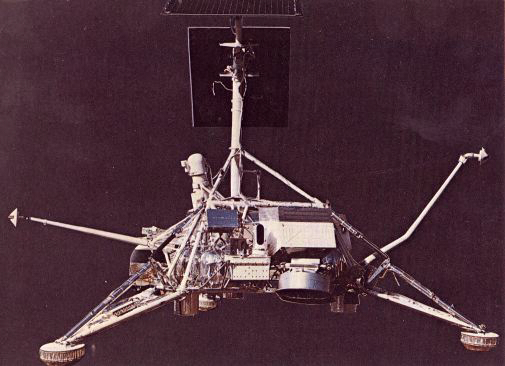 1966 The US spacecraft Surveyor I makes a successful soft landing on the moon and begins sending back the first closeup pictures of the moon's surface.

1969 74 American sailors are killed when the Australian aircraft carrier Melbourne collides with the US destroyer Frank E. Evans in the South China Sea off the shore of South Vietnam.

1974 Luna 22 is launched to the Moon by the USSR as a Lunar Orbiter.

1975 Vice President Nelson Rockefeller declares that his commission has found no widespread pattern of illegal activities at the CIA.

1976 Don Bolles, an award-winning investigative reporter for the Arizona Republic, is fatally injured when a bomb explodes in his car. He had been probing connections between businessmen and organized crime in Phoenix. A national team of reporters from several newspapers will help to indict John Adamson, who is arrested with others, for the murder.

1979 Pope John Paul II arrives in his native Poland on the first visit by a pope to a communist country.


1987 President Ronald Reagan announces that he is nominating economist Alan Greenspan to succeed Paul Volcker as chairman of the Federal Reserve Board.

1989 Tiananmen Square: 10,000 Chinese soldiers are blocked by 100,000 citizens protecting students demonstrating for democracy in Beijing.

1990 On the third day of their Washington summit, President George Bush and Soviet President Mikhail Gorbachev hold informal talks at the Camp David presidential retreat in Maryland.

1991 Israeli Foreign Minister David Levy and Jordan's King Hussein agrees to meet 'face-to-face' in Jordan. The meeting is proposed by the monarch.

1992 Arkansas Governor Bill Clinton clinches the Democratic presidential nomination as six states hold the final primaries of the 1992 political season.

1992 Denmark's voters reject the EC Maastricht Treaty by the slimmest of margins, stunning the European Community and their own overwhelmingly pro-Treaty leaders.

1993 Challenger Melchior Ndadaye topples military President Pierre Buyoya in Burundi's first free elections to give the majority Hutu tribe its first national leader.

1994 29 people, including top Northern Ireland undercover police fighting the IRA, are killed when their helicopter crashes on a remote Scottish headland.

1994 President Bill Clinton meets with Pope John Paul II at the Vatican.

1995 Bosnian Serbs begin releasing the 370 UN peacekeepers they'd been holding hostage.

1995 A US Air Force F-16 is shot down by a Bosnian Serb surface-to-air missile while on a NATO air patrol in Bosnia. The pilot, US Air Force Captain Scott O'Grady, ejects safely, lands behind Serb lines and is rescued six days later.

1997 Romania and Ukraine put decades of mistrust behind them by signing a long-delayed border treaty.

1997 A federal jury in Denver finds Timothy McVeigh guilty on all counts in the 1995 bombing of a federal building in Oklahoma City that killed 168 people. He will later be sentenced to death.

1998 Former White House intern Monica Lewinsky fires her lawyer, William Ginsburg, and retains two criminal lawyers. They will go on to win her a grant of immunity from prosecution in return for her testimony before the grand jury investigating President Clinton's alleged relationship with her.

1998 Voters in California pass Proposition 227, which effectively abolishes the state's 30-year-old bilingual educational program by requiring that all children be taught in English.


1998 Pop artist Peter Max, age 60, whose works ranges from the bold psychedelic posters of the 1960s to yearly renditions of the Statue of Liberty and his redesign of the NBC Television peacock, is sentenced to two months in prison for cheating on his taxes. He pleads guilty to conspiracy and tax evasion; concealing about $714,000 in income. Max hid sales by bartering artwork to buy property in the Virgin Islands and New York.

2001 The Crown Prince of Nepal massacres most of the country's immediate royal family in a dispute over his choice of wife.

2001


2002


2003


2004


2005


2005


2005



2005









Visit:
Visit:

Click Here to email the History: One Day At a Time webmaster.