June 12


1776 Virginia's colonial legislature approves the Virginia Declaration of Rights, a forerunner of the Bill of Rights. "The Virginia Declaration of Rights is a declaration by the Virginia Convention of Delegates of rights of individuals and a call for independence from Britain. Its first draft was developed by George Mason (above) around May 20 to 26, 1776, and amended by Thomas Ludwell and the Convention. Its final version was adopted unanimously on June 12, 1776. The Declaration stated that "all men are born equally free and independant [sic], and have certain inherent natural rights,...among which are the Enjoyment of Life and Liberty, with the Means of acquiring and possessing Property, and pursueing [sic] and obtaining Happiness and Safety." (Full Text) Mason based his document on earlier documents, such as the English Bill of Rights. In turn, the Declaration heavily influenced later documents. Thomas Jefferson drew on it when he drafted the Declaration of Independence one month later. James Madison was also influenced by the Declaration while drafting the Bill of Rights, as was the Marquis de Lafayette in composing the French Revolution's Declaration of the Rights of Man and of the Citizen."

1806 Birth: John Augustus Roebling, designer of the Brooklyn Bridge.

1827 Birth: Johanna Spyri, Swiss writer, author of Heidi.


1838 The Iowa Territory is organized.

1897 Birth: Sir [Robert] Anthony Eden, former Prime Minister of Britain.


1897 Swiss cutlery maker Carl Elsener patents his penknife, later to become known as the Swiss army knife.


1898 General Emilio Aguinaldo proclaims the independence of the Philippines from Spain, becoming the first colony in Asia to break its ties with Europe. The US, however, does not recognize such proclamations and the following year the Philippine-American War will erupt. The war, which will last until 1902, will leave about 4,000 US soldiers and at least 100,000 Filipinos dead. Now Philippine Independence Day.

1900 The German Reichstag approves a second new law allowing the expansion of the German navy, making it the world's second biggest.

1916 WW1: Rudolf Hess is wounded at Verdun, but manages to continue fighting despite his injury.

1917 WW1: Britain and France force Constantine I to abandon the Greek throne to his son, Alexander.

1917 WW1: King Constantine of Greece steps down in favor of his son, Prince Alexander.

1918 WW1: The German advance on Compiegne is halted by French and American troops.

1922 Diabetes treatment with insulin is patented by Frederick Banting.

1923 In New York, internationally known magician and escape artist Harry Houdini thrills a large audience with his extraordinary act; wiggling free from a straitjacket while suspended head downward and 40 feet above the ground.


1924 Birth: George Herbert Walker Bush, in Milton, Massachusetts, a suburb of Boston; 41st US President, former Vice President under Reagan, US Congressman from Texas, US Ambassador to the UN, head of the CIA under Nixon. He is the second of five children born to Prescott Sheldon Bush and Dorothy Walker, daughter of Harriman associate, George Herbert Walker.

1928 Weimar: The government of the Socialist leader, Hermann Mueller-Franken, succeeds that of Chancellor Marx.

1929 Birth: Anne Frank, diarist and Holocaust victim.

1933 The World Monetary and Economic Conference opens in London with 64 nations in attendance.

1935 Germany withdraws from the International League of Nations Society in protest of the League's anti-Nazi resolution.

1935 A truce ends the Chaco War (1932-35), a conflict fought between Bolivia and Paraguay.

1936 The first Arab attack is made on British troops in Palestine. (Edelheit)


1937 Soviet Marshal Mikhail H. Tukhachevski and seven other Soviet military leaders are executed in Moscow. It is said that Tukhachevski had confided his plan for a coup against the Communist regime to military officials while visiting London and Paris and that Moscow was immediately informed by its agents. (Sturdza) Note: Others claim Tukhachevski was set up by Reinhard Heydrich who used forged documents from WWI to frame Tukhachevski in an effort to disrupt the Soviet military and weaken its leadership. (Secrets) Definitive Note: In actuality, Stalin played everyone. The 'evidence' utilized in the trial was planted by Stalin's agents on the unsuspecting Nazi's, who in turn ensured that it fell back into Soviet hands, but now with foreign credentials. This gift from the skies allowed Stalin to clean house at the top of what he considered to be a stultified and unreliable military leadership corps. Hitler, in morose moments toward the end, would lament that he himself had not engaged in a similar extensive purge of the German military, while only somewhat disingenuously blaming his generals for all that had gone wrong.

1938 Romani Holocaust: Zigeuneraaufraumungswoche (Gypsy clean-up week) takes place, when hundreds of Gypsies throughout Germany and Austria are arrested, beaten, and imprisoned. Gypsies are first targeted population to be forbidden to attend school. Himmler's recommendation that certain Roma be kept alive in a compound under the Law for the Protection of Historic Monuments for anthropologists to study, is ridiculed and never implemented.

1939 Holocaust: Romania imposes a special tax on denationalized Jews, ranging from 2,000 to 10,000 lei annually.

1940 WW2: The Soviets issue an ultimatum to Lithuania demanding territory and the establishment of a new government.

1941 Holocaust: German Jews are ordered to designate themselves only as without faith (glaubenlos). (Persecution)

1942


1944 WW2: Chinese Communist leader Mao Tse-tung announces that he will support Nationalist leader Chiang Kai-shek in the war against Japan.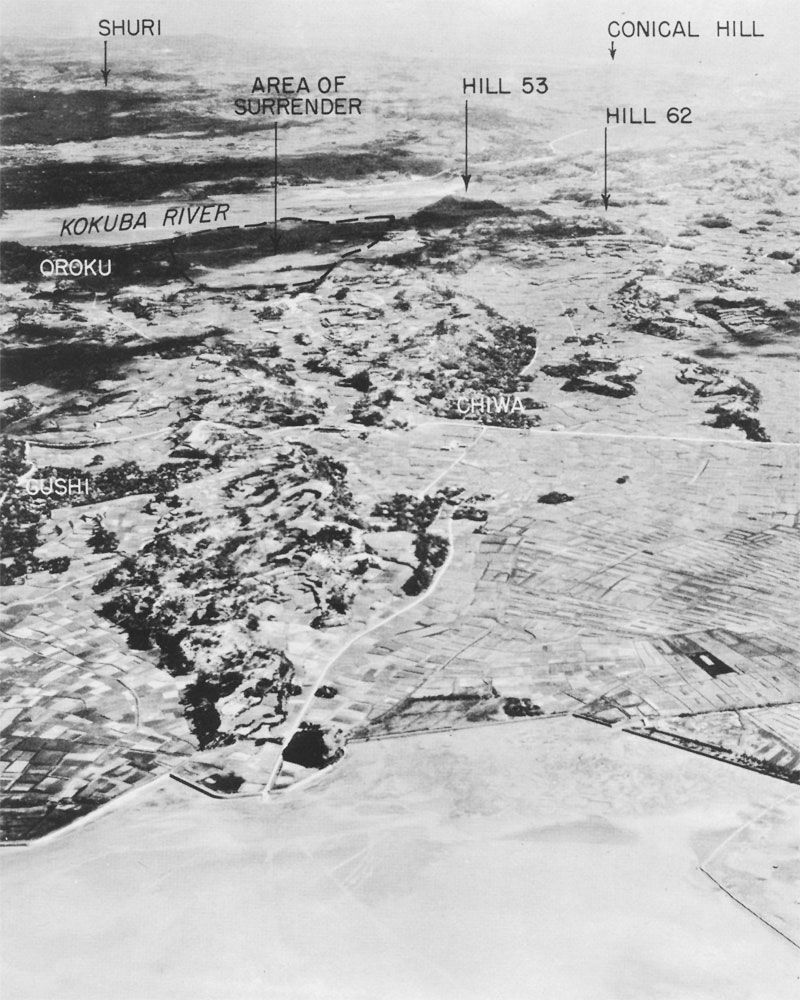 1945 WW2: Many of the Japanese troops on Okinawa's Oruku Peninsula commit suicide to escape capture. "...This was planned as the final blow to break through the enemy resistance. The 29th Marines attacking from the west, and the 4th moving from the south, made only slight headway; the 22d Marines, after an intense artillery barrage, drove toward Hill 62 from the southeast. The first attack stopped short of the objective, but, about noon, the 2d Battalion, 22d Marines, rammed another assault against Hill 62 while the 3d Battalion moved off for Hill 53, about 300 yards north. The first of these objectives fell by 1330, and Hill 53, which afforded observation of the remainder of the enemy-held ground, soon afterward. The three regiments held a tight ring in an area 1,000 yards square. A break-up in the Japanese forces occurred on the following day. As the converging forces closed in on the remaining pocket, the Japanese were forced from the high ground onto the flat land near the Naha Inlet. Some chose to fight until killed; others, including several who lay down on satchel charges and blew their bodies high in the air, destroyed themselves. On 12 June and the day following, 159 surrendered-the first large group of Japanese taken prisoner. When the destruction of his force was nearly complete, Admiral Ota committed suicide. On 15 June, as patrols sought out the last of the Japanese on Oroku, the marines found Ota's body and those of five members of his staff lying on a raised, mattress-covered platform in one of the passages in the underground headquarters. Their throats had been cut, and, from the appearance of the room, it was apparent that an aide had carefully arranged the bodies and tidied up after the self-destruction of the Japanese officers. Nearly 200 other bodies were found in the headquarters, one of the most elaborate underground systems on the island. More than 1,500 feet of tunnels connected the office rooms, which were well ventilated, equipped with electricity, and reinforced with concrete doorways and walls. The slow and tedious battle for Oroku Peninsula had lasted for ten days. The total number of marines killed or wounded was 2,608, a cost in casualties proportionately greater than the American forces suffered during the fighting for Shuri..."

1946 Nuremberg War Crimes Trials: The embattled Seyss-Inquart continues his testimony. "...THE PRESIDENT: M. Debenest, the Tribunal would like to have further investigation as to who ordered the confiscation of the Freemasons' property. Defendant, do you know who ordered the confiscation? SEYSS-INQUART: Yes, I do. The confiscation was ordered by Heydrich and was set in motion by the Police. Then a trustee of the Party started the actual liquidation and at that stage I took it over and transmitted it to my offices...M. DEBENEST: How were the funds actually used? Were they used for the purpose of the German Government or for other purposes? SEYSS-INQUART: The Jewish property, first of all, was confiscated. Then, as far as possible, it was liquidated, and we called that "Aryanization." The proceeds of the Aryanization were pooled in the Administrative Office for Property and Pensions, but as a whole were not...M. DEBENEST: Excuse me. I asked you a question. Were the funds from this liquidation used for the benefit of the Reich? Yes or no? SEYSS-INQUART: No, unless you call the erection of the Vught Camp using the proceeds for the Reich; but the funds were used because Vught Camp was to be a Jewish assembly camp. M. DEBENEST: So you consider that the building of the Vught Camp was in the interest of the Dutch? SEYSS-INQUART: Most certainly it was. The cost of Vught Camp, as far as I was informed, was covered out of this property-I believe 14 million guilders were spent-because this camp was to be a Jewish assembly camp. It was only later that Himmler transformed this into a concentration camp. M. DEBENEST: That is an opinion, and the Tribunal will decide about it..."

1962 Three prisoners dig their way out of Alcatraz using spoons.

1963 Death: Medgar Evers, African American civil rights leader, shot to death by white supremacist Byron De La Beckwith in the driveway outside his home in Jackson, Mississippi. After a funeral in Jackson, he is buried with full military honors at Arlington National Cemetery in Virginia. President John F. Kennedy and many other leaders publicly condemn the killing. During WW2, Evers volunteered for the US Army and participated in the Normandy invasion. In 1952, he joined the National Association for the Advancement of Colored People (NAACP). As a field worker for the NAACP, Evers traveled through his home state encouraging poor African Americans to register to vote and recruiting them into the civil rights movement. He was instrumental in getting witnesses and evidence for the Emmitt Till murder case, which brought national attention to the plight of African Americans in the South. In 1964, the first trial of chief suspect Byron De La Beckwith will end with a deadlock by an all-white jury, sparking numerous protests. When a second all-white jury also fails to reach a decision, De La Beckwith will be set free. Three decades later, the state of Mississippi will reopen the case under pressure from civil rights leaders and the Evers' family. In February 1994, a racially mixed jury in Jackson will find Beckwith guilty of murder. The unrepentant white supremacist, aged 73, will be sentenced to life imprisonment.

1964 Nelson Mandela begins a long jail term in South Africa.

1965 The Beatles are awarded the MBE. The Order of the British Empire recognition had previously been bestowed only upon British military heroes, many of whom are so infuriated by the news, they return their medals to the Queen. Protests pour into Buckingham Palace, MP Hector Dupuis declares that 'British Royalty has put me on the same level as a bunch of vulgar numbskulls'. John Lennon isn't terribly impressed with receiving the honor - he will return it (for other reasons) four years later.

1966 The US minimum wage is raised from $1.25 an hour to $1.40 an hour.

1967 The US Supreme Court rules that states cannot outlaw interracial marriages.


1971 Tricia Nixon, daughter of President Nixon, weds Edward Finch Cox in the first wedding ever held in the Rose Garden of the White House.

1975 Indira Gandhi, the prime minister of India, is found guilty of electoral corruption in her successful 1971 campaign. Despite calls for her resignation, Gandhi refuses to give up India's top office and later declares martial law in the country when public demonstrations threaten to topple her administration. Gandhi is the daughter of Jawaharlal Nehru, the first prime minister of the independent Republic of India. She became a national political figure in 1955, when she was elected to the executive body of the Congress Party. In 1959, she served as president of the party and in 1964 was appointed to an important post in Prime Minister Lal Bahadur Shastri's ruling government. In January 1966, Lal Bahadur Shastri died, and Gandhi became head of the Congress Party and thus prime minister of India. Soon after becoming India's first female head of government, Gandhi was challenged by the right wing of the Congress Party, and in the 1967 election she won only a narrow victory and thus had to rule with a deputy prime minister. In 1971, she won a resounding reelection victory over the opposition and became the undisputed leader of India. That year, she ordered India's invasion of Pakistan in support of the creation of Bangladesh, which won her greater popularity and led her New Congress Party to a landslide victory in national elections in 1972. During the next few years, she presided over increasing civil unrest brought on by food shortages, inflation, and regional disputes. Her administration was criticized for its strong-arm tactics in dealing with these problems. Meanwhile, charges by the Socialist Party that she had defrauded the 1971 election led to a national scandal. On this day, the High Court in Allahabad convicts her of a minor election infraction and bans her from politics for six years. In response, she declares a state of emergency throughout India, imprisons thousands of political opponents, and restricts personal freedoms in the country. Among several controversial programs during this period is the forced sterilization of men and women as a means of controlling population growth. In 1977, the long-postponed national elections will finally be held, and Gandhi and her party will be swept from office.

1979 26-year-old cyclist Bryan Allen flies the manpowered 70-pound Gossamer Albatross across the 22 miles of the English Channel; the first human-powered flight across that body of water.

1981 Polish Prime Minister Wojciech Jaruzelski sacks five Cabinet ministers and proposes a major reconstruction of the government to tackle a severe economic crisis.

1982 An estimated 700,000 people gather in New York's Central Park to call for world nuclear disarmament.

1986 The South African government, faced with rising black unrest, declares a nationwide state of emergency.

1987 President Ronald Reagan visits divided Berlin, publicly challenging Soviet leader Mikhail Gorbachev to "tear down this wall."

1987 The Central African Republic's former emperor, Jean-Bedel Bokassa, is sentenced to death for crimes committed during his 13-year rule.

1989 The US Supreme Court rules 5-4 that white workers who claim to be treated unfairly as a result of affirmative action programs can sue for remedies under civil rights legislation.

1990 In a speech to the Supreme Soviet legislature, President Mikhail Gorbachev eases his objection to a reunified Germany holding membership in NATO.

1991 The Russian republic holds its first-ever direct presidential elections. Boris Yeltsin wins. The event is celebrated these days in Russia as Independence Day.

1990 The Russian republic's legislature, in its first hours under Boris Yeltsin, passes a radical declaration of sovereignty, proclaiming Russia's laws take precedence over those of the central Soviet government in the republic's territory.


1991 Mount Pinatubo, a volcano in the Philippines, erupts for a third time just 14 hours after unleashing a series of explosions that shut down the biggest US air base in Asia. The volcano had been dormant for six centuries.

1992 Amid extremely tight security and criticism of his administration's stand on environmental issues, President H. Bush addresses the Earth Summit. He urges rich nations to meet by year's end to outline specific action on a climate treaty.

1993 US helicopters and gunships destroy four of Somali warlord Mohammed Farah Aidid's arms depots, one week after his forces killed 23 Pakistani members of the UN peacekeeping forces in a series of firefights.

1994 Whitewater: Special Whitewater counsel Robert Fiske takes sworn depositions from President Clinton and first lady Hillary Rodham Clinton; the first time a sitting president responds directly to questions in a legal case relating to his official conduct.

1994 Haiti's military-backed provisional president declares a state of emergency, saying the country faces 'extreme danger' and possible 'invasion and occupation.'

1995 Air Force Captain Scott O'Grady, rescued after being shot down over Bosnia, is treated to lunch at the White House and a hero's welcome at the Pentagon.

1999 Thousands of NATO peacekeeping troops pour into Kosovo. But in a surprising move, a Russian armored column enters Pristina before dawn to a hero's welcome from Serb residents.

1999 Texas Governor George W. Bush announces his candidacy for the Republican presidential nomination, on his fathers 75th birthday.

2000 50 years after the Korean War began, the leaders of North and South Korea meet in Pyongyang for the first-ever series of talks.

2001


2002 More than one dozen people who claim to have been sexually abused by priests meet with Catholic Church leaders from across the United States to describe their experiences and demand support for a zero tolerance plan for abusers.

2002


2003


2004


2005


2005


2005


2005









Visit:
Visit:

Click Here to email the History: One Day At a Time webmaster.