June 16


1487 War of the Roses: The Battle of Stoke begins. "The early years of Henry VII's reign were by no means carefree; his dynasty was beset by enemies in Britain and at the court of Burgundy; in the spring of 1487 a serious insurrection was launched from Ireland. An impostor called Lambert Simnel, claiming to be Clarence's son, Edward, Earl of Warwick, who at that time was a prisoner in the Tower, was sponsored by an Oxford priest. Simnel was crowned King of England in Dublin on May 24, 1487, and on June 4, Simnel, accompanied by Lincoln and Lovel, landed near Furness in Lancashire and advanced through Yorkshire at the head of 1,500 German mercenaries, supplied by Margaret, Dowager Duchess of Burgundy. As they marched the rebels gathered reinforcements. Henry was at Kenilworth, but calling up nearby levies, he set off at once for Nottingham. By the time he arrived there, June 14, the rebels were at Southwell, some twelve miles to the north-east. According to the contemporary account of a herald, Henry moved to Radcliffe on June 15, while the rebel army crossed the Trent by the ford below Fiskerton and took up a position on an open escarpment some 1,500 yards south of East Stoke. Here the King met them on the morning of the 16th as he was marching towards Newark. The rebels held the advantage in numbers, perhaps 9,000 to Henry's 6,000, but apart from the German mercenaries their soldiers were not well armed or trained. The royalists advanced to the attack in three well spaced out divisions, the van commanded by Lord Oxford. This division, somewhat isolated, was severely punished and only saved from complete disaster by the arrival of the King's main battle. As the royalist divisions closed up the rebels were first held and then pushed back off the ridge. The fight lasted for more than three hours and was fiercely contested, the rebel army being well buttressed by the German contingent. Their commander Martin Schwartz and Lincoln were killed in battle; Lovel escaped by swimming the Trent and was never seen alive again, and Simnel was captured and put to work in the royal kitchens. The rebel soldiery were slaughtered by the thousand in a gully at the foot of the ridge and in the marshy riverain fields. They had, however, inflicted very heavy casualties on Henry's army, possibly as many as 2,000 men, most of whom were from the vanguard. By his victory at Stoke, Henry secured the safety of the Tudor dynasty."

1567 Mary, Queen of Scots, is imprisoned in Lochleven Castle in Scotland.

1743 The Battle of Dettingen takes place; the last time a British sovereign (George II) leads troops in battle.


1858 A House Divided: "More than 1,000 Republican delegates meet in the Springfield, Illinois, statehouse for the Republican State Convention. At 5 p.m. they chose Abraham Lincoln as their candidate for the US Senate, running against Democrat Stephen A. Douglas. At 8 p.m. Lincoln delivered this address to his Republican colleagues in the Hall of Representatives. The title comes a sentence from the speech's introduction, "A house divided against itself cannot stand," which paraphrases a statement by Jesus in the New Testament. Even Lincoln's friends believed the speech was too radical for the occasion. His law partner, William H. Herndon, thought that Lincoln was morally courageous but politically incorrect. Herndon said Lincoln told him he was looking for a universally known figure of speech that would rouse people to the peril of the times. Another lawyer, Leonard Swett, said the speech defeated Lincoln in the Senate campaign. In 1866 he wrote to Herndon complaining, "Nothing could have been more unfortunate or inappropriate; it was saying first the wrong thing, yet he saw it was an abstract truth, but standing by the speech would ultimately find him in the right place.""Mr. President and Gentlemen of the Convention. If we could first know where we are, and whither we are tending, we could then better judge what to do, and how to do it. We are now far into the fifth year, since a policy was initiated, with the avowed object, and confident promise, of putting an end to slavery agitation. Under the operation of that policy, that agitation has not only, not ceased, but has constantly augmented. In my opinion, it will not cease, until a crisis shall have been reached, and passed. "A house divided against itself cannot stand." I believe this government cannot endure, permanently half slave and half free. I do not expect the Union to be dissolved -- I do not expect the house to fall -- but I do expect it will cease to be divided..."

1890 Birth: Arthur Stanley Jefferson, known as Stan Laurel, in Ulverston, Lancashire (now Cumbria).

1896 Adolph Ochs meets with JP Morgan in New York City. Ochs said that at their first meeting, Morgan rose to greet him, shook his hand and warmly said, "So you're the young man I have heard about. Now, where do I sign the papers." (NY Times, June 26, 1996)

1903 The Ford Motor Company is incorporated.

1909 Glenn Hammond Curtiss sells his first airplane, the Gold Bug for $5,000, to the New York Aeronautical Society.

1916 WW1: Brusilov, receiving little or no aid from the two other Russian army groups on the front, is battered by a German counteroffensive.

1916 President Wilson is renominated for president at the Democratic Convention in St. Louis, Missouri. Thomas R. Marshall is nominated for vice president. Wilson campaigns on the slogan "He kept us out of war," while skillfully preparing the way for entrance on the side of the Allies. (Schlesinger I)


1917 Birth: Irving Penn, photographer.

1917 WW1: The first Congress of Soviets is convened in Russia.


1922 Henry Berliner accomplishes his first helicopter flight at College Park, Maryland. "...In the United States, Emile and Henry Berliner (a father and son) were interested in vertical flight aircraft. As early as 1909, they had designed and built a helicopter based on pioneering forward flight experiments with a wheeled test rig. They were one of the first to observe the fact that the rotor power required for hovering flight was substantially greater than for flight at low forward speeds. In 1918 the Berliners patented a single-rotor helicopter design, but there is no record that this machine was built. Instead, by about 1919, Henry Berliner had built a counterrotating coaxial rotor machine, which made brief uncontrolled hops into the air and reached a height of about four feet. By the early 1920s at the College Park airport, which is close to the University of Maryland, the Berliners were flying an aircraft with side-by-side rotors. The rotors were oversized wooden propellers, but with special airfoil profiles and twist distributions. Differential longitudinal tilt of the rotor shafts provided directional control. Lateral control was aided by cascades of wings located in the slipstream of the rotors. All variants used a conventional elevator and rudder assembly at the tail, with a small vertically thrusting auxiliary rotor on the rear of the fuselage. This machine made only short hops into the air, and because the true vertical flight capability was limited, the Berliners abandoned the pure helicopter in favor of another hybrid machine they called a "helicoplane." This still used the rotors for vertical lift but incorporated a set of triplane wings and a larger oversized rudder. The Berliner's final hybrid machine of 1924 was a biplane wing configuration with side-by-side rotors. However, the Berliner's early flights with the coaxial rotor and side-by-side rotor machines are credited as some of the first rudimentary piloted helicopter developments in the United States..."

1932 Weimar: The Lausanne Conference opens for the revision of the Young Plan for German reparation payments. It is the first international economic conference since the crash of 1929, and due to worldwide economic conditions, its representatives agree to cancel all German reparations until better economic conditions return.

1933 Church and Reich: Papen informs Ambassador Bergen that Hitler has agreed to his going to Rome to complete negotiations for the concordat in person.

1933 Death: Zionist Labor leader Chaim Arlosoroff, assassinated in Tel Aviv.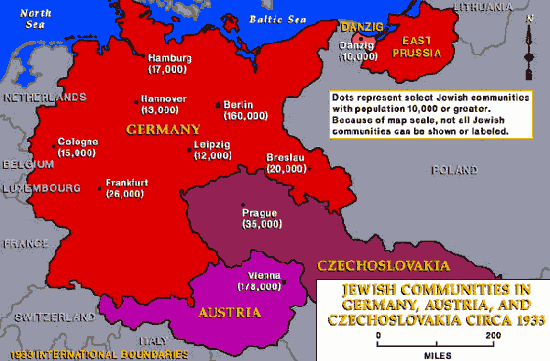 1933 Holocaust: German statistics for believing Jews in the Reich, not including the Saar, are officially put at 499,682. (Edelheit)

1933 New Deal: The National Industrial Recovery Act becomes law. Note: It will later be struck down by the '8 old men' of the US Supreme Court.

1937 Holocaust: General Lucjan Zieligowski in a speech to the Polish Senate declares, "there is no place in Poland for the Jews."

1937 Church and Reich: The German People's Church (Deutsche Volkskirche) is accredited as the official Nazi church.

1937 New Stalinists purges are held in Belorussia.

1940 WW2: A new communist government, controlled by the Soviets, is installed in Lithuania. Latvia and Estonia are also occupied.


1940 WW2: The French ask Britain to be released from its obligation not to make a separate peace. A British offer to establish a state of union between the two countries is rejected by the French. Paul Reynaud is forced to resign as Prime Minister.

1940 Those Vichy French: Marshal Philippe Petain is asked to form a new government following the resignation of Paul Reynaud. The French government requests an armistice and the Battle of France is over.


1941 WW2: President Franklin D. Roosevelt orders the closure by 10 July of all German consulates in the United States.

1945 WW2: Mount Yuza on Okinawa is taken by US forces.

1948 The first ever airplane hijacking takes place as Chinese bandits hold up a Cathay Pacific flying boat. After a gun battle the plane crashes, killing all but the bandit leader.

1952 A Swedish rescue plane searching for a lost aircraft is shot down by Soviet fighters over Swedish territorial waters.

1955 Pope Pius XII excommunicates Argentine President Juan Domingo Peron - a ban that will be lifted eight years later. Meanwhile, Argentine naval officers launch an attack on President Juan Peron's headquarters; the army remains loyal and suppresses the revolt.

1958 Hungarian reform leader Imre Nagy is executed for his role during the 1956 uprising against the Soviet occupation of Hungary. An independent communist who was critical of Soviet expansionism, he was recalled as premier shortly before the uprising.

1961 The leading male dancer with Russia's Kirov Ballet defects to the West after breaking away from his company at Le Bougert airport. Rudolf Nureyev, aged 23, was to fly to London from Paris, when he is ordered to return to Moscow immediately. He asks French police for protection and is then offered political asylum by the French authorities. Note: He runs towards police at Le Bourget airport shouting 'Protect me! Protect me!'


1963 The world's first female space traveller, parachutist Valentina Vladimirovna Tereshkova, a former textile factory worker and the first cosmonaut or astronaut who had never been a test pilot, is launched into orbit by the Soviet Union aboard the Vostok 6 spacecraft. She manually flies her Vostok 6 spacecraft 48 times around the Earth before landing in Asia three days later.

1963 Israeli Prime Minister David Ben-Gurion resigns.

1972 Baader-Meinhof terrorist group cofounder Ulrike Meinhof is captured by West German police in Hanover.

1975 The Simonstown agreement on naval cooperation between Britain and South Africa is formally ended by mutual agreement after 169 years.

1976 A student uprising begins in Soweto, South Africa's largest township, against the government's insistence that the Afrikaans language be used as the medium of instruction in Soweto's schools. During the demonstrations, thousands of black children and adults are killed by South Africa's police and troops. Declared later as South Africa's National Youth Day.

1977 Leonid Ilich Brezhnev, first secretary of the Soviet Communist Party since 1964, is elected president of the Supreme Soviet, thereby becoming both head of party and head of state.

1978 President Jimmy Carter and Panamanian leader Omar Torrijos exchange the instruments of ratification for the Panama Canal treaties.

1979 Death: General Ignatius Kutu Acheampong, former military ruler of Ghana (1972-78), executed for corruption.

1982 Two days after the Argentine surrender, Britain requests Argentina arrange for the return of prisoners.

1983 Yuri Andropov is elected chairman of the Presidium of the Supreme Soviet, a position equivalent to president.

1984 Wilson Ferreira Aldunate, a popular Uruguayan opposition leader, is arrested upon his return from an eleven year exile.

1986 South African blacks mark the 10th anniversary of the Soweto uprising with a one-day strike. Eleven blacks are killed in the resulting violence.


1987 Death: The last surviving dusky seaside sparrow, at Walt Disney World.

1991 Boris Yeltsin is elected president of the Russian SSR.

1992 US President George Bush welcomes Russian President Boris Yeltsin to a summit meeting at the White House in Washington, where they agree in principle to slash strategic weapons arsenals by about two-thirds by 2003.

1992 Iran-Contra: Former Defense Secretary Weinberger is indicted on five felony counts of lying to Congress and investigators in connection with the Iran-Contra scandal.

1993 The UN Security Council votes to impose a worldwide ban on oil shipments to Haiti.

1996 Boris Yeltsin wins 35 percent of the vote in the Russian presidential election, forcing a runoff.

1998 Yugoslav President Slobodan Milosevic indicates a willingness to resume peace talks with ethnic Albanian leaders about the rebellious Serbian province of Kosovo.

1999 Vice President Al Gore announces his candidacy for the Democratic presidential nomination.

2001


2002


2003


2004


2005


2005


2005


2005









Visit:
Visit:

Click Here to email the History: One Day At a Time webmaster.