June 18


1155 Frederick I Barbarossa is crowned Holy Roman Emperor by Pope Adrian IV as more than 1000 people die in the ensuing rioting.


1178 Five Canterbury monks record seeing a bright flash on the moon at a point since found to be a very large crater, now named after Gioudano Bruno.

1429 Battle of Patay: The English, retreating after the siege of Orleans, are attacked and defeated by French forces under Joan of Arc and Duc D'Alencon.

1583 Richard Martin of London purchases the first ever life insurance policy, on William Gibbons, for a premium of £383.

1778 American Revolution: American forces enter Philadelphia as the British withdraw.

1812 War of 1812: American president James Madison persuades Congress to declare war on Britain. "...The War of 1812 was a conflict fought in North America between the United States and Great Britain. In British texts, the War of 1812 is sometimes known as the British-American War, to distinguish it from the concurrent British involvement in the Napoleonic Wars. Napoleon's invasion of Russia in 1812 is also sometimes referred to as the "War of 1812." Although the United States was officially at war with Great Britain, more than half of the British forces were made up of Canadian militia. Additionally, many Native Americans fought in the war for reasons of their own. Although the War of 1812 ended in a stalemate and is often only dimly remembered, the war had many effects on the futures of those involved. The war created a greater sense of nationalism in Canada and the United States, it produced a national anthem and two future presidents for the U.S., and perhaps most consequentially, the war marked the end of European alliances with Native Americans in the United States. In the years following the American Revolutionary War, there were many disputes and aggravations between Great Britain and the United States. When revolutionary France declared war upon Great Britain in 1793, the United States sought to remain neutral while pursuing overseas commerce with both empires, which created much tension. Additionally, Great Britain had not abandoned fortifications in the Great Lakes region as called for in the 1783 Treaty of Paris, and was continuing to supply Native Americans in the Northwest Territory who were at war with the United States. In 1795, the United States secured the Jay Treaty with Great Britain and the Treaty of Greenville with the Native Americans, and thus ended these conflicts for the time being..."


1815 Battle of Waterloo: Former French emperor Napoleon Bonaparte is defeated at Waterloo in Belgium. "The Battle of Waterloo, fought on June 18, 1815, was Napoleon Bonaparte's last battle. After his exile to Elba, he had been restored to the throne of France for a Hundred Days. During this time, the forces of the rest of Europe converged on him, commanded by United Kingdom's Duke of Wellington, and Prussia's Gebhard Leberecht von Blücher. The Anglo-allied and Prussian armies were separated by previous engagements on June 16 1815 -- a French and Anglo-Allied stalemate (Battle of Quatre Bras) and a French victory over the Prussians (Battle of Ligny). This was part of Napoleon's strategy to split the much larger allied force into pieces that he could outnumber if he were allowed to attack them separately. His theory was based on the assumption that an attack on the center of the allied forces would force the two main armies to retreat in the direction of their supply bases, which were in opposite directions. However, ambiguous orders by Napoleon on the 17th to his subordinate Marshal Grouchy to pursue the Prussians with 30,000 men contributed to Napoleon's eventual defeat..."

1817 London's Waterloo Bridge, designed by John Rennie, opens over the River Thames; originally called Strand Bridge.

1822 London's first nude statue is disrobed in Hyde Park.

1854 Birth: Edward Scripps, journalist and publisher.


1873 Civil Rights leader Susan B. Anthony is found guilty of attempting to vote. In 1872 she had led a group of women to register to vote in the presidential elections. For this she was sentenced to pay a fine, which she refused to do. In her famous response to the judge, she declared, "I will never pay a dollar of your unjust penalty...resistance to tyranny is obedience to God." Her struggle for women's rights will last more than 50 years.


1877 Birth: James Montgomery Flagg, outstanding American illustrator, best known for his 'I want you' Uncle Sam recruiting poster. See Also: 1915, 1928, Fair Use Notice.

1913 Birth: Sylvia Porter, financial journalist, author.


1915 WW1: The second battle of Artois ends with huge losses on both sides.

1916 Death: General Helmuth von Moltke, a broken and disillusioned man.


1927 The US Post Office offers a special 10-cent postage stamp (not above) for sale. The stamp honors Charles Lindbergh's Spirit of St. Louis; the first postage stamp to feature the name of a living American.

1928 Aviator Amelia Earhart becomes the first woman to fly across the Atlantic Ocean. She landed near Llanelli in Wales from Newfoundland in about 21 hours.


1928 Emmeline Pankhurst, 69, the first lady of women's suffrage, is buried at an emotional funeral attended by hundreds of old comrades. Her militant tactics had led to outrages which shook the Establishment, but her goal was achieved in 1918 and her last years were peaceful.

1935 The German-British Naval Treaty is signed. It permits much greater German naval strength than allowed by the Versailles Treaty and greatly irritates France

1940 WW2: General de Gaulle flees to London and attempts to rally the Free French resistance. De Gaulle issues a radio appeal for the French nation to resist and to continue the struggle.

1940 WW2: The RAF bombs Bremen and Hamburg.

1940 WW2: The First Polish Grenadier Division defends its sector in a two-day battle against the Germans at Lagarde, France.


1940 WW2: With the fall of France, Winston Churchill tells the House of Commons that Britain will fight on alone. In stirring words he tells MPs: 'Let us brace ourselves to our duty and so bear ourselves that if the British Empire and Commonwealth lasts a thousand years men will still say, "This was their finest hour".'


1941 WW2: A treaty of German-Turkish Friendship is signed.

1942 WW2: At dawn, SS troops open fire on the Orthodox church in Prague, where Heydrich's assassins have taken refuge with several confederates. After a two-hour siege, all are killed or have taken their own lives. Their hiding place had been betrayed by Karel Curda, a young Czech who had trained with them in Britain.

1942 WW2: Churchill travels to Wahington to confer with Roosevelt.

1945 WW2: The Battle for Okinawa continues. "...On 18 June, in the last written official order of the 32d Army, General Ushijima appointed an officer to lead the "Blood and Iron Youth Organization" and conduct guerilla warfare after the cessation of organized combat. At the same time he ordered remaining troops to make their way to the mountains in the northern end of Okinawa where a small band of guerillas was supposedly already operating. The migration was to extend over several days; soldiers were to travel in groups of from two to five and were urged to wear civilian clothes and avoid conflict if possible. This infiltration of Japanese was detected during the night of 18-19 June and both the front lines and rear installations burst into activity. Illumination flares hung over the southern tip of Okinawa between darkness and dawn, and the sound of machine-gun fire was almost constant through the night. This nighttime movement reached a peak several nights later, when one division, the 7th, killed 502 enemy soldiers. The infiltrating Japanese were not aggressive and carried weapons only for their own protection, their chief concern being to escape to the north or, in some instances, to submerge their identity in the civilian population. While some Japanese chose to chance the hazards of moving north, a great many fought savagely and were determined to take as many Americans as possible to death with them..."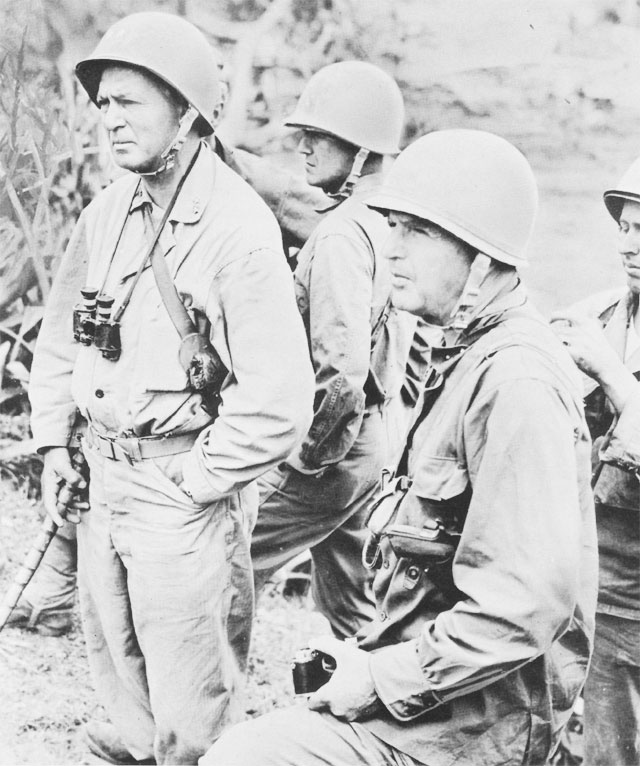 1945 Death: General Simon B. Buckner (above, with camera), commander of the US Tenth Army on Okinawa. "...Early in the afternoon of 18 June, General Buckner stopped at a forward observation post of the 8th Marine Regiment, 2d Marine Division, near the southwest tip of Okinawa. Although this division staged a feint on 1 April and 19 April, none of its elements came ashore till June, when the 8th, after taking Theia and Iguni Islands, joined in the final battle. While General Buckner watched the progress of the fighting, at 1315, a shell from a Japanese dual purpose gun exploded directly above the observation post. A fragment of coral, broken off by the explosion, struck General Buckner in the chest. He collapsed immediately and died ten minutes later. Maj. Gen. Roy S. Geiger, senior commander on Okinawa, assumed command of Tenth Army. He was succeeded on 23 June by Gen. Joseph W. Stilwell. Brig. Gen. Claudius M. Easley, assistant commander of the 96th Division, was killed the day after General Buckner's death. General Easley, known by all as a front-line soldier, was pointing out the location of a machine gun when two bullets from the gun struck him in the forehead. The lives of these two generals were added to more than 7,000 others of the Tenth Army as part of the cost of victory on Okinawa..."

1945 William Joyce, better known as Lord Haw Haw, is charged in London with high treason for his English-language wartime broadcasts on German radio. He will be hanged the following January.

1946 Nuremberg War Crimes Trials: Former Reich Vice-chancellor Franz von Papen defends himself against charges of anti-Semitism, with prompting from his lawyer. "...DR. KUBUSCHOK: The Prosecution has reproached you for your anti-Semitic attitude in connection with your report to Hitler of 12 May, in which you suggested giving financial aid to the Freedom League for the furtherance of their fight against Jewry. What was this Freedom League? VON PAPEN: The Freedom League was a focal point, a union of the former Christian Trade Unions and the Christian Workers' Union, under the leadership of the president of the Trade Unions. Dollfuss took over the leadership in 1934. It would be utterly ridiculous to accuse this Freedom League, mainly composed of Catholic workers, of an anti-Semitic attitude in the National-Socialist sense. The Freedom League fought to purge the administration of Vienna of unsuitable Jewish elements. The problem of this undue alien penetration was absolutely similar to conditions then existing in Germany, conditions which I mentioned yesterday in detail. This fact is also proved by the report submitted yesterday to the Prosecution. I learned that the Czechs were endeavoring to establish close relations with the Freedom League and that for this purpose they desired to support the League with large sums of money. I thereupon suggested to Hitler that this possible influencing of the Freedom League by Czech politics should be eliminated by supporting it ourselves. But we could not of course tell the Freedom League: "We are now going to subsidize you so that you do not go over to the Czechs." So I proposed to Hitler that he should give these moneys in consideration of the League's continued fight against Jewry, which was pure camouflage. Had I wanted to give this money specifically for the fight against Jewry, I would not have written "in consideration of" but "for the furtherance of its fight..."

1948 The UN Commission on Human Rights adopts its International Declaration of Human Rights.

1948 The LP is born as Columbia Records publicly unveils its new long-playing phonograph record in New York.

1953 Egypt is proclaimed a republic with General Neguib as its first president.

1975 Britain's first North Sea oil comes ashore from a Liberian tanker which berths at BP's Isle of Grain refinery in Kent.

1975 Saudi Prince Faisal Ibn Mussed Abdul Aziz is publicly beheaded in Riyadh shopping center parking lot, for killing his uncle, King Faisal on 25 March.

1977 The Space Shuttle test model Enterprise carries a crew aloft for the first time, fixed to a modified Boeing 747.

1979 President Jimmy Carter and Soviet President Leonid Brezhnev sign the SALT II strategic arms limitation treaty in Vienna.


1983 From Cape Canaveral, Florida, the space shuttle Challenger is launched into space on its second mission. Aboard the shuttle is Dr. Sally Ride, who as a mission specialist becomes the first American woman to travel into space. During the six-day mission, Ride, an astrophysicist from Stanford, operates the shuttle's robot arm, which she had helped design. Her historic journey was preceded almost 20 years to the day by cosmonaut Valentina V. Tereshkova of the Soviet Union, who on 16 June 1963, became the first woman ever to travel into space. The United States had screened a group of female pilots in 1959 and 1960 for possible astronaut training but later decided to restrict astronaut qualification to men. In 1978, NASA changed its policy and announced that it had approved six women to become the first female astronauts in the US space program. The new astronauts were chosen out of some 3,000 original applicants. Among the six were Sally Ride and Shannon Lucid, who in 1996 will set a new space endurance record for an American and a world endurance record for a woman during her 188-day sojourn on the Russian space station Mir.

1984 Death: Alan Berg, a Denver radio talk show host, shot to death outside his home. Two white supremacists will later be convicted of civil rights violations in the slaying.

1990 42 year old James Edward Pough, whose car had been repossessed, enters a General Motors Acceptance Corporation loan office in Jacksonville, Florida, kills eight people, wounds five more, then commits suicide. He had killed two people and wounded two others a day earlier.

1993 Eight US military officers arrive in the former Yugoslav republic of Macedonia to help plan the deployment of a UN force seeking to prevent the Bosnia conflict from spreading.

1996 Whitewater: The US Senate issues its Whitewater reports. The partisan Republican report accuses first lady Hillary Rodham Clinton of obstruction of justice.

1996 Benjamin Netanyahu is sworn in as Israel's youngest prime minister.

1996 UNA-bomber suspect Theodore Kaczynski is charged with two murders in California; he pleads innocent.

1997 Sirhan Sirhan, who had assassinated presidential candidate Robert Kennedy in 1968, is denied parole for the 10th time.

1999 The US House rejects gun control legislation, 280-147, with many Democrats rebelling against National Rifle Association-backed provisions in the bill.

2000 Ethiopia and Eritrea sign a cease-fire, ending their month-long war.

2001


2002


2003


2004


2005


2005


2005









Visit:
Visit:

Click Here to email the History: One Day At a Time webmaster.